COL Robert Lloyd Johnson USA (Retired)
Cullum: 18151
Class: '51
Cadet Company: H2
Date of Birth: April 28, 1928
Date of Death: December 11, 2007 - View or Post a Eulogy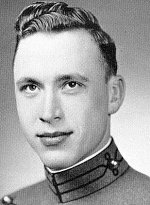 COL Johnson was commissioned infantry and completed basic infantry course, airbourne and jumpmaster school before his first assignment as platoon leader in B Company, 505th Airborne Infantry Regiment at Fort Bragg, NC. He was reassigned to join B Co., 9th Infantry Regiment, 2nd Div. While on combat patrol in Nov., they captured the first Chinese prisoner taken by the regiment in nine months. He became company commander of L Company in 1953 and served in that capacity until 17 March when the company was engaged in a massive hand-to-hand conflict with three regiments of Chinese. "L" Co., with some support, they held the position, but a great cost in life and limb, to include the COL Johnson's left leg above the knee. A year of hospitalization in Korea, Japan and San Francisco was followed by assignment to the Math Department at West Point.
The necessary disability waivers required for retention on active duty were made possible through the efforts of then Maj. Bernard Rogers, Bn. Cdr. in Korea and later Chairman of the Joint Chiefs of Staff. He taught the 24th section (last) Plebe math for four years. Bob stated in his 50th USMA reunion year book "Few of our students graduated, but those who did are a real credit to the Academy." After graduate school at Univ. of Arizona with a MS in Space Physics in '61, he was assigned to Air Defense Combat Development Agency at Ft. Bliss, TX. '61-'64 were formative years in Air Defense weaponry and the systems at ADCDA were the basis of those still in service worldwide. The improved HAWK, the Redeye evolved into the Stinger; the family of vehicular mounted Gatling guns, and the Patriot anti-aircraft and anti-missile systems all integrated into Sophisticated detection, identification, command and control networks - "an odd, but challenging world for a one-legged Infantry Officer!" said COL Johnson.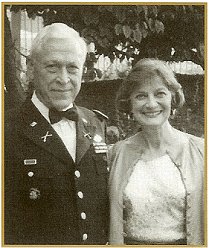 The COL states he had a relaxing year at C&GSC followed by three years of Quadripartite Standardization Group, home based with Australia's Dept. of Supply in Melbourne. He returned to the office of Research and Development in the Pentagon, then as Bn Cdr of basic training Bn. at Fort Leonard Wood MO. In 1970 he was with the Army Concepts Team in Vietnam, based on Long Binh Post, but with activities throughout South Vietnam. He returned through US to Europe as Deputy Chief of Staff for Operations at Theater Army Support Command, Europe with HQ in Worms, Germany. After two years he was designated as Cdr. NATO Support Activity, in Brussels Belgium.
He reluctantly retired in 1975 to better serve family interests. In 2001, he was Honorary Colonel, 9th Infantry Regiment. He is survived by his wife, Guigi, four children, and ten grandchildren.
COL Johnson Received the following Medals:
Legion of Merit with First Oak Leaf Cluster - Purple Heart - Army Commendation Medal with First Oak Leaf Cluster -United Nations Service Medal -Korean Service Medal - National Defence Service Medal with First Oak Leaf Cluster
Rebublic of Vietnam Campaign Medal - Vietnam Service Medal - Armed Forces Honor Medal (Vietnamese Award) - Republic of Vietnam Cross of Gallantry with Palm (Vietnamese Award) - Meritorious Unit Commendation -AGSID Badge - Parachutist Badge - Combat Infantryman Badge - Markmanship Badge (M-1) - Markmanship Badge (30 Cal) - 3 Overseas Service Bars

From the 1951 Howitzer: