Korean War Hero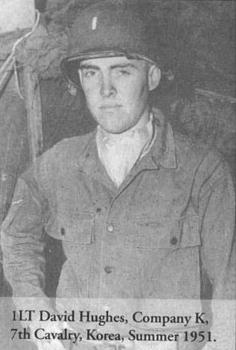 West Point Class of 1950 Graduate, Lt Hughes, without benefit of Infantry Officer Basic Course, Ranger, or Airborne training successfully fought and commanded a Rifle platoon and company in the 7th Cavalry from November 1950 to December 1951, winning the Distingished Service Cross, Silver Star with OLC, Bronze Star w/V, Purple Heart, and Combat Infantry Badge during periods of horrific combat in which he lost all his officers and 85% of his men while still accomplishing his missions.
Selected by Bill McWilliams '55 as the quintissential Korean War Class of 1950 grad in serialized 'Once More into the Fire' series in West Point's Assembly Magazine Jan-Mar 1998.
Winner of the 1951 Freedom Foundation, Valley Forge Award for 'Outstanding Achievement in Bringing about a Better Understanding of the American Way of Life" from his 'Letters from Korea' expressing idealism and pride in service during the darkest days of the war. Letters read over national radio, printed in large numbers of newspapers, and read into the Congressional Record by Senator Eugene Milliken.
Narrative writings from Korea and several years thereafter published in national publications, both civilian and military. Throughout all his public writings over a lifetime, the virtues of West Point and its ideals shines through. Hundreds of thousands of Americans have been, and continue to be, influenced by his writings, speeches, and Email messages.
Inspirational Army Role Model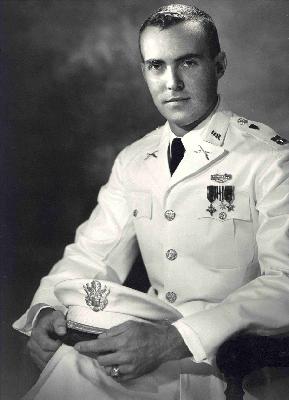 After Korea, he served tours as a popular Instructor of Tactics, Fort Benning, GA, and an Instructor of English at West Point 1955-1958 as a Captain. He Influenced many cadets of the era by his inspirational presence as the most highly decorated member of his class, while teaching the arts - and singularly exemplifying the ideal of Soldier-Scholar West Pointer. As repeatedly expressed in the online West Point forum and in Email today, he is remembered and thanked by graduates, many of whom attained high rank and status.



Counselor on National Politico-Military Policies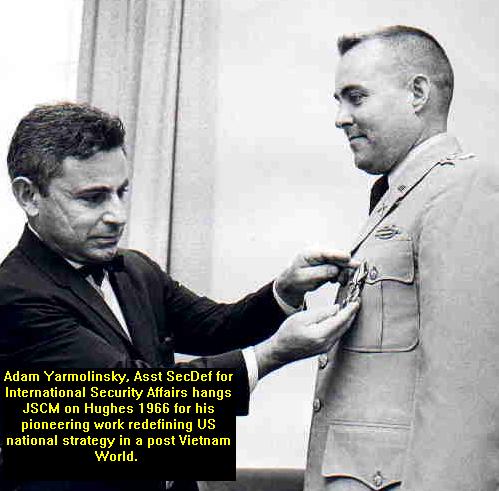 After years of successful staff and line assignments typical for an Infantry officer, domestic and overseas, Hughes was selected to advise, first, the Chief of Staff US Army, then the Secretary of Defense on politico-military policies. Co-Author with later Gen Paul Gorman, CINCSO, of a series of breakthrough and precient studies that redefined the nature of future wars and their relationships to the national American character and values. Author of key portions of 1966 State of the Union address by President Johnson. Principal author of Sec McNamara's landmark speech before the American Newspaper Editors May 18, 1966 which was acclaimed world wide for its vision 'beyond Vietnam' about America's place in a violent world and the changing role of America's military in the future. A vision being played out today. Hughes was awarded the Joint Service Commendation Medal by the Secretary of Defense for his innovative work.
A year of studies followed at the Army War College, 1966-67 where ideas born in the Pentagon were fleshed out and printed in the Naval Institute Proceedings among other professional journals.
Back into Battle - Viet Nam 1967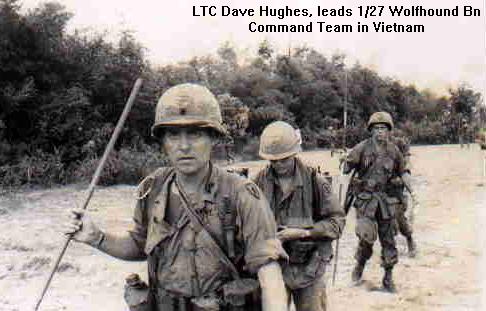 1967-1968 saw now Lt. Col. Hughes commanding a Battalion of the 25th Division in Viet Nam, successfully performing air mobile operations during which he earned a third Silver Star , 14 Air Medals. During the last half of his tour he was selected by LtGen Weyand, IIField Force to analyze and deal with the press, and brief the most senior military commanders and staff about their misconceptions about the actual military impact of the Tet Offensive. He was awarded the Legion of Merit for this work.
Launching the Volunteer Army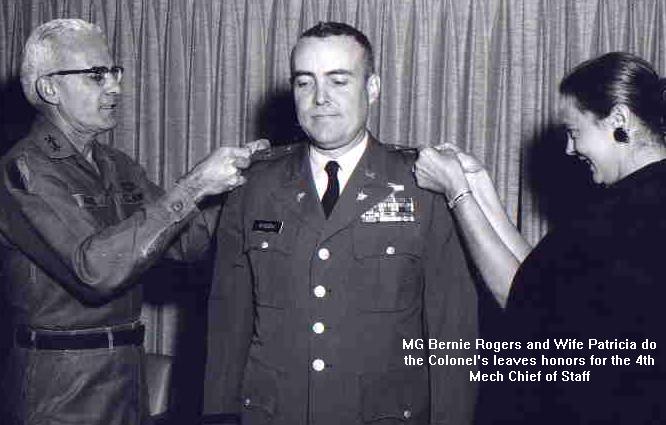 Upon returning to the United States, Hughes was sought after to bring his extensive combat experience, coupled with his high degree of innovative and 'out of the box' civil-military skills to a military post, Fort Carson, which became a major test bed of the efforts to transition to a wholly Volunteer Army and make the hitherto lightly regarded post a pioneer of the future Army. While there he commanded a mechanized Infantry battalion, was G-3, and was selected by Maj General Bernard Rogers over all more senior to become the first Chief of Staff over both the Division and Post, with the widest span of control of any Colonel in the US Army. Of great significance was the effort during the very difficult times for the Army (1968-73) to influence both the national press and launch the entirely Volunteer Army.
Declining to return to Washington DC and the Pentagon, Hughes chose to retire after 23 years commissioned service, and was determined to participate in the coming of the Information Revolution and saw the importance to the US for bottom-up, rather than top (Washington) down societal change. He retired as a colonel with a Legion of Merit award.
A New Direction - Society and Telecommunications
And so Hughes became one of the earliest American pioneers in using microcomputer and modem elecommunications to make local communitites - societies work better economically, socially, politically, and culturally. But he brought the enormous education, military and military-civil experience of West Point and his first 45 years to bear on the problems of society in a troubled and changing country.
Hughes swiftly became known world wide for his pioneering in the use of the new tools, inventing grass roots neighborhood systems that empowered ordinary small business, small organizations, and small and remote towns with global connectivity. Starting in 1977, long before most Americans knew modems and personal computers existed, he was operating, in business for himself, the earliest computer communications service in Colorado Springs.
Roger's Bar - World's First Electronic Democracy
Using the most primitive - by today's standards - personal computing tools, he created the first free, modem dial-up, electronic democracy bulletin-board system in the world. It soon challenged and altered the way local city wide politics was conducted. It was based on his profound understanding of the part person to group 'communications' played in the uniquely American political process.
It was colorfully named 'Roger's Bar' after a local neighborhood watering hole which is a center of local political discussions. Within 5 years the world's press had beaten a path to Hughes' home to report on, and encourage others to adopt an entirely new model of 'electronic democracy' - a model which could be adopted in any small town in America. The New York Times, Wall Street Journal, Germany's Stern Magazine, Japan's Yomura Shimbun newspaper- with 21 million daily readers reported in the early 1980's on his work, which was emulated world wide. The McNeil-Leher News Hour on PBS explored his success. WGBH Boston incorporated his practical innovation into a NOVA national television series. The Electronic Frontier Foundation founded by the greatly successful Lotus spread sheet company founder Mitch Kapor gave him the 1993 Pioneer Award where he shared the dias and recognition with two giants of the computer revolution Vint Cerf, the father of the Internet, and Paul Baran the inventor of packet switching, first used by the Defense Department.
1993's Most Recognized Personality on the Internet
He has been in demand as a keynote speaker and participant in both highly technical and general public policy forums world-wide ever since. Wired Magazine, the avante garde flagship publication of the Information Age called him, in 1993 'The most known personality on the net in the world.' While being a partner in an Internet communications company from 1984, he did large amounts of his work voluntarily, without compensation. And used his publicity as a effective tool to get his message out about 'community networking' long before public interest foundations, or mass media even knew what the term 'internet' meant.
While it was his pioneering that struck people, given his age - over 60 by this time - he was always introduced as a West Point graduate, who had fought the nations wars before blazing new trails on the Electronic Frontier in much the same way as the Army blazed trails in America's move westward.
Community Leadership in Colorado
Hughes used his extensive background to lead, voluntarily for 10 years - 1976 to 1986, the comprehensive and novel revitalization of an entire run down historic neighborhood of Colorado Springs, called 'Old Colorado City.' Using both his technologies and early grasp of the return of the significance of 'small' business to communities long before the idea was popular, and his 'community leadership' skills he is credited for giving business opportunities to hundreds of small business persons, making the run down residential 'westside' of Colorado Springs highly desirable to live in, achieving the goals of the City of Colorado Springs there, and unified the entire project by researching and appealing to its unique History as a frontier town. The project has been cited by the Small Business Administration as one of the most successful implementations of several of their programs, the Governor of the State used it to supportColorado's 'Main Street' project in scores of towns and cities in the later 1970s, and it greatly assisted the then Mayor of Colorado Springs, a 1951 West Point graduate, win for the city the All American City Award. The current Mayor and City Council of Colorado Springs have recently honored Hughes for that, and his pioneering use of computer technology to improve a part of the city, by formally renaming and marking in Bronze a public right of way in Old Colorado City 'Dave Hughes Cyberpath.'
He has remained involved and influential in City public affairs, and for 20 years has helped build up the Old Colorado City Historical Center, in which the vision of an ex-graduate, the Territorial Governor of Colorado in 1862 helped stop a Confederate effort to capture Colorado Gold during the Civil War. Hughes has educated the public on this little known, but decisive 'Little Gettysburg of the West' episode involving a West Pointer. Hughes has also donated money and expertise so that the History Center has such an impressive, wirelessly connected, web site, that the national television History Channel has named it one of their preferred national sites. Always Hughes accomplishes traditional purposes with novel applications of future technologies, at the lowest possible cost.
Electronic Distance Education Pioneer
During this period Hughes, extremely concerned that American education, particularly early education K-12 in remote and rural areas adapt to the new modes of teaching and learning, focused part of his effort on developing modes of distance education - again decades before it was being practiced by universities. Some scholars credit Hughes with teaching the first college courses in the world via public telecommunications networks.
His landmark 'Electronic English' course for Colorado Technical University in 1983, whose remote students included the Lt. Governor of Alaska, and persons as far away as Australia. His success at this led to it being emulated widely. And in 1990, he was approached by faculty and researchers of MIT who were concerned about the state of education in math and the sciences. In a series of nationally celebrated experiments, teamed up with theoretical physicist Dr. George Johnson of MIT, Hughes designed courses in the Math and Science of Chaos, which were delivered - in one case - to a virtual classroom of 40 high school students scattered from one-room school houses in Montana, through small schools in Cody, Wyoming, to include large schools in Colorado Springs such as Air Academy High. Once again he applied his military-honed ability to go from the most abstract and theoretical application of the new information tools, in the public interests of the US, to the most practical and grass roots uses in the least sophisticated or well endowed places in America. This work culminated in his doing work for the Congressional Office of Technology Assessment on request of then Senator Al Gore's staff on how the Internet could be used to improve the quality and relevance of American Education. And upon the White House staff's urging, Hughes has testified before the Federal Communcation Commission - FCC - on how even newer technologies can be used for more effective education.
Listed in 100 Most Influential of the Computer Age
The most read technical publication in California, Microtimes Magazine named Hughes one of the 100 most influential individuals in the Computer Age, six times between 1990 and 1996.
At least two Doctoral theses have been pursued (Annenberg School of Communications and Nova University) examining Hughes theories of how public interests can be best served by grass roots up digital telecommunications.
Walking Point - Defending the Military on the Well
1984 saw the first appearance of an influential online computer conferencing service in the Bay Area of California called 'The Well' It was, and still is, used by up to 10,000 subscribers who can be classed as extremely liberal, highly Silicon Valley technical, and many of whose members have been frankly anti-military. They include reporters, editors, and writers from Time Magazine, the Washington Post, People, US Today, Newsweek, New York Times, National Public Radio, MSNBC and score of other regional or national publications and media. Col (R) David Hughes has been a very high profile guest member of that community since its beginning. He has been only one of less than 25 members who had serious military service, much less combat experience, and for 14 years has engaged this influential sector several times a week in extended debates on military and foreign policy, the nature of the US Military and what it takes to maintain readiness, the values and value of West Point and our other Military Academies and interpretations of high profile military news items from wars such as Desert Storm and Yugoslavia, and military sex scandals. In spite of being attacked frequently for his military and West Point supporting views he has won the respect of thousands of influential information age citizens for what he represents, and in turn has not only educated thousands of citizens about the US Military, but challenged in interactive ways, hundreds of false rumors, tortured dismissals of the US Military, and poor or simply sensationalist reporting about things military. In effect Hughes has been, electronically, right in the camp of the highest concentration of the anti, or ignorant of, military, and carried on the public information war for the things he holds dear about West Point and honorable military service.
Early Advocate of Spread Spectrum Radio
In the early 1990's, anticipating the spread of the Internet accross the world, but having worked with such difficult projects as the connecting up of 114 one-room schoolhouses in rural Montana, where continuous conmmunications costs done in traditional ways can get prohibitive, he turned to, and quicky mastered the most advanced form of digital communications - spread spectrum wireless which had been used since the early 50's for secure military communications and began to apply it to the problems of linking very remote communitites and their schools to the Internet at high speeds at the lowest possible costs.
National Science Foundation Seeks Hughes
The National Science Foundation, since 1984 has called upon Hughes 5 times to accept substantial grants to pioneer the model of wireless connectivity to the Internet from remote schools, businesses, governments, and people. This has included assistig the Mongolian government connect up its institutions in UlaanBataar to the Internet in places that local PTT's (telephone companies) are totally unable to provide digital connectivity. This work publicized by MSNBC television has attracted global attention - and Hughes has been solicited for advice and consultations by representatives of scores of 3d world countries - Bangladesh, India, Pakistan, Uganda, Venezuela, Mexico, Cambodia, Puerto Rico, and Turkey on how to employ low cost, solar powered in many cases, secure, and non commercial digital wireless to connect up places which will never see the wired infrastructure of the United States.
His $400,000 NSF Project, 'Wireless Field Tests For Education' which assisted both urban, rural, and rural poor schools in Colorado, New Mexico, and Montana between 1995-1999 has been emulated by dozens of states, and the $1.5 Billion Texas Infrastructure Fund designed to assist Texas schools, libraries and health centers become connected has called on him repeatedly to advise them and show applicants for those funds how to use both terrestrial spread spectrum and satellite services to serve at affordable rates the smallest entities in that very large, very rural, state. Much of Hughes work takes him to the places which are avoided by corporate America because there are only high costs and low returns from such places.
Scientific American and the MIT Press have both solicited treatises from him, and both, in April 1998 and May 1999 have published his work.
Wired Magazine - 1 of 25 Most Innovative World Leaders
In 1998 Wired Magazine named Hughes one of the 25 most innovative 'Wired' leaders in the world. He shared that distinction with billionaire George Soros who funded telecommunications in ex-communist countries, and Steve Jobs of Apple Corporation. His citations clearly identified Hughes as a West Point graduate and highly decorated military warrior in his younger years. This has reflected favorably on West Point and its ability to produce, not only leaders, but men who have a sense of 'public interest' apart from 'private interests' (amassing fortunes or building companies via technology) for the betterment of mankind through technology.
Reporters, astounded at how much energy he has shown and just how far his reputation has spread without him being the head of, or backed by any large organization, have helped him calculate just how much he has been 'online' over the past 20 years during the infancy of the Information Age. They calculate he has read over 200 million words online, and produced over 8 million of his own. Which accounts in part for his very wide, and global, influence. And while he is known colorfully as 'The Cursor Cowboy' his reputation is always accompanied by the knowledge that he is a "West
Pointer" and exhibits the values it represents.
For 2 years since becoming active in the West Point graduates Web based online 'Forum' he has brought his extensive and unprecedented - among graduates - knowledge of Internet communications to educate and advise both the sponsors of the growing online service to graduates (15,000 of 40,000 living graduates use the service now) on how effective interactive telecommunications can be used to better educate Americans, the Congress, the Press and Media, about West Point and its current importance to the nation. He has directly assisted some graduates, using the online medium. Example - he became a Faculty Advisor to an active duty Major, graduate, attending the Romainian Defense College as he prepared his graduate thesis. But performing this function entirely online over months of time.
No Gun Ri
Dave Hughes used his extensive networking skills and experience as soon as the Associated Press broke the sensationalist story in October of 1999, of a so-called 'massacre' at No Gun Ri, Korea, in July 1950. Although Hughes, then a 2d Lt, was not yet in the 7th Cavary in Korea - he joined the Regiment a few months later along with large numbers of his classmates - he knew all the officers named in the AP Story, knew their writings on Korea, was an active member of the Korean Chapter, 7th Cav Association, and knew every veteran that the AP interviewed. He was skeptical from the beginning that the incident occured the way, and to the scale, that AP reported.
Hughes immediately went online, to both 7th Cav veterans, officers and men, rapidly did his 'own' research, and saw not only holes in the story, and doubt about its most outspoken veteran - Ed Daily - but also the damaging effect the repeated bad publicity was having on the efforts, 50 years later, to honor all the veterans of the Korean, 'Forgotten' War. Not only did his online skills help him investigate, he also started a very successful campaign to write, and circulate, Op Ed pieces on the military context of the early days of that war, and why the lack of readiness of the troops because of Congressional and Administration actions, led to the terrible problems the US Army had when thrown into Korea. Conditions which led to the killing of some civilians at No Gun Ri.
By circulating his Op Ed pieces to over 100 of his West Point Classmates, and over 300 graduates on the West Point Forum, he leveraged his one-man efforts as they in turn, sent his powerful writings to many publications. Newspapers all over the country - picked up his 'The Harder Lessons of No Gun Ri' which even made it to the Chief of Staff of the US Army's desk who passed it to the head of the Army Investigative Team, LTG Akerman, who said 'It was the best thing written yet on No Gun Ri.' Hughes also found, by feedback, many veterans, including a JAG officer in the 1st Cavalry Division, who was there, and whom, on Hughes recommendation were interviewed by the DA IG Team.
Hughes words were circulated so widely that media, from the New York Times, Baltimore Sun, Rocky Mountain News, and CBS Television interviewed him, and he in turn pointed them to others who should be interviewed. In fact the only reason that the 50th Reunion of the Class of 1950 at West Point was covered by the media - and especially CBS ews, was from the online advocacy by Hughes. It was very favorable national publicity for an Academy Alumni event that is rarely ever covered by the press. In fact one Pulitzer Prize winner for his book on Vietnam, David Halberstam, who is doing a book on the Korean war, was put in contact by Hughes with large numbers of West Point graduates from that war, whose views and experiences are bound to find a place in his work.
All this online activism contributed to the astounding finding by US News and World Report, picked up by other media, that the chief witness and participant to the 'massacre,' one Ed Daily, was a complete fraud. Which Hughes then was able to circulate all across the country in a much reproduced piece called "What Did Not Happen at No Gun Ri." In short, using his networking skills, his combat experience in the 7th Cav, his stature with Integrity, as a West Point graduate, he help a great deal in educating the American public on the more profound, rather than just sensationalist, lessons of No Gun Ri, the Korean War, and the actions by honorable men there, including many West Point graduates.
He did all this in a very short span of time, demonstrating by personal example how one West Pointer can 'make a difference' in public opinion on matters military, using the most advanced forms of Internet telcommunications, while still running his Colorado company, and carrying out a heavy load of work for the National Science Foundation. Other retired graduates, with some networking skills, have learned from Hughes how they too, as grads, can make a difference in educating the public which has become ever more distant from the US Military.
Virtual West Point
His most important contribution, as a graduate, to the contemporary purposes of West Point has been to propose an imaginative, very future looking, rich, large, and impressive 'Virtual West Point' project, which may in the end cost more than $10 million (he has suggested sources of funding). This idea, strongly endorsed by scores of graduates, will put West Point on the global World Wide Web map in unprecedented ways, so that the current 60 million Americans who are actively on the Internet - including the tens of millions of potential school-age candidates for admission, can 'visit' West Point electronically, with the full, rich, and real-time graphical impact the premises makes on visitors, with real time global internet 'broadcast' of public parades, athletic events, and cadet activities that are the daily life at West Point. To present the histories and accomplishments of graduates from the beginning of the Academy. And, anticipating near term increases in telecommunications capabilities, be able to present, online, feature length documentaries and films, past and future that can capture the imagination of Americans and inspire its youth toward admission as cadets. As well as provide a true, interactive, dialogue forum where the public and press can discuss all things military, and in large measure make up for the widening 'knowledge gap' between Americans in a volunteer Army age, and its own military services.
This proposal has been submitted to Assembly Magazine for consideration by all graduates.
At 71, Hughes has just been awarded a $1 million grant by the National Science Foundation to pioneer, for the next three years, the uses of digital wireless in support of biological scientists in remote areas, including the Rain Forests of Puerto Rico, and the frozen lake country of northern Wisconsin, and linking their sensors, and work, not only to them, but to the Internet and thus make hard environmental science available to both scientists, students, and the general public as it is being created.
So Hughes is still pioneering, and can be expected to continue to do so to the end of his life.