Board Of Directors
Special Events
Scheduled Meetings
More from the President
Edward Kime
Class of '56
On Tuesday, 22 June, Governor, Cecil Underwood, hosted a reception for six of West Virginia's new West Point cadets. The six cadets, who will report to West Point as new members of the Class of 2002 on Monday the 29th, are shown with the governor in the picture just below.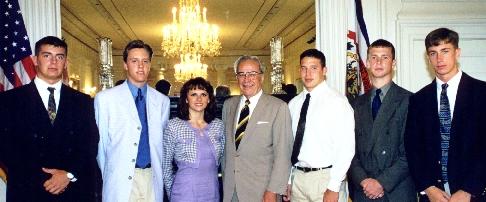 From left to right the cadets are, William Vickers, Justin Canterbury, Sally Ann Talbott, Brian Zickefoose, David Moore and Matthew Humphrey. A seventh, Wynne Beers, was not able to attend. Families were also invited and following brief introductions, each cadet and parents were photographed with the governor. Photos of the cadets were sent to the WP Society of WV for mailing to the cadets famillies.
This media provided excellent coverage for this event and this should help our society in its efforts to increase West Virginia's share of available scholarships. Appointments to the academies are reported to be worth $250,000 each. Three TV stations were at the reception along the the Assocaiated Press, Metro-Media Network and the Charleston Daily Mail. Each cadet was interviewed by a least one of the stations and content was forwarded to the appropriate local TV station for each cadet.
In addition, a number of local TV stations conducted news interviews with the cadets and their families both the day and the day after the reception. I was able to attend and Norma Gensler, the new president of the WP Parents Club also attended to meet the cadets and sign up their parents.