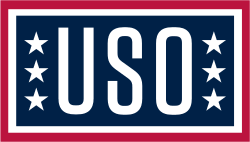 The West Point USO Atlanta Airport team needs volunteers!
If you are interested in spending a few hours a month supporting American service-members, please reach out to Dave Taylor.
As part of our community service, the Society has been supporting the USO since shortly after 9/11. As the years have passed the original group of volunteers have moved, aged out, or started to spend more time with grandchildren.
As a consequence, we need to replenish our volunteer pool for the opportunity to give back to our service members.
We encourage you to support this worthwhile Society project. If you are a Corporate Leader looking for team building or volunteer projects for your company, please consider the USO
If you are interested please contact the coordinator, Dave Taylor, at either dlt30075@att.net or 770-316-8094.
Some details of the program are:
Mission: Help service members and their families as they transit Hartsfield-Jackson.
Location: The Hartsfield-Jackson USO on the third floor of the rotunda in the main terminal
Frequency and time: Every third Thursday of the month from 10:00 AM to 2:00 PM
Parking: Free in hourly lots
Point of Contact: Dave Taylor
C: 770-316-8094; email: dlt30075@att.net
Please contact Dave Taylor at 770-316-8094
See what's happening on our social sites
Facebook ‌