John Green '09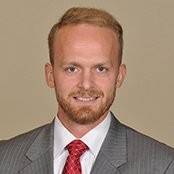 John Green (USMA '09)
He served with distinction with the 3rd Infantry Regiment, "Old Guard" and with Arlington National Cemetery successfully updating and implementing important policies related to our Nation's military funeral procedures. His full military background can be found
here
.
Topics he can help with: legal education / law school (especially at Emory), getting published in a journal, and bankruptcy law.
Each month, WPSA will highlight an Atlanta area
grad
uate and WPSA​ member doing something professionally noteworthy in a business context. Please nominate a
Grad
you feel has accomplished or is accomplishing something worth sharing.
Each selected
Grad
agrees to help those that reach out to them seeking guidance or advice. Please respect their time. Nominations are voted upon ​
by the WPSA Board monthly. Nominations can be sent to President Elect Samir Patel '08 at samir.t.patel@outlook.com
Grip Hands!
Board of Governors
West Point Society of Atlanta