Grad: Lee Rivas '96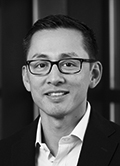 Grad: Lee Rivas '96
About Lee: Lee started his career as an officer in the U.S. Army where he held several operational leadership roles in tank and armored cavalry units in the U.S. and abroad, and left active duty as a Captain. Lee graduated from the United States Military Academy at West Point where he was a member of the academic honor society Phi Kappa Phi and holds an MBA from the Harvard Business School.
His professional career includes serving as an engagement manager at McKinsey & Company, a leading global strategy consulting firm. He led client teams focused primarily on overall strategy, mergers and acquisitions, and sales strategy. Lee then joined RELX group, a global provider of data and analytic solutions across industries and held a serios of commercial and general management role.
Lee Rivas is currently the President of RELX global healthcare businesses. He is responsible for over $1b of revenues and 2,500 employees across the Elsevier Clinical Solutions, Nursing and Health Education, and LexisNexis Risk Solutions' healthcare data businesses. His business is dedicated to educating and training healthcare professionals, improving patient outcomes, and enabling high quality decisions through the use of, evidence-based content, technology and analytics.
How to contact: L.Rivas@elsevier.com
Topics he can help with: corporate leadership, mergers and acquisitions, corporate strategy and product management.
Each month, WPSA will highlight an Atlanta area graduate and WPSA member doing something professionally noteworthy in a business context. Please nominate a Grad you feel has accomplished or is accomplishing something worth sharing.
Each selected Grad agrees to help those that reach out to them seeking guidance or advice. Please respect their time. Nominations are voted upon
by the WPSA Board monthly. Nominations can be sent to President Elect Samir Patel '08 at stp@scottbx.com
Grip Hands!
Board of Governors
Westpoint Society of Atlanta