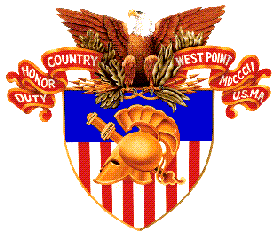 West Point Parents Club
of East Tennessee
The West Point Parents Club of East Tennessee invites parents of USMA cadets and graduates to join us.
Presidents: Susan and Ed Herrington 423-245-9305
The Military Academy Liason Officer (MALO) position for East Tennessee is vacant for now.. The MALO assists interested individuals with West Point application process.
Our bi-monthly meeting is held in the months of February, April, June, August, October, and December.
Our June meeting will be our annual summer picnic. Everyone is invited - parents, cadets, graduates, cadet candidates and their families. It will be held Saturday June 12 at Panther Creek State Park near Morristown. We have the picnic shelter reserved all day, so come in the morning and enjoy the park. The club is providing hamburgers, hot dogs, and buns. We have the grill, paper products, table covers, ice, drinks, and condiments. Everyone needs to bring lawn chairs, games, etc. and 2 dishes of food (appetizer, dessert, salad, or vegetables). Meet at the Upper Pavillion. A Map is available if you need one. Times: 12-2 Social time and cookout. 2:00 - Lunch is served. 3:00 - Meeting. For further info or to RSVP (so we have enough hamburgers, etc.), please call Susan 423-245-9305 or Lillian 423-475-8567.
Army Navy Game! For those new to our club, we traditionally go to the Army Navy Game together, stay at the same hotel, and sit together and visit some with our cadets. This is a fun event you won't want to miss. We are staying at the Doubletree in downtown Philadelphia again. If you need rooms, please let Susan know ASAP. We are considering renting vans this year. Vans carrying 10 people each would cost about $40 per person. If you are interested, please call Susan for further information.
United States Military Academy | WPP-NET | Army Times
Other West Point Parents Clubs (WPPC):

Greater Houston | Northern California | Maine
Updated February 2,