Weston David Balfour
11/17/20 to 9/7/44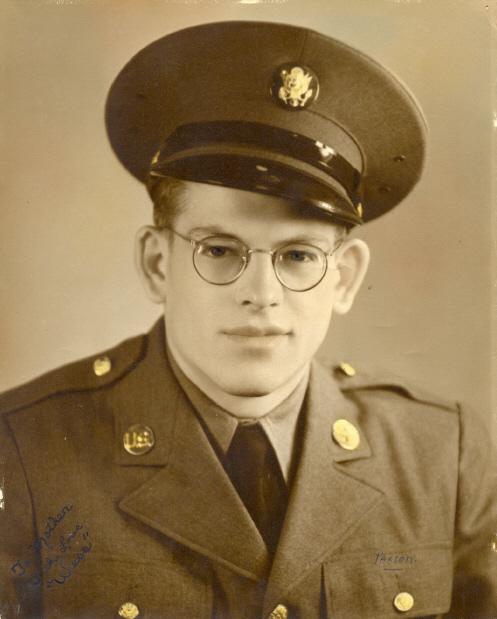 On Nov.'80, Suzanne Dewberry, my cousin Richard's wife, completed her term paper "The Circumstances Surrounding the Sinking of the Shinyo Maru". Suzanne made me a copy of her term paper and all of the support documents and placed them in a 3-ring binder. I read it cover-to-cover. I had known since my earliest memories that my uncle Weston (my namesake) was "killed in the war", but I believe this was the first time that I heard the whole story.
Weston David Balfour (aka "Wess") was born November 17th, 1920, in Salt lake City, Utah. Wess graduated from Laguna Beach High School (LBHS) in Laguna Beach, California, in June of 1940. Wess lived with his two sisters, Jean (or Jeanne) and Marge, and his parents, John and Sylvia Balfour at 749 La Vista Drive in Laguna Beach. Wess' home was just a short walk, almost a stone's throw, from LBHS. In fact, you could hear the lunch bells from his home. Wess' academic record at LBHS averaged a D+ in his senior year and that included P.E.!! Repeat and dropped classes and grades of "F" occurred during his sophomore and junior years.
In spite of Wess' academic record, both Wess and Marge enrolled as Freshman at Fullerton Junior College (FJC) in 1940. The family rented their home in Laguna and temporarily moved to a 2-bedroom rental in nearby Huntington Beach at 1114 Palm Street. This was also convenient as Wess' dad worked for the Southern California Edison Company whose Huntington Beach District was located at 804 Lake Street, just a few blocks away on the other side of Main Street. During this time, Jean enrolled at Huntington Beach High School and attended from 9/16/40 thru 6/20/41 – her entire sophomore year. Because of the privacy laws, I could not obtain Wess' transcript at FJC "without a Court Subpoena". Nevertheless, I think Wess was ill-prepared academically to attend FJC. As a result, after only one semester, Wess dropped out of FJC and enlisted in the U.S. Army February 14th, 1941, at Fort MacArthur, California, for service in March Field, Calif. After Jean finished her sophomore year, the family moved back to Laguna Beach.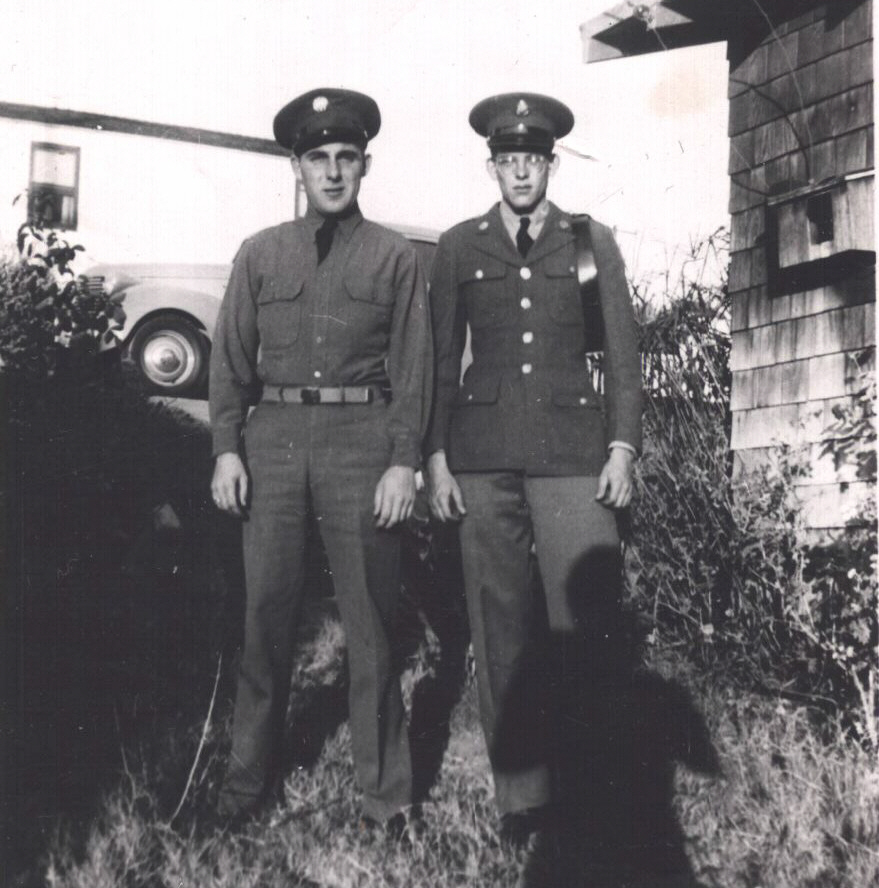 This photo of Wess was taken in Laguna Beach
Fast forward to Mar.'03. Armed with Suzanne's term paper, I wanted to know more about Wess' experience in the Philippines prior to his loss on the Shinyo Maru. Fortunately, in the 22+ years since Suzanne did her original research, several things had changed:
The internet: The world-wide-web is an unbelievably rich resource in terms of researching WWII, Philippines, Bataan, "Death March", POW, and "Hell Ship" experiences. There are hundreds of web-sites.

As an example, Suzanne obtained a copy of Wess' original IBM "punch-card" and the corresponding decoding performed by the Modern Military Branch, Military Archives Division. That same info is now available on-line at the U.S. National Archives & Records Administration.

The survivors of the Bataan "Death March" and the sinking of the Shinyo Maru have written dozen of books – dozens of eye-witness first-hand accounts of their experiences between 12/7/41, the beginning of hostilities, and 9/2/45 when Japan signed the Instrument of Surrender on the deck of the battleship U.S.S. Missouri in Tokyo Bay.
The book that provides the most intimate details of what Wess probably experienced was written by Duane Heisinger and is titled "Father Found – Life and Death as a Prisoner of the Japanese in World War II". This book is a real "treasure" – a one-of-a-kind perspective for folks like myself that need more than "just another history lesson" on the fall of Bataan, the "Death March", etc. This book is part of my permanent library, and is signed by the author as follows: "In Memory of Weston D. Balfour – March 2004 – I hope somehow that in your reading you will gain some additional understanding of these events – especially those days in DAPECOL where your uncle and my father shared the same camp. Duane Heisinger".
The following is a brief synopsis of Wess' experiences in the Philippines prior to his loss on the Shinyo Maru:
Wess enlisted in the U.S. Army February 14th, 1941, at Fort MacArthur, Calif., for service in March Field, Calif.
Wess' stats: Weston D. Balfour, S/N 19056293, Grade T/5, 693rd Ordnance Company (Aviation).
According to the harrisonheritage.com website, Lt.Col. Nelson H. Russell was the Company Commander of the 693rd Ordnance Company (Aviation Pursuit) at Nichols Field in 11/41. The 693rd., being the bomb loaders, machine gun fixers, engine mechanics, etc. were out of a job soon after hostilities began.
In spite of the Philippines receiving an "early warning" of the Japanese attack on Pearl Harbor, our Air Force was basically "caught on the ground" at Clark and Nichols Fields and destroyed. Within a few days of the initial attacks on Clark, Nichols, Iba, and Nielson Fields between 12/8/41 and 12/12/41, American Army and Navy air power in the Philippines had been virtually destroyed, and Wess was essentially out of a job.
Members of the 693rd were now members of the Provisional Infantry Company. With the Japanese invasion of the Philippines which commenced 12/10/41, the defense of Luzon, and finally the Bataan peninsula, commenced.
After almost four months of fighting, General King surrendered his forces on Bataan 4/9/42. Corregidor continued to fight and did not surrender until 5/6/42. Perhaps 2,000 of the weary Bataan veterans made it to Corregidor – the numbers were never clear.
The American and Filipino prisoners from Bataan were marched from Mariveles on the Bataan peninsula 63 miles to San Fernando. This was the infamous "Death March". At San Fernando they were packed like sardines into railroad boxcars and taken 28 miles to Capas in Tarlac Province via rail. Once at Capas, they were marched another 6-8 miles to Camp O'Donnell, a partially completed American airfield. The death toll on the "Death March" is unknown; perhaps 600-650 Americans and 5,000 – 10,000 Filipinos.
Camp O'Donnell was another "hellhole". By the time that Corregidor fell on May 6th, 1942, the last of the "Death Marchers" had already entered Camp O'Donnell on April 24th, 1942, twelve days before the surrender of Corregidor. The POW's from the "Death March" arrived at Camp O'Donnell everyday from April 12th, 1942, up to April 24th, 1942. During the first forty days of Camp O'Donnell's existence, more than 1,500 Americans were to die. At least 25,000 Filipinos died during that same period.
Due to the extremely high death rate at Camp O'Donnell, the Japanese transferred all American POW's to Cabanatuan Camp#1 6/6/42. 500 Americans were left behind to bury the dead and this group was transferred to Cabanatuan Camp#1 7/5/42.
About 1,000 American POW's were transferred from Cabanatuan Camp#1 10/27/42 to Davao Penal Colony (DAPECOL) on Mindanao. Camp Davao had formerly been a penal institution for Filipino civilian offenders.
On 3/2/44, 650 POW's were sent from DAPECOL to the Lasang Airfield. The Allies eventually bombed Lasang Airfield and the Japanese decided to transport the POW's to Japan. On 8/20/44, 750 POW's (the original 650 and an additional 100) were placed in the holds of a dilapidated Japanese transport ship, "No. 86". Later, the POW's were transferred to a smaller transport, the Shinyo Maru.
On September 7th, 1944, the submarine U.S.S. Paddle, on her 5th war patrol, encountered the Shinyo Maru in a small convoy about ten miles north of Sindangan Point, Mindanao. At 4:51pm, the U.S.S Paddle fired two torpedoes and sunk the Shinyo Maru. A second ship was also torpedoed but was beached to prevent it from sinking. Many POW's that survived the torpedoing were either shot by their Japanese captors or killed by grenades thrown into the open holds. It's quite possible, even probable, that Wess never survived the initial torpedo attack. 83 POW's survived the sinking of the Shinyo Maru and reached shore with one of them dying after reaching shore
On September 29th, 1944, the submarine U.S.S. Narwhal evacuated the Shinyo Maru survivors. By 9:36pm the last of 81 survivors and one doctor were on board.
During my research, I met Ted Pflueger via email. Ted was one of the 82 survivors of the sinking of the Shinyo Maru. Ted was in the 803rd Avn Engr Bn at Nichols Field when the war started. Wess and Ted traveled the same path to reach the Shinyo Maru. Ted shared his experience in surviving the sinking. I sent him a copy of Suzanne's term paper and copies of some of the support documentation and Ted sent me the casualty list from the sinking. I found out that Ted was also the secretary for the survivors of the sinking and that 25 of the 82 were still living.
On Sat. April 26th, 2003, I had a very interesting conversation with my aunt Marge in Alabama. She told me that a survivor of the Shinyo Maru came to Laguna Beach. Wess asked him to see his dad if anything happened to him. He knew Wess and worked with him in the rice fields at the POW camp (possibly DAPECOL). They got separated when they were put on the ship where they were "stacked like cordwood" and he never saw Wess again. Aunt Marge said that he was just "skin and bones" and was with his girlfriend. This was the first time that I had ever heard this story.
I related the story to Ted via email and asked him, as secretary, to inquire whether any of the 25 had stopped in Laguna Beach to see my grandparents when they got back to the States. He emailed all that had email capability and received no replies. Ted had told me that the casualty list for the Shinyo Maru was "prepared by J.J.Morrett, one of the survivors. He had each of the survivors list those of their friends that were on the ship and did not make it. He then consolidated the list and eliminated the duplicate names."
After I got the correct mailing address from Ted for Rev. John J. Morrett, I wrote him a letter on March 6th, 2004, asking him if he still had those original lists? My thinking was if I could determine the friend that listed Wess on his list, I might be able to identify the survivor that stopped in Laguna.
John's response penned March 14th, 2004, starts out: "Dear David: Yes, I believe I am the one who stopped by to see your grandparents after the sinking of the Shinyo Maru." I called John March 19th and talked with him about Wess and his book "Soldier-Priest". John was not ordained when he was in the Philippines, but had attended seminary for 2 years before volunteering for service. His book is also a permanent part of my library.
During my research, a lingering question was: was Wess on the "Death March"? I asked Fred Baldassarre, the webmaster for the "Battling Bastards of Bataan" (BBB) website whether or not Wess had been at Camp O'Donnell. Fred replied "I found your uncle right away." Unfortunately, I was never able to get an answer from Fred as to what the source of that statement was. On 4/3/03, Fred sent me the "Death Roster" of the 693rd Ord Co (Avn) from Camp O'Donnell. There were 14 names on that list. Fred had extracted the members of the 693rd Ord Co (Avn) from their Camp O'Donnell "Death Roster". The harrisonheritage.com website indicated that after Nichols Field was abandoned, the members of the 693rd Ord Co (Avn) were now members of the Provisional Infantry Company and defended Bataan. Camp O'Donnell's "Death Roster" supports that and also indirectly places Wess at Camp O'Donnell. Bottom-line? Although circumstantial, the evidence is compelling that Wess was on the "Death March". The BBB website contains a photo of the Camp O'Donnell Memorial Monument at Capas, Tarlac, PI.
In addition to Suzanne's term paper and supporting documents, she also gave me a brochure and photos from the Manila American Cemetery and Memorial, located about six miles southeast of Manila, Republic of the Philippines, within the limits of Fort Bonifacio, the former U.S. Army Fort William McKinley. In front of the chapel, near the center of the cemetery, are two large hemicycles with rooms at each end. On rectangular Trani limestone piers within the hemicycles are inscribed the names of 36,285 of the Missing "who gave their lives in the service of America and who rest in unknown graves." Weston D. Balfour is one of those 36,285 names inscribed on those piers. Wess' name is also included in the 176,399 records at the American Battle Monuments Commission website.

Wess' name inscribed on the Trani limestone piers at the Manila American Cemetery and
Memorial
Finally, on a lighter note, it's pretty obvious from Wess' LBHS transcript that academia was not Wess' strong suit. Rumor has it though that he was one hell of a football player. In Feb.'01, I was in Silver Images Photography on Ocean Ave. in Laguna Beach looking at vintage photos of Laguna. There was not much room at the counter, so I was standing next to an elderly gentleman on my right that was in the process of buying a new camera. The vintage photos were in two 3-ring binders and I very quickly spotted a photo that I had not seen for many years – a photo of my grandfather and the volunteer fire department taken at the Laguna Beach Fire Department on Forrest Avenue. I told the owner that I would like a copy of that photo. The gentleman to my right asked me if I knew anyone in the photo. Pointing to my grandfather, I said "yes, John D. Balfour, my grandfather". His next question just blew my socks off: "Is that Weston's father?" My jaw had to have dropped!! I asked him how on earth he knew Weston? He said that he had gone to LBHS with Weston and knew him by reputation as a good football player. He said that he was several years behind Weston, didn't know him personally, only by reputation. After I got back home, it occurred to me that I didn't even get his name, so I called the owner of Silver Images Photography and asked who I had been talking with: Denys O. Jacobsen, a long-time Laguna resident and a LBHS graduate from the Class of '47. Wess graduated in June of 1940 so those memories of Wess as a football player were 61 years ago!! Like I said, rumor has it that Wess was one hell of a football player!! Interestingly enough, it was this encounter at Silver Images Photography that rekindled my interest in Wess' experiences in the Philippines.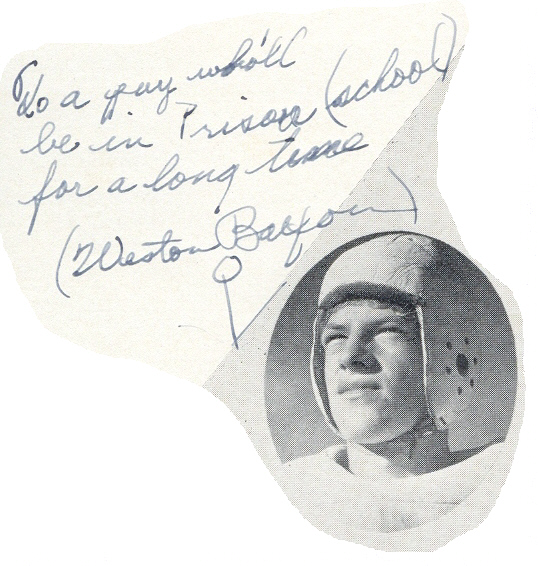 Wess' football photo from Hal Myers' 1939 LBHS yearbook the NAUTILUS.
Hal grew up with Wes, Marge, and Jean, and was LBHS Class of '44.
Written By Weston David Ishmael - Latest Revision 25Jul05