« Buffalo Mountain Nature Preserve | Main | Neighbors Fleeing »
August 29, 2004
Fox Grapes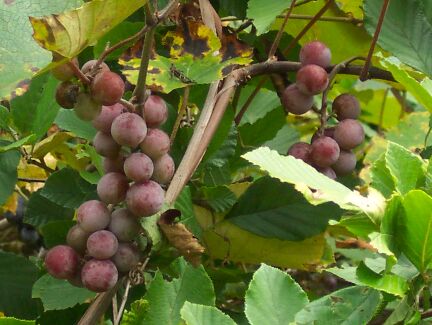 Along many of the small spring fed branches, a profusion of wild grape vines span the creek with clusters of these just now ripe summer bounty. In less than an hour, we picked a bushel! Lots more for hungry animals, but no apparent interest on the part of birds, foxes, or possums! All ours!
Sam and Betty Getgood are supposed to figure out how to convert all this into jelly while we're getting ready to move into the cabin over the coming week.
Sam surprised a black snake as big as her wrist, causing it to regurgitate a good size bull frog. Looked pretty rough, but still managed to swim away when placed in a nearby pond! What a story she'll have to tell when they all start croaking tonite!
Posted by pricej at August 29, 2004 07:11 PM
Comments
Post a comment