Cadet Basic Training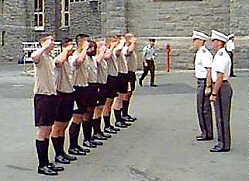 Cadet Basic Training begins on Reception Day (R-Day) in June. The new cadet reports to Michie (pronounced Mikey) Stadium, and after a short greeting, is given 90 seconds to say good-bye to their family. The new cadets are marched across the stadium floor, and begin to live life as a New West Point Cadet.
Within 2 hours of arrival, new cadets report to the "Cadet in the Red Sash" for in-processing instructions. In just 8 short hours, the cadet chain of command will in-process approx. 1200 new cadets, wherein you will receive vaccinations, gear, and clothing. You will begin to learn to stand, march, and behave like a West Point Cadet. The day concludes with a full review that includes new cadets receiving the cadet oath and passing in review. During the day, the family members of cadets have been provided an opportunity to see West Point, and hear the Superintendent speak. At the end of the day, they can view their new cadet in a "Pass In Review". In this one day, it is already apparent that the new cadets have begun to make the transition from civilians to Army soldiers.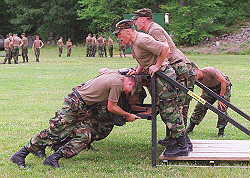 From Day One, new cadets start their day at 0530 with physical conditioning.(stretching, running, close quarters combat, and conditioning road marches). The first five days also include further inprocessing with the week ending with Sports Orientation & West Point Tour. It is a busy first week.

The following weeks include:
NUCLEAR, BIOLOGICAL, CHEMICAL TRAINING
MOUNTAINEERING
GENERAL MILITARY SUBJECTS
WARRIOR COMPETITION
BASIC RIFLE MARKSMANSHIP
INDIVIDUAL TACTICS AND TECHNIQUES
SQUAD TACTICS AND TECHNIQUES
HAND GRENADES
LEADER REACTION COURSE
CONFIDENCE OBSTACLE COURSE w/ SQUAD MILES
INDIVIDUAL PROFICIENCY TRAINING
1ST AID TRAINING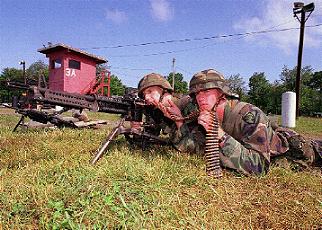 By the end of CBT, the new cadet will have completed several 3-mile, 6-mile, and 8-mile road marches with full equipment to prepare new cadets for the 12-mile road march out to Lake Frederick and a 15-mile road march back at the end of the second detail.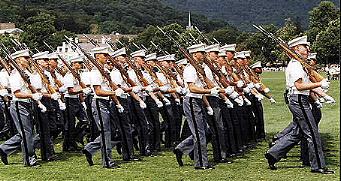 ---

E-MAIL US