Memorial Day 2013 – at Fort Rosecrans – San Diego, CA
San Diego AWON sisters Barbara Torrey Smith, Martha Spears Lapore, Rita Nero Blair and Sharon Crowley Connor attended the 113th Memorial Day ceremonies at Ft. Rosecrans National Cemetery on Monday, May 27. Barbara provided the patriotic floral offering on behalf of AWON, as she does each year. As a member of the planning committee, Barbara also arranges AWON seats in front, behind the Gold Star Mothers.

San Diego has the highest concentration of military in the coun try and now has two national cemeteries. Miramar National Cemetery recently opened for the rapidly growing number of Veterans deaths. (Ft. Rosecrans has nearly 110,000 interments and also 24 Medal of Honor recipients).
There are many sites around the county thathold Memorial Day ceremonies, but Rosecrans holds a special place in the hearts of Barbara, Martha, and Sharon. CDR Philip H. Torrey, Jr. is buried at Ft. Rosecrans; LCDR John Randall Spiers and SGT William E. Crowley are buried at sea, but are recognized with memoria markers at Rosecrans.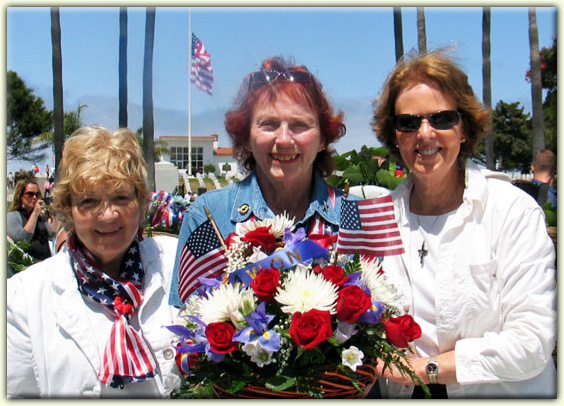 Rita Blair, Sharon Connor, and Barbara Smith with the AWON floral tribute.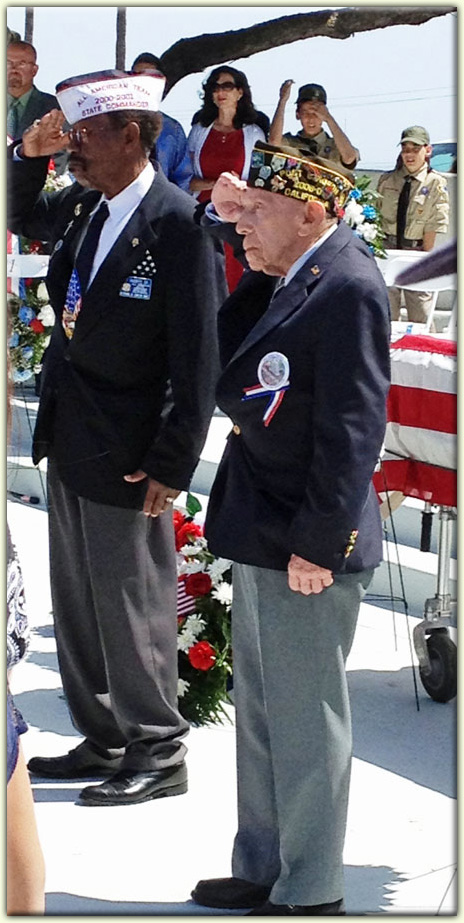 Older veterans smartly saluted each floral honor as it was presented.



Special thanks to Barbara Torrey Smith for her yearly floral offering,
and to Martha Lepore for the photos.
Thanks as always to Sharon Crowley Connor for chairing the oveseas Wreath
and Banner Program and to past AWON Board President Judy Geis Hoffman for staging
ALL of the Memorial Day Remembrances for 2013.