Memorial Day 2008 – at Fort Rosecrans – San Diego, CA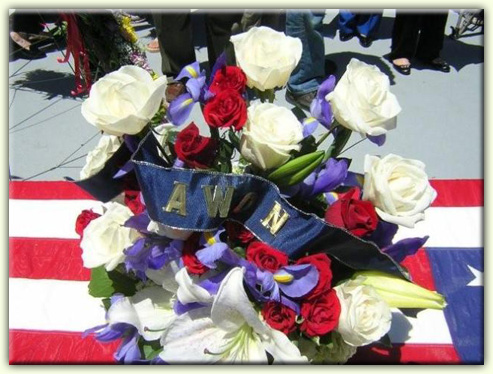 The AWON floral tribute is provided each year by Barbara Torrey Smith, whose father,
USN Cmdr Philip Huston Torrey Jr. rests at Ft. Rosecrans.

AWON members in attendance this year were Barbara Torrey Smith, Sharon Crowley Connor, Roger Connor, Rita Niro Blair and Linda Hallack Porter. Martha Speirs Lepore took the photos.


The smartly dressed U.S.M.C.Honor Guard stood unmoving throughout the ceremony.


Barbara and Martha have placed roses on USN Cmdr Torrey Jr.'s grave.


Also remembered at Fort Rosecrans is Sharon Crowley Connor's father, Sgt William E. Crowley.



Special thanks to Barbara Torrey Smith for the beautiful wreath, to
Roger Connor for the photographs, and to Sharon Crowley Connors for Chairing
(and staging for the website) ALL of the overseas 2008 Memorial Day Remembrances.