Memorial Day 2009 at the National Cemetery of the Pacific.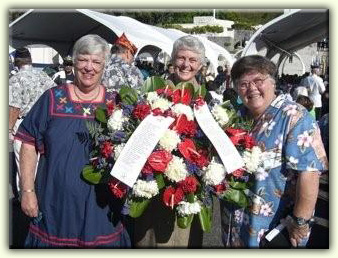 Alix Bonnyman Prejean, Susan Chadd, and Vanita Rae Smith with the AWON wreath
just before the ceremonies. The Courts of the Missing with the names of our Fathers
is in the background beyond the tents.

The Color Guard at the monument of the National Memorial Cemetery of the Pacific.


The Missing Man Formation flies above the Punchbowl.
In Their Memory



Thanks to Punchbowl Stateside Coordinator Susan Chadd for the arrangements.