Memorial Day 2009 at Luxembourg
Two orphans -- Carol Downs Brooks, daughter of PFC John W. Downs and Cherril Wehmueller McMillian, daughter of CPL Eugene Louis Henry Wehmueller -- presented the AWON Memorial Day wreath at the beautiful Luxembourg Cemetery. They were assisted by Denise Thill, a member of United States Veterans Friends Luxembourg (USVFL). On this lovely sunny day, 5,076 American soldiers who are interred and 371 who are memorialized on the Wall of the Missing were honored for their ultimate sacrifice.

Upon returning home Carol wrote: "One of the most rewarding opportunities of the trip was the experience of helping USVFL friends place the flags on the graves the day before the Memorial Day service. It gave me the privilege of reading many of the names and home states of the fallen, a chance to talk to our new friends and meet some of the visitors to the cemetery. Afterwards we shared a BBQ at Superintendent Hans Hooker's home, where we met the U.S. Ambassador, Ann L Wagner... and there are no words for the time spent with my father, a time to share our lost years."
Cherril wrote: "I have never attended a Memorial Day Event quite like the one at the American Cemetery in Luxembourg. The honor, respect and pride I feel for my Father and all the other soldiers who fought for our freedom is magnified in the hearts of the Luxembourg people. They are so appreciative of the US World War II troops and what they did for Luxembourg. On a personal note, every time I visit the cemetery, it brings me closer to a father I never knew. I feel his presence and in my heart there is communication."

The gorgeous AWON floral wreath.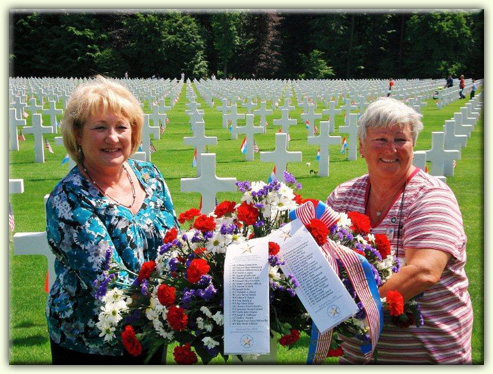 Cherril and Carol shared the honors of presenting the wreath.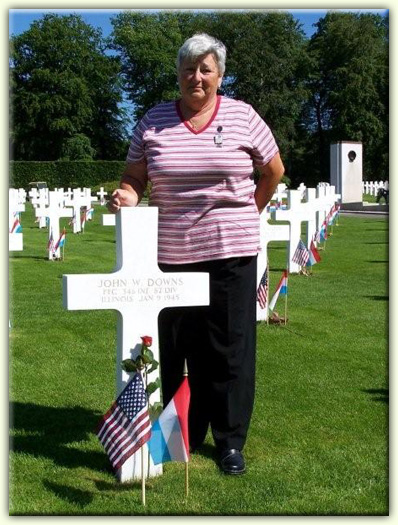 Carol stands beside her father's marble cross.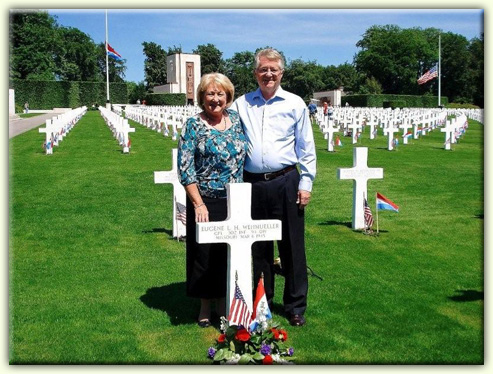 Cherril and husband Kent at her father's grave.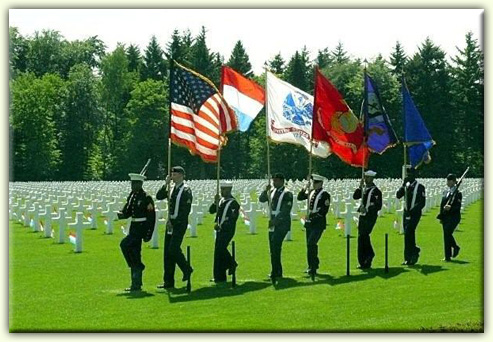 The Color Guard presents the flags.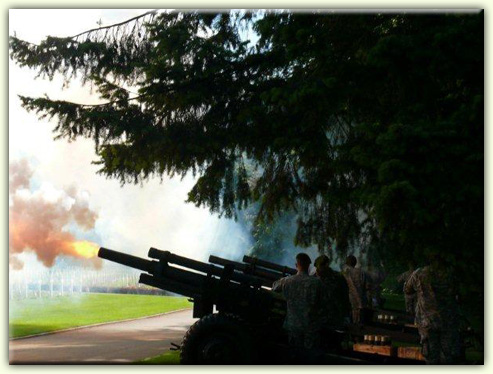 A dramatic salute to the heroes.

U.S. Marines stand in front of the heroes who sleep in unknown graves.


Freedom is not free.


The United States Veterans Friends Luxumbourg -- friends of all AWONers --
presented this wreath to honor the heroes.
In Their Memory



Thanks to Luxembourg Stateside Coordinator Roger Connor for the arrangements.