Memorial Day 2013 at Epinal
The wreath laying at Epinal American Cemetery in the Vosges Mountains of France was a terribly cold day and many umbrellas were seen in the photos. The AWON wreath was presented by Roland Prieur, retired Superintendent of Epinal, Jerome Leclerc, and Nicolas Liegey. All the persons pictured are members of the Association of l'Espace de Memoire Lorraine 1939-45. The association researches, educates, and memorializes WWII events in the Lorraine region of France. During the summer months, it operates the only WWII museum in Lorraine. It is located at Vezelise, south of Nancy.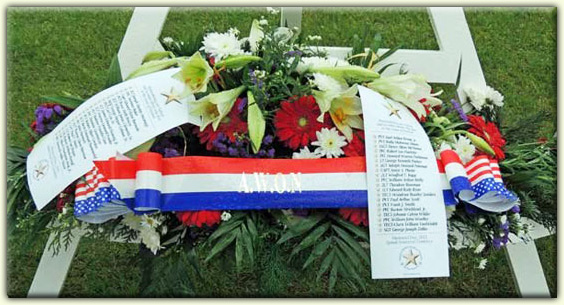 The Epinal Memorial Day wreath and banners • 2013

The persons seated under the umbrellas are all dedicated supporters of the US Liberators of France and their orphans, in addition to their work with the Espace association and other patriotic groups. They are Isabelle Mangin, Resistant and Gen George Patton's interpreter, Marie and her husband Roland Prieur, who is a US military veteran and retired Superintendent of the Epinal ABMC Cemetery, and Maurice Baier, Resistant and veteran of the French 2nd Armored Division.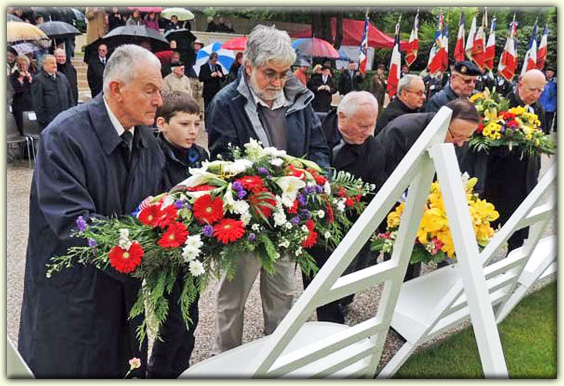 AWON wreath presenters are Roland Prieur, retired Superintendent of Eminal American,
Nicolas Liegey, the "next generation," and Jerome Leclerc, animator of the association
of l'Espace de Memoire Lorraine 1939-45.

A poignant video done by Epinal on the 2013 Memorial Day services,
and alerted by AWON Stateside Coordinator Dave Colinan, features
the AWON wreath above, and in a close-up below.


To see the Epinal American Video 2013 -- Click Here!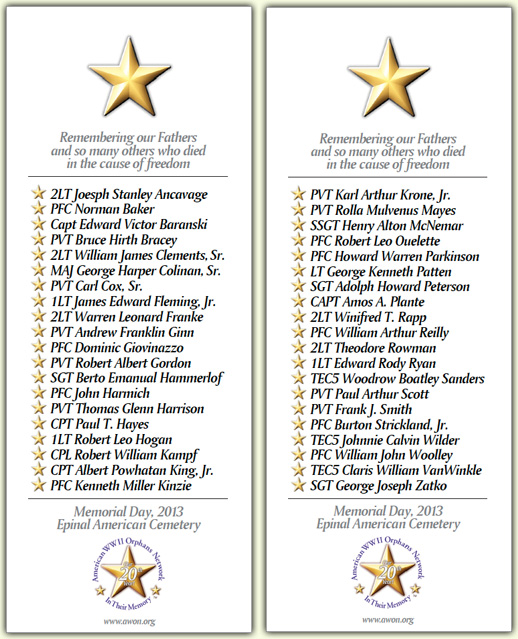 In Their Memory



Thanks to Epinal Stateside Coordinator Dave Colinan for the arrangements,
to Serge Julien for photography, and to Paula Evans Baker for submitting information.