Please help us find our Fathers through their buddies!
The premise of this page is that in many cases, our Fathers' buddies knew them better
than almost anyone – during induction, training, and deployment, and throughout their service.
Some as yet unidentified buddy may have been with him when he was killed. Please look at the
faces below, and help us find those men who knew our Fathers best. Maybe you can
help us find that one person who could tell it all.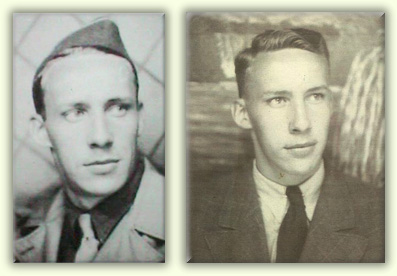 Above is PFC Maurice Joseph Ott, KIA 22 June, 1944, near St. Lo, France, the Father of Janice Ott Buterbaugh.
His uniformed picture is on the left. In civies on the right, in a picture that was possibly taken on leave
from training, photographed with his buddies below. If you recognize any of PFC Ott's buddies,
please contact Janice immediately: Click Here! To see PFC Ott's Tribute: Click Here!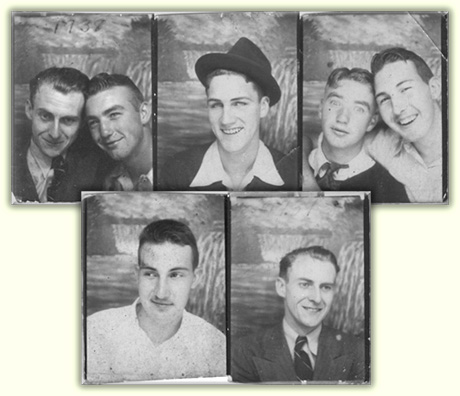 Here's the story -- and possible context -- of the buddies above. PFC Ott was with
the 28th Infantry Division, Company M, 112th Infantry Regiment from Jan. 28, 1937 to Jan 27, 1940,
and in the 29th Division, Company K,116th infantry from 1942 through 1944. The first picture
in the grouping above says "1938," so we think the men pictured here were probably buddies
on leave from the 28th ID. Please Click Here if ANYone above looks familiar.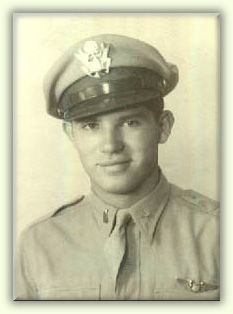 Above is LT Otis Milton Ririe, KIA 8 December, 1944 in the Panama Canal Zone,
the Father of Carolyn Ririe Lofgren. If you recognize any of LT Ririe's buddies below,
please contact Carolyn immediately: Click Here! To see LT Ririe's Tribute: Click Here!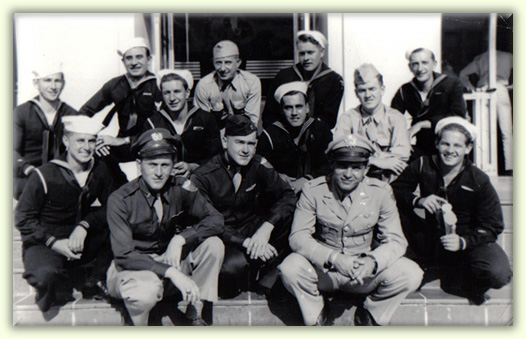 LT Otis Milton Ririe is in the light tan uniform kneeling in the front row.
The picture was taken either in Panama, San Diego or 29 Palms, CA in 1944.
LT Ririe was in the 51st FTR SQ 26th FTR CMD 6th AF. If you recognize
ANYone in the picture above, please: Click Here!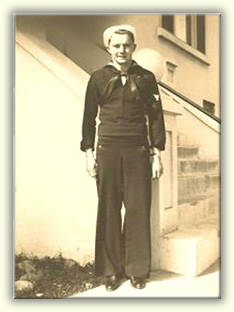 Above is Alfred Schuler, USNR PhM2c. KIA 10 November, 1942 in Guadalcanal,
the father of Kathie Schuler Hobbs. If you recognize any of Alfred Schuler's
buddies below . . . in the 2nd Marines, 1st. Battalion, Company A,
please contact Kathie immediately. Just Click Here!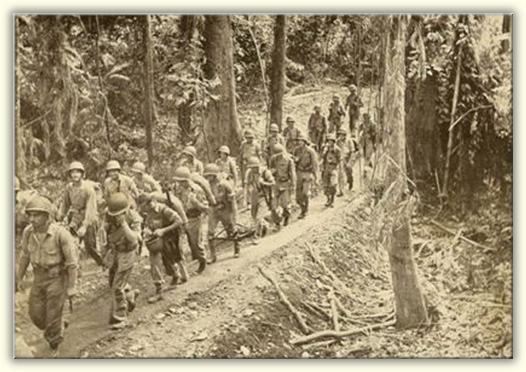 Alfred Schuler is believed to be the second man in on the back row. The picture is of
the 2nd Marines on patrol in Guadalcanal. Date unknown. If you recognize anyone
in the picture above, please Click Here!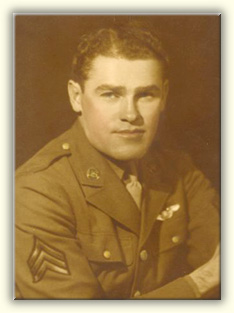 Above is S/Sgt. Leroy Ernest "Babe" Leist , KIA 4 February,1944, when his B-17G
crashed off the Coast of Walcheron Island, Holland, the father of
Adrian Leist Caldwell. If you recognize any of S/Sgt. Leist's buddies below,
please contact Adrian immediately. Just Click Here! To see S/Sgt. Leist's Tribute: Click Here!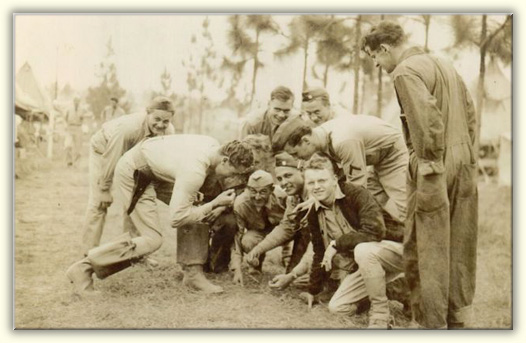 S/Sgt. Leroy Leist is the soldier about to shoot craps wearing the boots.
The picture is of the Ohio Buckeye Division of the Ohio National Guard
in 1941 at Camp Shelby, MS. In 1942 he was drafted back into the service
as a B-17 Tail Gunner with the Army Air Corps in the 100th Bomb Group.
If you recognize anyone in the picture above, please Click Here!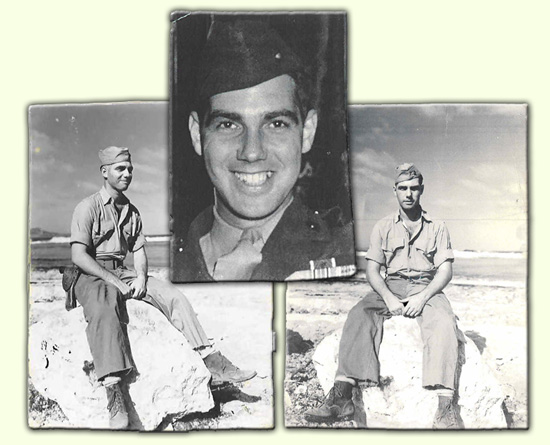 Please help us identify this man -- the Father of new member Bob Fortelny.
These are the only three pictures he has of his Father. Bob doesn't know his rank or unit,
or whether he was KIA in WWII or not, as his Mother passed and never spoke of him.
Fortelny is his step father's name. If you can identify the man above – Click Here!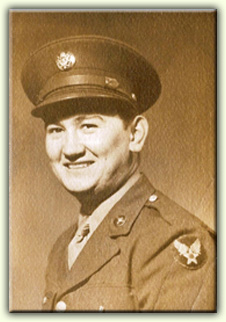 Above is 2LT Lewis S. Ball, Father of Patricia Ball Morrison.
2LT Ball was the pilot on a flight that never returned from
Nassau, Bahamas to Charleston Army Airfield, SC on June 20,1944.
The aircraft was never found and presumed to have crashed in the
Atlantic Ocean. If you recognize any of 2LT Ball's buddies below,
please contact Patricia immediately at pmorrison@acegroup.cc.
To see 2LT Ball's tribute : Click Here!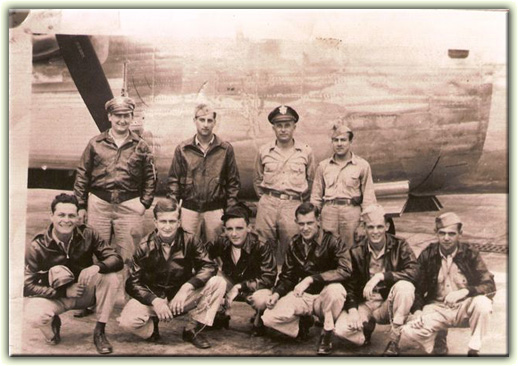 The picture above is of the Combat Crew 193 of the 113th Army Air Corps
at Charleston Army Air Field on June 20,1944. The serial number of the B-24 is 42-50534.
2LT Ball is standing in the second row on the left with his hand in his pocket. Following are
names of the crew members, but it is not known which name belongs to which crew member.
| | |
| --- | --- |
| Lewis S. Ball, pilot | John Flynn, asst. engineer |
| Allan Cantor, co-pilot | Calvin Arent, radio operator |
| Gene DePalma, bombardier | Raymond Pachuki, asst. radio operator |
| Allyn Pierce, navigator | Charles Brewer, gunner |
| Theodore Hirsch, engineer | David Hackney, gunner |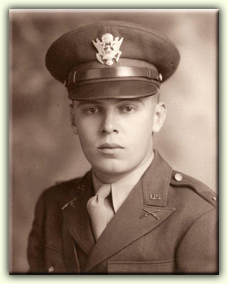 Above is Lt. Roger N. Phillips, brother of William (Bill) Phillips. Lt. Phillips was killed on
November 1,1944 in a medical evacuation flight on Mt. Pilat near the towns of St. Chamond
and Doizieux, France. Lt. Phillips was with the 3rd Infantry Division, 15th Infantry, Company K.
Killed in the crash were 4 members of the airplane crew, the flight nurse, 9 U.S. soldiers,
and 6 German POWs.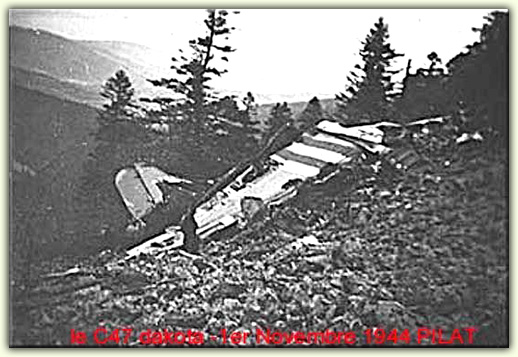 Except for the crew and the nurse, the U.S. and German soldiers aboard were all wounded
and were being evacuated from Luxeuil to Istres, France. Lt. Phillips was killed in that crash
after being seriously wounded on October 26th.
Below are some of the crew and soldiers on the plane. If you recognize any of the names,
please contact Bill Phillips at billphil@ntelos.net

Lt. Carson M. Roberts
Lt. William C. Ward
Sgt. Shirley N. Breckinridge
Cpl. Howard Kahler
The four above are from X11 AF, 51st TC Wg.64th TC GP and the
seven below are those Bill Phillips is still seeking:

S/Sgt. Leonard B. Vasquez, Company E, 141 Inf.
Sgt. Ronald K. Takara, Company B, 442 Inf.
PFC. Ellis F. Gillespie, Company A, 7th Inf.
Pvt. Ciro J. Romano, Company I, 30th Inf.
Pvt. Edwin Beal, Battery D, 72 AAA
Pvt. John Ferrara, Company C, 7th Inf.
Pvt. John J. Young, Jr., 191 Tank Btn.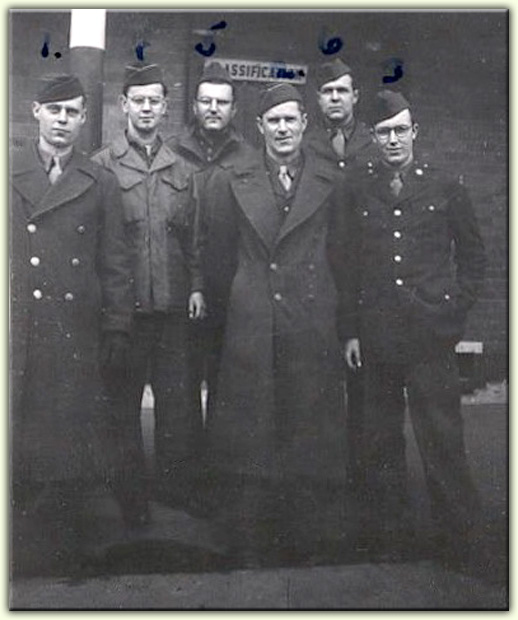 The above photo is of Tec.4 Philip J. Corwin and his buddies, we think, of his Headquarters Command of the
European theater in London, the winter of 1944. He is the Father of Steve Corwin. Philip is 4th from left in the
picture. He was injured in a vehicle accident in, or near, Achen, Germany and died on April 30,1945.

If anyone can identify any of the soldiers in the picture or anyone who might know Philip,
please contact Steve Corwin at Philfire@frontiernet.net.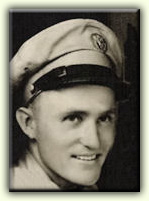 Above is SGT Alfred "Tommy" Weekley, KIA 19 April 1945 in Nuremberg, Germany,
father of Wayne Weekley and Janie W. McPherson.
The left-hand picture below, was taken either in France or Germany 1944-45,
just before or just after that terrible winter. The identification written on back of the picture
is faded, but the best we can decipher is: Jimmie King in front in the middle; the other soldiers
are Zoth (or Loth), Biem., Binkley, Kammer and Esch. SGT Weekley has his elbow on the stair rail.
The center picture below shows SGT Weekly standing in full uniform during basic training
at Camp Wolters, Mineral Springs, Texas, in 1944.
The right-hand picture below shows SGT Weekly on the left. If you recognize ANY of
the men in these three pictures, please contact Janie Weekley McPherson at jlmcp15@yahoo.com.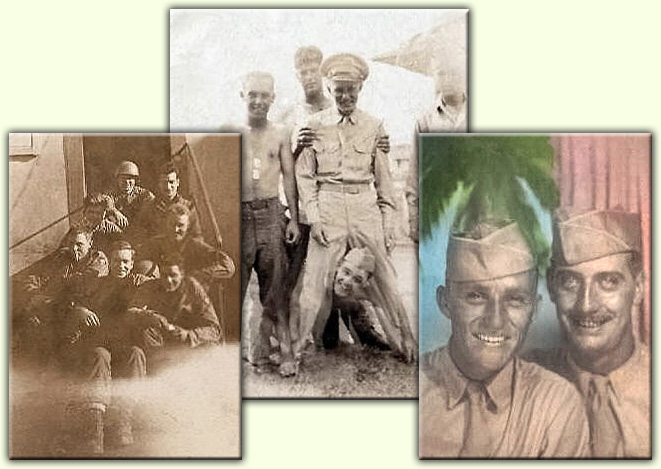 Success!!
On Tuesday, 10/14/08, we had our first "Lost Buddies" identification!! When the Niece of
Raymond Pachuki contacted Pat Morrison to say that her Uncle was in Combat Crew 193! –
and that the picture above was a match! CPL Raymond Anthony Pachuki is pictured second
from the left in the front row! This may be the only surviving photo of her Uncle.
Congratulations, Pat -- for making this important connection potential -- and to Raymond's
Niece for making it kinetic! Pat's reaction: "More evidence of why we never give up!!
Now MORE Success!!
Now another flash . . . Gene DePalma (bombardier of Combat Crew 193) has also
been identified (February of 2010!). He's at the top right, standing -- as he and
pilot Lewis Ball are bookends to the crew.



If you have unidentified pictures of men you think were buddies of your Father,
please contact our Lost Buddies Project stager, Janice Buterbaugh: Click Here!
Janice (whose concept this page was) -- deserves much credit for the Pachuki connection
at least, if not the DEPalma connection, too!
If you haven't already done it, you might also check the "Dogtags" page: Click Here!