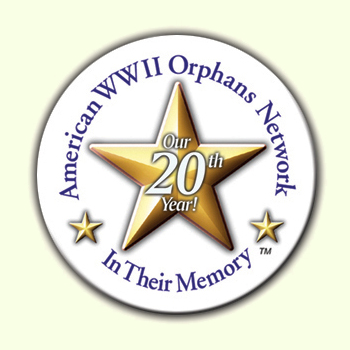 2012 AWON National Conference
Celebrating 20 Years
Indianapolis, Indiana • October 19-21, 2012





For several pages of Indy pictures, Click Here!



Welcome to everything there is to know about the Indy Conference!
This page contains or links to ALL basic conference, hotel, and Registration information.








The Preliminary Registration Deadline has been extended to September 18, 2012.
The final (Paid-in-Full) Deadline is also on September 18, 2012. If you haven't registered,
just download, fill out and return the Indianapolis Conference Registration Form – Click Here!
Note that the final hotel Registration Date (see below) is also on September 18, 2012.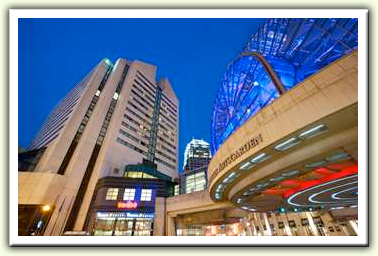 The Embassy Suites Hotel (Downtown)
is the Official Hotel for the AWON Conference, found at
110 West Washington Street, Indianapolis, Indiana • Phone: 317-236-1800
For their website: Click Here!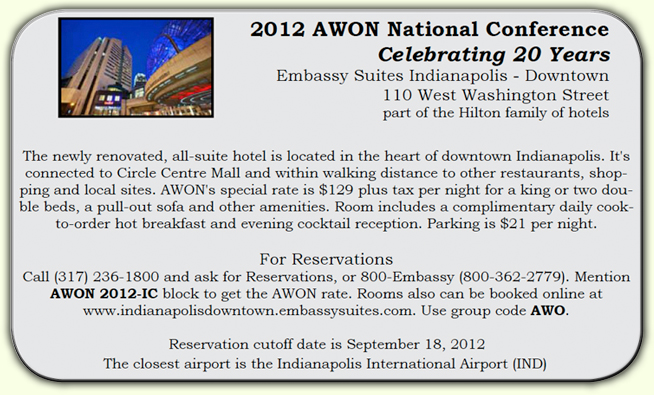 The Conference Schedule runs Friday, October 19 through Sunday, October 21, 2012.
For basic information and a day-by-day Conference Schedule, Click Here!

The maps below are from the Indianapolis Airport to the Embassy Suites in downtown Indy,
thanks to Google Maps, hopefully to minimize the number of lost patrols.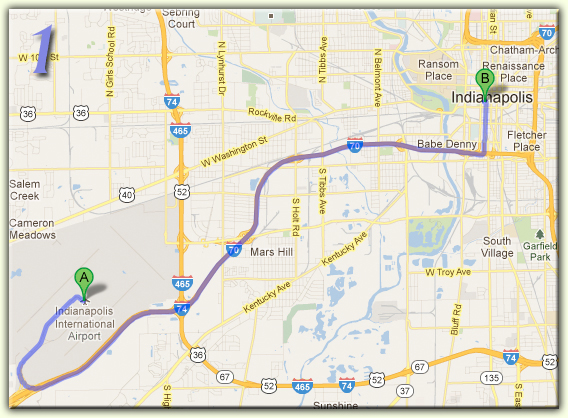 The overview map -- from Indy International to the conference hotel.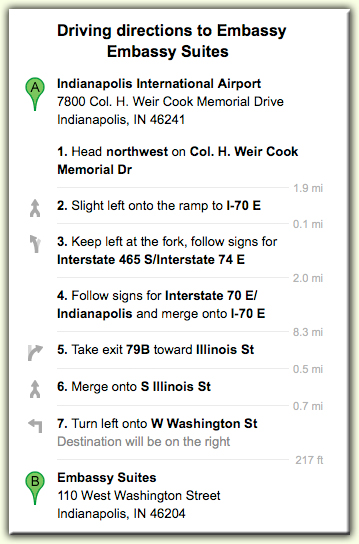 Visual details below.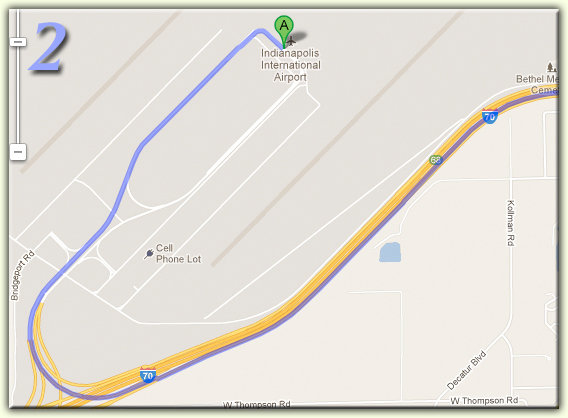 Exiting the airport . . . take 70 East.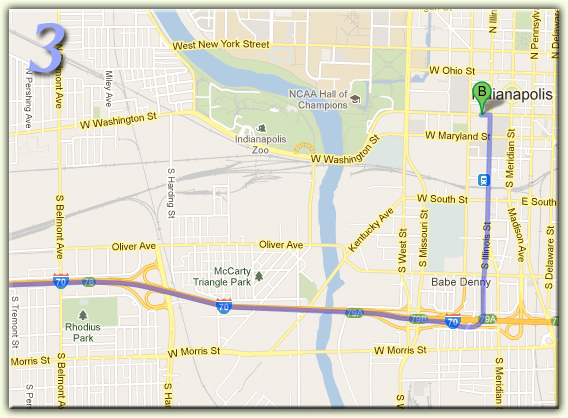 On I-70 East, exit at 79B (Illinois Street).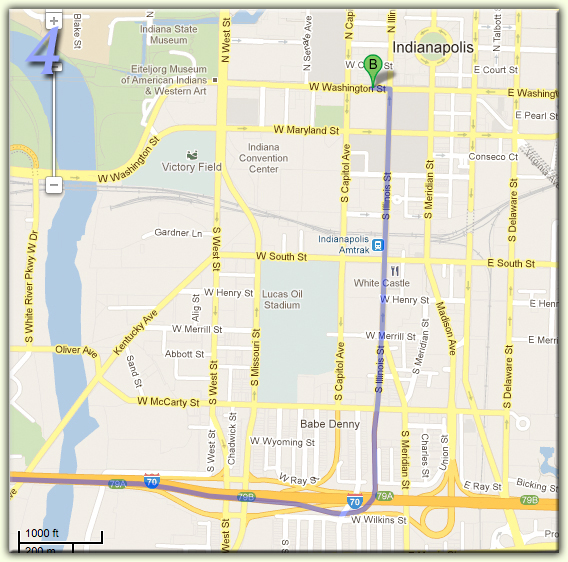 Closer view of the Illinois Street segment. Left onto West Washington Street.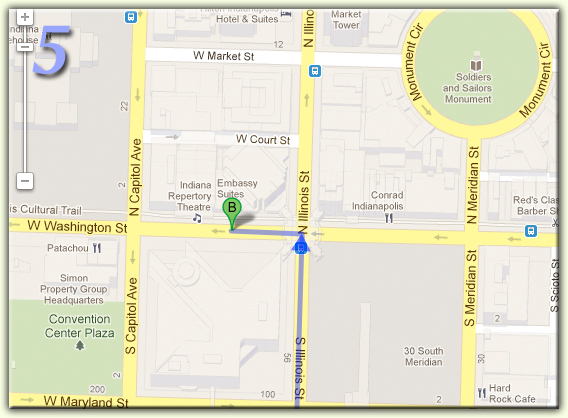 After your left turn onto West Washington Street, the Embassy Suites hotel
will be immediately to your right.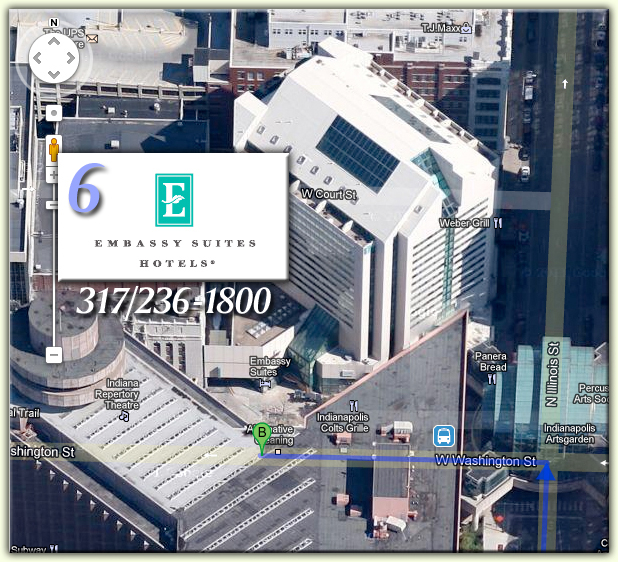 You found it! Happy conference!!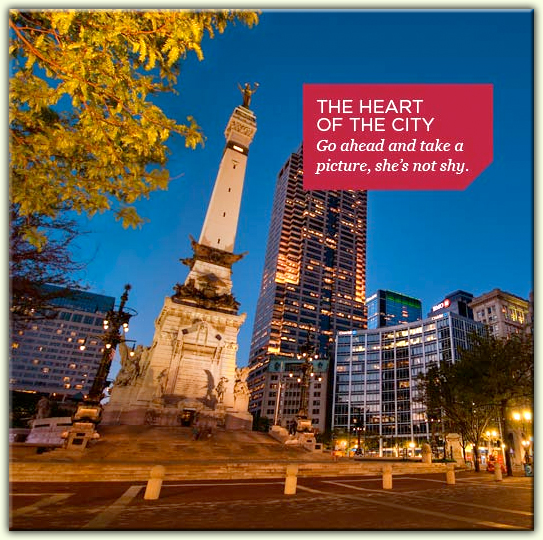 For more information on things to do and places to see in the Indianapolis area,
go to the City of Indianapolis visitor website: Click Here!




Thanks for The Celebrate 20 Years Conference to
Walt Linne and Barbara Kelly!!