Nick and Darlene Mott have done it now . . . an AWON Christmas Tree
in memory of their Fathers and their friends.



Christmas at the Mott's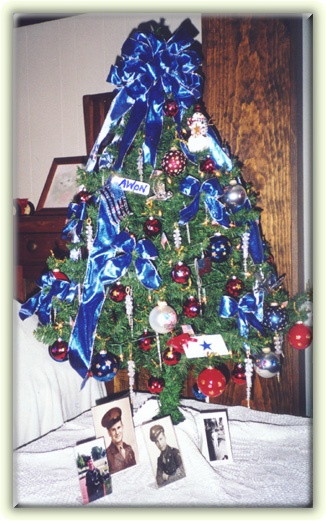 Four men are honored by this tree.
This special AWON tree honors Nick's Father, PFC Garner Mott; Bucky Pearson (Nick's Father's
Platoon Leader and best friend); Nick's Step-Father, Robert Brown; and Nick. Nick's Father is in
his Marine Uniform, his Step-Father is in his Army Air Corps uniform, and Nick is in his Navy Uniform.
Nick's Step-Father, CPL Robert Brown, was a mechanic on P-38ths in the 9th AirForce in the 474th fighter group. He served in England , France , Belgium and Germany.
CPT Bucky Pearson was platoon leader of the first platoon, was then a 1LT of the 5th Marines, K company,
First Marine Division on Okinawa. He was later promoted to Captain in China and was company
commander of K company.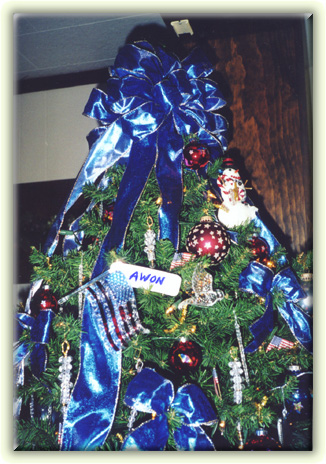 Close-up of the Mott's AWON Tree.
The tree itself is decorated with clear lights, red, white, and blue balls, small blue velvet bows,
and blue streamers. There are American flags of several types, including the flag that sister
Norma Hamilton gave us all in Branson. You'll even find AWON luggage tags - to remind us
all to save up for the WWII Memorial Dedication conference in D.C.
The snowman (top right) was in a Christmas centerpiece the Motts received in 2000 from Bucky
Pearson, who died on December 13, 2001.