Sunday, January 25, 2009
A very special 96th Birthday Party!




In a nutshell, AWONer Nancy Sue Johnson helped bestow a great honor
on a member of the Greatest Generation – 96-year-old Mary Zubal.
Mary (an original Rosie-the-riveter) Zubal – whose 40 years at Westinghouse proudly included building components for the Nautilus submarine, celebrated a special birthday on January 25th in Missoula. Here's how it all came about, in Nancy Sue's own words: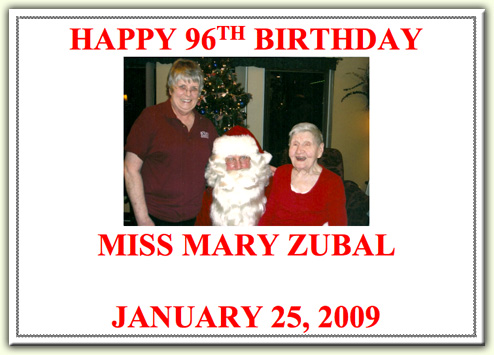 In July of 2008 I went to work for Home Instead Senior Care and my first client was Miss Mary Zubal, who is living at Bee Hive Homes. We hit it off great right off the bat and she began telling me stories about growing up and living most of her life in Braddock, Pennsylvania. For most of this time, I've spent 4 hours every week with her and when weather permits we go on walks. I've learned a lot about Mary over this time, and here's a small, but significant part of her story.

Mary Zubal was born in Braddock, Pennsylvania on January 25, 1913. She was the youngest of 4 children and she had 3 older brothers. He mother passed away from a flu epidemic when she was 3 years old and she speaks often of remembering her mother. She tells stories of how well her father and brothers took care of her as she grew up to be the young lady that went to work for Westinghouse in Braddock. She worked in the circuitry department for 40 years at Westinghouse and became a drill press operator. She is very proud of the fact that she built the resistors that were installed during the building of the Nautilus Submarine, which because the first nuclear powered ship in the U.S. Navy.

Last fall, when she talked often about the Nautilus (and her 96th birthday was coming up in January of 2009) I decided to see what I could find on the internet about the Nautilus and Walter Cronkite's reporting of its launch. I sent an email to the Nautilus Submarine Force Museum through their website and heard back from a Lieutenant Commander saying he had passed on the information I had sent him about Mary to the librarian/historian for the Nautilus. She sent me some documents about the history of the Nautilus, as well as a group of pictures they had taken of the progress of the building of the Nautilus and a copy of the newspaper article that was published when it was launched. I included those in a scrapbook for Mary that we gave her on her birthday.

Mary never married and came to Missoula, Montana, as that is where her only living relative is located. I was visiting another lady at Bee Hive Homes in December of 2005 when Mary arrived at age 92 and I remember her from then but never had a clue that I would be so fortunate to get to know her so well now. She is a delight – especially when she tells stories of the past.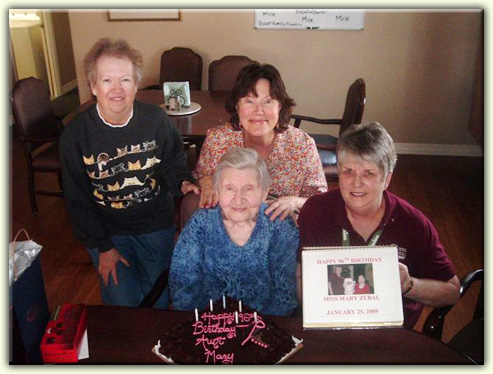 Mary's birthday celebration included another Bee Hive friend, Judy, and Mary's
niece, Virginia – who helped me present the Nautilus scrapbook to Mary.

Since Mary was "Queen for a Day," Virginia and I "crowned" her
with the gold bow from her package.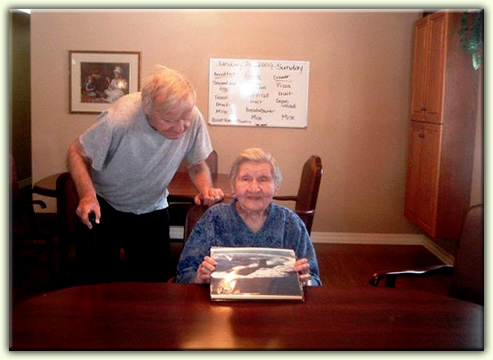 Phil, another friend from Bee Hive, looks over Mary's picture of the Nautilus,
that was launched on the Thames Rives on January 21, 1954.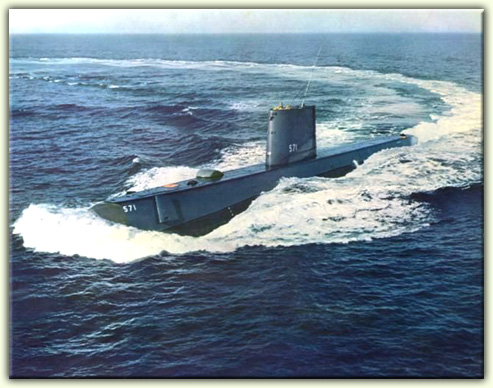 Here's the picure of the Nautilus in a high speed turn – sent to Mary for the occasion
by the staff of the Navy Submarine Force Museum.
Following her launch in 1954 (it was Lady Mamie Eisenhower who broke the traditional bottle of champagne across her bow) the Nautilus broke every record for under water speed and distance. In 1958, on a secret mission called Operation Sunshine the Nautilus and her crew of 116 represented the first crossing of the North Pole by a ship.

After logging nearly a half million miles in the service of the United States, Mary's Nautilus was decommissioned on March 3, 1980. In recognition of her pioneering role in the practical use of nuclear power, NAUTILUS was designated a National Historic Landmark by the Secretary of the Interior on May 20, 1982. Following an extensive historic ship conversion at Mare Island Naval Shipyard, NAUTILUS was towed to Groton, Connecticut, its current location – arriving on July 6, 1985 at the Navy Submarine Force Museum.

To learn more about the history and service of the Nautilus, go the the museum's website: Click Here!



Thanks for this submission of pictures and story to AWONer Nancy Sue Johnson.