Monday, May 5, 2008
(updated July, 2008)



Today, Iowa Governor, Chet Culver, signed a bill changing the eligibility for Gold Star License Plates to include the families of service people who died from a service connected wound or injury, but after the end of the conflict.

This bill is the end result of about thirteen months of legislative work in which AWON members Terry Boettcher and Bob Holliday were closely involved. Terry attended the signing ceremony.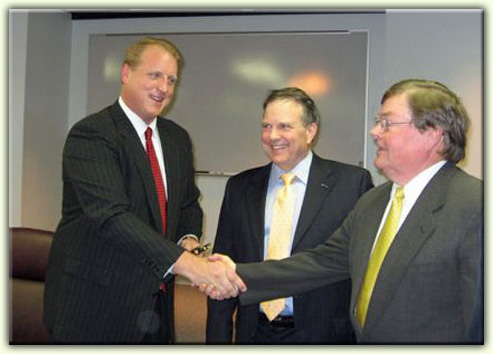 Governor Culver, State Senartor Daryl Beall and Terry Boettcher.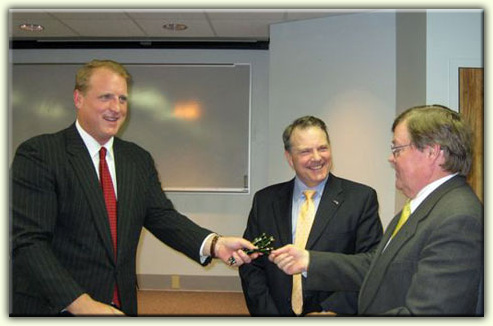 Terry receives a pen which the governor used to sign the bill while Senator Beall looks on.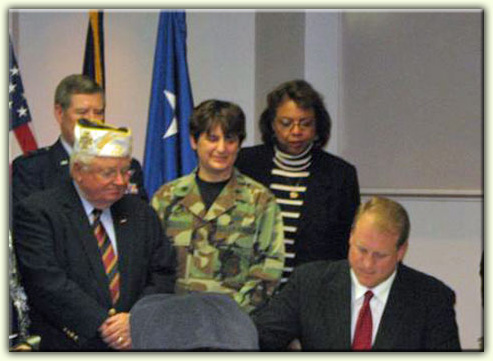 Governor Culver signs the legislation into law.
Exerpted From the Ft. Dodge Messenger
May 6, 2008

– by Bill Shea

Chances are that the simple act of signing a piece of paper never got as much attention in Fort Dodge as it did Monday afternoon. That's when Gov. Chet Culver sat down in front of about 100 people, grabbed a handful of green and gold pens, and signed into law three bills that will help the state's veterans for years to come . . .

The message is simple, he added. No. 1, we want to thank you for your service, and No. 2, we want you to know that we will do everything we can to support you when you come home. State Sen. Daryl Beall, D-Fort Dodge, and state Rep. McKinley Bailey, D-Webster City, played key roles in passing the bills.
In the audience was a man from Indianola for whom Culver's penmanship will hit home sometime this summer. That's when Terry Boettcher will put a Gold Star license plate on his vehicle in honor of his father, who died of World War II wounds. Donald Boettcher, of Davenport, was a ball turret gunner on a B-24 Liberator. When that four-engine bomber crashed, he was seriously hurt. He spent 14 months in military hospitals, then died in a veterans hospital after the war ended. If his father had been killed instantly in the crash, Terry Boettcher would have been entitled to a Gold Star license plate. Because of the way the original Gold Star license plate law, written by Beall, was phrased, that wasn't possible. That law allows relatives of troops killed in action to get a plate with a large Gold Star on it. Terry Boettcher appealed to Beall for help. The senator wrote a clause into a bill that makes relatives of people who died as a result of wounds sustained in combat eligible for the special plates. "He's a man of his word . . ." Terry Boettcher said. "He really went to the mat for me . . . It means the world to me," he added.

The eventual reward . . . issued to Terry in July, 2008.



Text is thanks to Terry Boettcher and photos are thanks to Connie Boettcher.