July 25, 2009



New Mexico Regional Co-Coordinators Lorin McCleary and Pat Albani hosted a gathering at the home of Pat & Dick Albani in Albuquerque. Lorin began by recognizing members' "missing" fathers and explaining the Missing Man Table Setting. There was lunch, a lot of "sharing" and, of course, some tears. Everyone joined in the singing the "AWON Sunshine" song at the end of the get together. Joie & Harry Heller drove all the way from Glendale, AZ to join the group.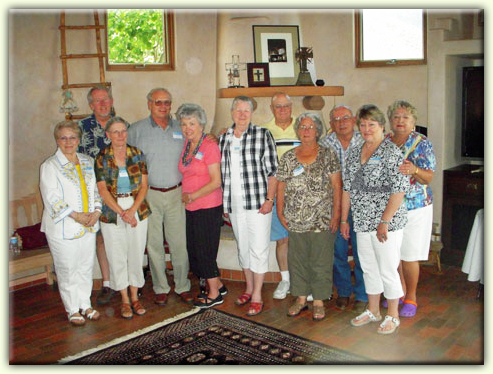 Carolyn Ririe Lofgren; Lorin McCleary, Roberta McCleary, Harry Heller,
Joie Ticknor Heller, Carroll Johnson Curry, Jim Curry, Barbara Rosazza,
Karl Rosazza, Jolene Veal Stockton, Pat Cervenak Albani.
Not pictured is photographer Dick Albani.

The Missing Man Table.




Photos are thanks to Dick Albani; and text is thanks to Pat Cervenak Albani.