David F. Szudarski
January 10, 1977 - May 17, 1998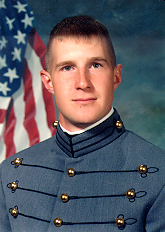 CDT David F. Szudarski, 21, of Aurora, Illinois, died at West Point Sunday morning, 17 May, 1998.

David went into the Army at Ft. Leonard Wood, Missouri, for basic training. As a result of skills testing, he was subsequently assigned to the Defense Language Institute to study Spanish. Next, he went to Goodfellow Air Force Base where he was at the top of his class in Military Intelligence. From there, he completed a year at the United States Military Academy Preparatory School and then went on to West Point, entering with the class of 2001. He was on the Crew Team and the Dean's List.
David is survived by his mother, father, 3 older brothers and 2 older sisters.
In Memoriam

Interment
David was buried with full military honors at Resurrection Cemetery in Justice, IL, on Saturday, 23 May, 1998. Six cadets from USMA served as honorary pall bearers at the funeral Mass

Condolences
Messages of condolence may be sent to the following:
Norb & Sharon Szudarski
1565 Heather Dr
Aurora IL 60506-1913
Memorial Fund
Donations to a memorial fund for David can be sent as follows:
David Szudarski Memorial Fund
c/o Ruth Kaldahl
1729 Green River Dr
Schaumburg, IL 60194


The Szudarskis were members of the Parents Club of Illinois and the incoming president, Ruth Kaldahl, has volunteered to act as a point of contact for the family. She may be contacted as follows:
Steve & Ruth Kaldahl
1729 Green River Dr
Schaumburg, IL 60194
(847)884-6397

Last updated 27 October, 1998 by D. Darrow '75