USMA1999
19996931


Deceased

Rexford P. "Rex" Storch
March 14, 1977 - September 20, 1998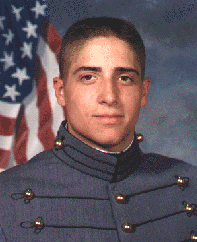 Former CDT Rexford "Rex" Storch, 21, of Wallingford, Pennsylvania, died in Philadelphia on Sunday, 20 September, 1998.

Rex entered West Point with the class of 1999. He was a member of the Corps Squad swim team during his Plebe and Yearling years. During Christmas break of Yearling year he was diagnosed with cancer. He was unable to return to school after that. He maintained strong contacts with fellow swim team members and was occasionally able to visit the Academy.
Rex is survived by his mother and father, Leanne and Ronald, and 3 brothers, John, R.C. and Randy.

Interment
A funeral was held in Rex's hometown of Wallingford, PA, on Wednesday, 23 September. Six cadets from West Point served as honorary pall bearers at the funeral Mass. A second service was held at the Catholic Chapel at West Point on Friday, 25 September. Rex was interred at the West Point cemetery.

Condolences
Messages of condolence may be sent to:
Mr. & Mrs. Ronald C. Storch
321 Palmers Lane
Wallingford, PA 19086
Last updated 27 Oct, 1998 by D. Darrow '75