USMA1999
19996603


Deceased

Ryan Michael McComas
September 3, 1975 - January 14, 1997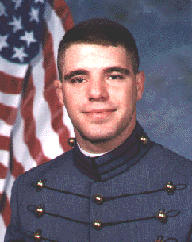 Ryan graduated from Anandarko High School and Blair Prep School, Blairstown, N.J.. He entered West Point with the class of 1999. He was an enthusiastic member of the wrestling team during his Plebe year and earned a letter in that sport. During yearling year, he played sprint football. Ryan died from injuries sustained in an automobile accident.
Ryan is survived by his mother and father, Jackie and Michael, as well as 2 sisters: Krista, a student at Oklahoma State, and Amanda, a student at Anandarko High School.

Interment
Ryan was interred at Memory Lane Cemetery, Anadarko, Ok. on 17 January, 1997.

Condolences
Messages of condolence may be sent to:
Mike and Jackie McComas
805 W. Colorado
Anadarko, OK. 73005
(405) 247-7537

Last updated 27 Oct, 1998 by D. Darrow '75