CPT Brian E. Wheeler USAR
Cullum: 47831
Class: '90
Cadet Company: F4
Date of Birth: August 8, 1968
Date of Death: October 22, 2005 - View or Post a Eulogy
Memorial Article: http://apps.westpointaog.org/Memorials/Article/47831/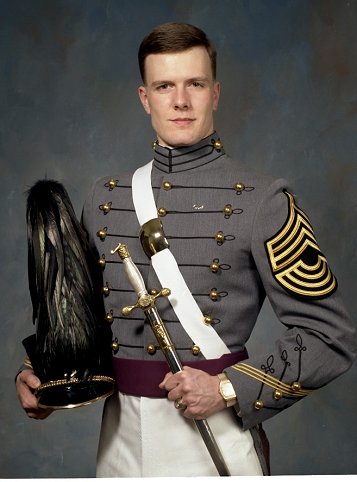 Photo courtesy of Academy Photo
CPT Wheeler (USMA, F-4 and first ISO, Brigade Staff, USCC, Class of 1990) and his girl friend Susan Clark Martindale, were both killed in a traffic accident south of Locust Grove in Mayes County, Oklahoma on October 22.
Brian was a former Signal Officer for the 43rd Engineer Combat Battalion during two tours in Somalia; a former Company Commander at Fort Huachuca, Arizona; and after he attended and graduated from the University of Oklahoma Law School with honors in 2000, he became a JAG officer and was one of the first JAGs into Baghdad. He returned home in April of this year.
Written by LTC Craig Roberts:
Brian is my "adopted" nephew. I have known him since he was a cub scout. He had one heck of a life, full of achievements. He was like a shooting star, lighting up the night sky, then disappearing. As one friend stated: "Brian did more in his life than just about anyone."
Captain Brian Edward Wheeler: The soul of Brian Edward Wheeler, 37, a three-tour Army combat veteran of Somalia, East Africa and the liberation of Iraq; departed this earth on Saturday, October 22, 2005 as the result of a tragic accident south of Locust Grove in Mayes County. The son of retired Brigadier General Ed Wheeler, former Mobilization and Task Force Commander for the Oklahoma Army National Guard during the Persian Gulf War and the First Deputy State Area Commander; Brian was a 1986 Honors Graduate of Tulsa's Memorial High School. Although he received appointments to all four military academies, he chose to attend the United States Military Academy at West Point, NY. During his cadet career he distinguished himself by publishing a biography of Brigadier General Ranald Slidell Mackenzie and becoming the first Information Systems Officer for the U.S. Corps of Cadets, during which he designed and implemented the first cadet computer network. In 1990 he graduated with Honors and was commissioned a 2LT of Infantry. Initially assigned to the 1st Battalion, 11th U.S. Infantry at Fort Benning, GA, he also graduated from Airborne and Air Assault Schools.
However, before he could attend Ranger School, the Army discovered his skills in the field of computer operations and he was transferred to the Signal Corps and sent to the Signal Officers Basic Course. As a 1st lieutenant, he was then assigned as the Signal Officer for the 43rd Engineer Combat Battalion (H) and almost immediately deployed in support of Operation Restore Hope in Somalia, East Africa, attached to the U.S. 10th Mountain Division. During this tour he was responsible for maintaining signal communications for the 43rd Engineers with satellite links across southern Somalia while being based at Baidoa on the Ethiopian border. Following completion of this mission during which he was decorated for performing "exceptionally well in a hostile fire environment", his battalion returned to the United States. Twelve days later, the 43rd Engineers were sent back to Somalia in support of Operation Continue Hope to build Victory Base outside of Mogadishu, following the Battle of Mogadishu. During that tour, the 43rd Engineers were under constant mortar fire from Somalian warlord gunmen in the capitol city.
Upon completion of that mission, his battalion returned home to be deactivated and he was sent to the Signal Officers Advance Course at Fort Gordon, GA, during which he was decorated by the Chief of the Signal Corps for his performance in Operation Continue Hope. He was then sent to the Army's Command and Staff College at Fort Leavenworth, KS and upon graduation he was assigned as a Signal Company Commander in the 11th Signal Brigade stationed at Fort Huachuca, AZ. After successfully commanding the unit, he was reassigned to the 11th Brigade staff, however, he had developed other dreams that he wanted to pursue.
In 1997 he resigned from the Army and entered law school at the University of Oklahoma. In 2000 he graduated with Honors and distinguished himself as an Associate Editor of Oklahoma Law Review. During this period, an article he wrote and was published in the Oklahoma Law Review, concerning Oklahoma state bond indebtedness, was so insightful that it was later cited as an authoritative source by the Oklahoma State Supreme Court. Following graduation, he entered Georgetown Law School in Washington, DC, to pursue an LLM in International Law. However, during his first semester, he was offered the opportunity to serve as a Federal Law Clerk for the Honorable H. Dale Cook, Senior U.S. District Judge in Oklahoma, assigned to the Northern Judicial District. He left Georgetown and joined Judge Cook's staff for the next two years.
Following the terrorist attacks on September 11, 2001, he joined the U.S. Army Reserve as officer in the Army's Judge Advocate General Corps, where he was assigned to Team 3, 2nd Judge Advocate Detachment. . Shortly following the end of his two-year tour with Judge Cook's office, he was called into active duty. Initially assigned to the U.S. Army Reserve Personnel Command headquarters in St. Louis; he was later order to report to Brigadier General Robert L. Davis, Chief of Engineers, G-7, Iraq Provisional Command, based in Kuwait City. As a result, once the Iraq War began, he became one of the first JAGs into Baghdad as the Engineers occupied the former presidential palace on the Tigris River. After a lengthy tour of duty that took him all over Iraq, he was returned to the United State and assigned to the Trans-Atlantic Command Headquarters in Winchester, VA.
Following his duties there, he returned to Tulsa to initiate a private practice in the field of law. He was a member of the U.S. Military Academy Alumnae Association; a life member of the American Legion, Post 1, Tulsa; Veterans of Foreign Wars, Post 577, Tulsa; and the Military Order of World Wars. He was also a member of the Federalist Society, Tulsa and Oklahoma Bar Associations; a member of the Oklahoma and Washington, DC Bars and was admitted to practice before the Oklahoma State Supreme Court. He is survived by his father, Brigadier General Ed Wheeler, USA (Ret.).