|
History & Tradition
|Graduates |
Football
|
Other Sports
|
Tourist Info
|
Me
|

---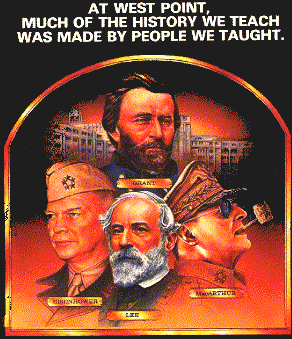 As of August 31, 1997:
78,399 people have entered the United States Military Academy
54,734 have graduated
40,207 graduates are living
15,189 graduates are on active duty in the military

Two U.S. presidents have been USMA graduates: Ulysses S. Grant, USMA 1843, and Dwight D. Eisenhower, USMA 1915.

Some famous graduates of USMA, including Lee, Grant, MacArthur, Eisenhower, Patton, and Schwarzkopf are profiled on a site maintained by the Department of Military Instruction. This site also has "voices" (mostly .wav files), pictures, and movies (.avifiles) about West Point and the Army.
Several West Point graduates and former cadets have won the Medal of Honor. Some of them are

John C. Robinson, ex-USMA 1839
Orlando Willcox, USMA 1847
John M. Schofield, USMA 1853 (Schofield's Definition of Discipline)
USMA Class of May, 1861 -- four Medals of Honor

Henry A. du Pont (graduated first in his class)
1LT Adelbert Ames (for Bull Run, just 3 months after graduation!)
Samuel Benjamin
Guy V. Henry

John G. Bourke, USMA 1869 (for Civil War, before he was a cadet)
Ira C. Wellborn, USMA 1898 (graduated April 26th, MOH for actionon July 2, 1898)
GEN Douglas MacArthur, USMA 1903
Calvin P. Titus, USMA 1905 (awarded for action in the Philippines, before he was a cadet, President Theodore Roosevelt presented the medal to Cadet Titus at West Point)
Johnathan M. Wainwright IV, USMA 1906
COLLeon W. Johnson, USMA 1926 (picture)
2LTAlexander R. Nininger, USMA 1941
1LT Richard T. Shea, USMA 1952
CPT Robert F. Foley, USMA 1963 (picture)
CPT Paul W. Bucha, USMA 1965 (he presented his MOH to USMA)

(note: ranks given are the ranks held at time of action for which the MOH was awarded)

Thirteen USMA graduates have been NASA astronauts:

Six of the fourteen men who have served as Chairman of the Joint Chiefsof Staff (CJCS) have been West Point graduates:
General of the Army Omar N. Bradley, USMA 1915; the first CJCS, from August 1949 to August 1953
General Nathan F. Twining, USMA 1919; August 1957 to September 1960
General Lyman L. Lemnitzer, USMA 1920; October 1960 to September 1962
General Maxwell D. Taylor, USMA 1922; October 1962 to July 1964
General Earle G. Wheeler, USMA 1932; had longest tenure of any CJCS, from July 1964 to July 1970
General George S. Brown, USMA 1941; July 1974 to June 1978

Mike Krzyzewski, the coachof the Duke University men's basketball team, is a member of the USMA Class of 1969. He played for Bobby Knight at Army and was the head coach at Army before going to Duke.

Abner Doubleday, the "Father of Baseball", graduated from West Point in 1842. Doubleday Field, where the Army baseball team plays, is named for him. Many people don't know that he fought in both the Mexican and Civil Wars, including at Fort Sumter and Gettysburg.

The University of Tennessee's football stadium is named for Robert Neyland, a West Point graduate, Class of 1916. He also served in WWII.

Mark Valley, who formerly played Jack Devereaux on the soap opera Days of Our Lives, is a 1987 graduate of USMA.

Famous (sometimes infamous) former cadets who did not graduate include

Scott A. Tackett, Sr., the proud father of two recent West Point graduates, has a wonderful web site called A Tribute to West Point. Among many other things, he has a page which features biographies and photos of 60famous West Point graduates.