Assistant Professor
Department of Military Strategy and Logistics [ link ]
Industrial College of the Armed Forces [link ]
National Defense University [link ]
408 4th Avenue
Fort Leslie J. McNair
Washington, D.C. 20319
Email: sorin@lungu.com
Research Interests
Net assessment (long-term competition in international affairs); approaches towards best integrating elements of US national power (e.g., military, diplomatic, private sector, academia, media) into a coordinated front against terrorism and the global mechanisms that support terrorism; the role of non-state actors and forces and soft power into power calculations; economic security and economic intelligence; risk assesment; strategic planning; business-government relations European Union (Germany and France); and, the greater Black Sea region.
Ph.D. Dissertation
"European Defense Market Integration: The Aerospace Sector in 1987-1999."

Defended on March 29, 2005, at The Fletcher School of Law and Diplomacy, Tufts University

Ph.D. dissertation defense (Microsoft .ppt file, 1052KB)
Table of Contents and Introduction (Adobe .pdf file, 213KB)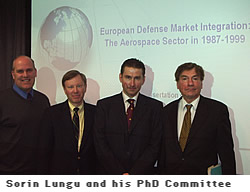 Faculty Advisors
Robert Pfaltzgraff, Jr. [ bio ] [ web ]
William Martel [ bio ] [ web ]
Paul Vaaler [ bio ] [ web ]
Curriculum Vitae
Curriculum Vitae (Adobe .pdf file, 34KB)
Fields of Study
International Security Studies, International Business Relations, and Europe.
Publications/Papers
"European Perceptions of U.S. High-Technology and Defense Strategies since the Final Days of the Cold War: A Sine Qua Non Research Agenda?," Strategic Insights, Vol. 4, No. 6 (June 2005). Text available from http://www.ccc.nps.navy.mil/si/2005/Jun/lunguJun05.asp. Strategic Insights is a monthly electronic journal produced by the Center for Contemporary Conflict at the U.S. Naval Postgraduate School in Monterey, CA.
"Power, Techno-Economics, and Transatlantic Relations in 1987-1999: The Case of Airbus Industrie and Galileo," Comparative Strategy, Vol. 23, No. 4-5 (October/December 2004), pp. 369-89. Text available online at
http://fletcher.tufts.edu/phd/lungu/CSOct32004AirbusGalileo198799.pdf
"Military Modernization and Political Choice: Germany and the US-Promoted Military-Technological Revolution During the 1990s", Defense and Security Analysis, Vol. 20, No. 3 (September 2004), pp. 261-272. Article available online at
http://www.ndc.nato.int/download/research/lungu.pdf
"The US Military-Technological Revolution and the 'Europeanization' of the French Defense Industrial Sector During the 1990s," RUSI Journal (http://www.rusi.org/publications/journal), Vol. 149, No. 1 (February 2004), pp. 58-63.
Available on-line at
http://fletcher.tufts.edu/phd/lungu/Lungu_Sorin--article.pdf

"A New Look at Power, Technology, and Transatlantic Relations Between 1987 and 1999: Airbus Industrie, Galileo, and the European Revolution in Military Affairs," unpublished paper selected for presentation at the 21st Annual Graduate Student Conference Europe and America 1989-2004: Political Economy, Economic Policies (February 26-27, 2004) organized by the Institute for the Study of Europe at Columbia University, New York. (Link to the conference http://sipa.columbia.edu/REGIONAL/WE/conference_2004_program.html )
NATO COOPERATION WITH FORMER ADVERSARIES: THE HISTORICAL RECORD (1990-1997), American Diplomacy (http://americandiplomacy.org), Electronic Journal of
Commentary, Analysis and Research on American Foreign Policy and Its
Practice, Vol. IV, No. 3, Summer 1999.
Available on-line at
http://www.unc.edu/depts/diplomat/AD_Issues/amdipl_12/lungu_coop1.html

ATTITUDES TOWARD EUROPEAN SECURITY (1990-1997), American Diplomacy,
Electronic Journal of Commentary, Analysis and Research on American Foreign
Policy and Its Practice, Vol. IV, No. 2, Spring 1999.
Available on-line at http://www.unc.edu/depts/diplomat/AD_Issues/amdipl_11/lungu.html