---
Maura'sMascots
Maura's Mascots creates snow globes with school mascots inside. The USMA Mule snowglobes come in three different styles of "snow:" regular white "snow," black and gold glitter "snow," and silver glitter "snow." These globes are expertly crafted--our company prides itself on the fact that you will find no air bubbles in our globes, as you do in lesser-quality globes. That's because we hand make each globe and take the time to ensure they are perfect.
These globes are a full 4" in diameter and sit atop a hard wood base. The base has a brass plaque reading "USMA West Point" and the music box plays the refrain to "On Brave Old Army Team." Our special thanks to the USMA Band for the musical arrangement--the band is the best!
The mule is also available separately as a figurine. The sculpted mules have amazing detail--just look at the mule's face. If you're an Army fan, you've got to have one.
NOTE: Compare our prices anywhere! J.C. Penney has a similar globe for a few colleges (not for USMA) selling for $39.99 in its Homevalues 1999 Holiday catalog! (Item SJ 726P7131B)!
Here are the USMA Snowglobes and Mules!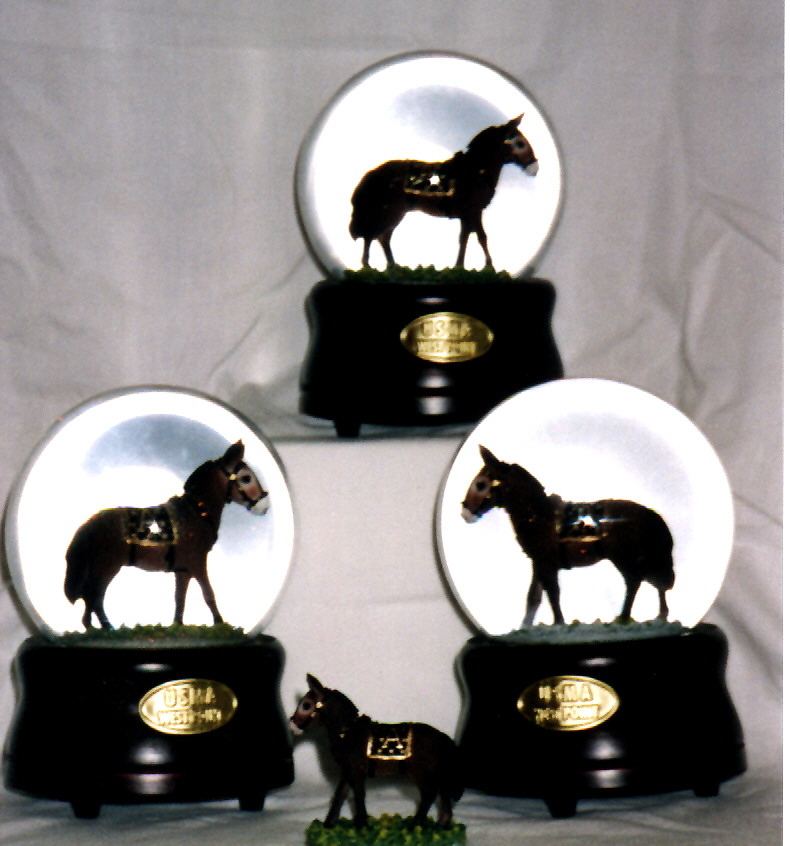 For detailed close-ups, click here