Army-Navy
100th Football Game
Souvenir!!
This year marks the 100th meeting of the Black Knights of Army and the Midshipmen of Navy meeting "upon the fields of friendly strife" on the football gridiron. One of the oldest rivalries in college football, "The Game" continues to fascinate grads, cadets/midshipmen, and the nation, and men and women in the services on duty throughout the globe.
This one-of-a-kind souvenir commemorates this historic meeting in Philadelphia, PA on December 4, 1999. Not sold anywhere else, this item, consisting of a wooden varnished base, brass plaque, and highly-detailed sculptures of the Army Mule and the Navy Goat will serve to preserve memories of this exciting anniversary of one of the country's oldest and best sports rivalries.
Take a look: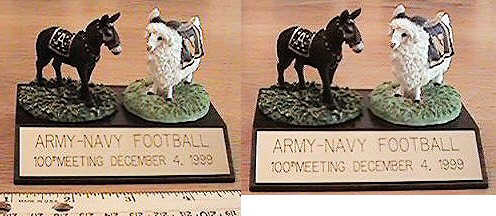 Don't forget to check out Maura's other USMA and USNA souvenirs--Maura's Mascots Snow Globes, pet collars, lanyard keychains, and Pole People.

---