COL Seth Foster Hudgins, Jr. USA (Retired)
Cullum: 25293
Class: '64
Cadet Company: M2
Date of Birth: August 24, 1941
Date of Death: February 8, 2014 - View or Post a Eulogy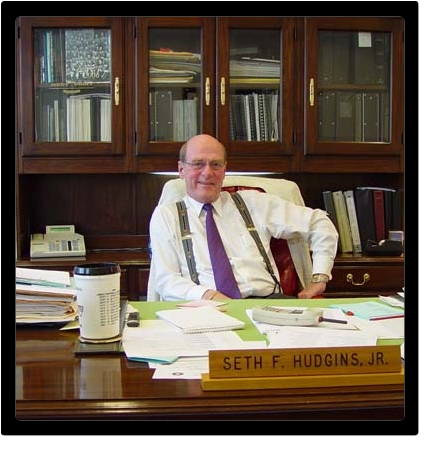 After a long and courageous battle with cancer, Colonel Seth F. Hudgins, Jr., passed away on Saturday, February 8th, 2014.
West Point's 57th Superintendent, Lt. Gen. "Buster" Hagenbeck was quoted as saying, "Seth Hudgins labored nearly three decades in and out of uniform to keep the academy as one of the nation's finest universities" and added "He's a great team-builder and communicator and we will always be proud of everything he did for West Point,"
Col Hudgins was a AH-1 Cobra Pilot in Vietnam. His first tour in Viet Nam was with the 17th Cavalry, 1st Brigade, 101st Airborne Divison in 1965-66. He served as the Company Commander, 158th Aviation Battalion, 101st Airborne Division, Republic of Vietnam 1969-70.
While with the 3rd Platoon, A Troop, 2/17th Cavalry, 1st Brigade, 101st Airborne Vietnam Recon Scouts mounted their machine gun jeeps and rushed to the aid of engineers of the 101st Airborne who were under fire from a company of North Vietnamese. About 16 men under the command of Lieutenant Seth Hudgins (now Colonel, Ret.) dismounted and with 4 machine guns engaged in battle with the enemy. Outnumbered 50 to 1, they fought for 5 hours before 1st and 2nd Platoons of about 40 men each reinforced them. Four hours later the 502nd and 327th Infantry began arriving by air to reinforce them.
Among his Awards and Medals were the Distinguished Flying Cross and Bronze Star Medal. He received a Air Medal with V Device for the above action, and his unit received the Valorous Unit Award, which is the second highest unit decoration which may be bestowed upon a U.S. Army unit (the highest being the Presidential Unit Citation) and is considered the unit equivalent of the Silver Star.
Colonel Hudgins was with the Tactical Department at United States Military Academy in 1972-75. He was the Chief of Staff, United States Corps of Cadets in 1986, and was the Deputy Commandant of Cadets 1987-89. He retired from the Army as a Colonel in 1990.
Colonel Hudgins served as the Executive Vice President of the Association of Graduates 1990-93; and as the President of the Association of Graduates, a position from which he retired in 2007. He served 17 years with the Association of Graduates, and oversaw the Development Office's planning and execution of the association's bicentennial campaign. That campaign raised more than $200 million and the money, in large measure, went to meet the academy's "Margin of Excellence" needs.
Colonel Hudgins is survived by his wife Joy, two sons, a daughter and many grandchildren.
Colonel Hudgins will be buried at West Point. In lieu of flowers, the family requests donations to AOG's Long Gray Line Fund or to The Hospice of Orange and Sullivan Counties, NY.