MAJ Peter Gerald Schmeelk USA (Retired)
Cullum: 25074
Class: '64
Cadet Company: B1 60-62, A1 62-64
Date of Birth: January 21, 1943
Date of Death: June 16, 2016 - View or Post a Eulogy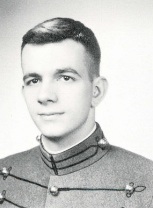 He is survived by his wife Karen Rose.
Armor: 1964 - 1975. Specialized in Armored Cavalry, with assignments to 2/14 ACR, West Germany; 3/5 Cav Squadron, 9th ID, Vietnam; and 4/7 Cav Squadron, South Korea.
Military Intelligence: 1975 - 1985. Changed branch from Armor to MI in about 1975. Served in DIA 1975-79; S2, 1st Bde, 2nd ID, South Korea, 1979-81; Army Intelligence and Threat Analysis Center, INSCOM, Arlington Hall Station, VA, 1981-85.
1975 - 1985. Received a secondary specialty of Foreign Area Officer concurrent with branch transfer to MI.
1985-Joined Foreign Service with specialty in Political Affairs; 85-87 Caracas, Venezuela: Consular Officer; 87-89 San Salvador, El Salvador: Human Rights Officer; 89-91 Washington, D.C.: India Desk Officer; 91-93 Washington, D.C.: Political-Military Affairs Bureau; 93-94 Washington, D.C.: Romania Desk and Romanian language training; 94-96 Bucharest, Romania: Political Officer; 96-98 Washington, D.C.: United Nations Political Affairs Officer; 98-01 Guatemala City, Guatemala: Political Officer; 01-04 Washington, D.C.: Political-Military Affairs Bureau; 04-06 Washington, D.C.: Congressional Advisor, East Asia-Pacific Bureau; 06-08 Washington, D.C.: Strategic Operational Planner, Office of the Coordinator for Counterterrorism