Mr. Richard G. Williams
Cullum: 24968
Class: '64
Cadet Company: E1
Date of Birth: September 7, 1942
Date of Death: May 11, 2018 - View or Post a Eulogy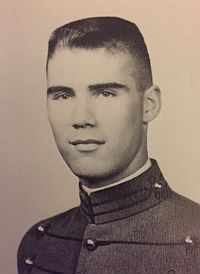 Richard G. Williams, "Dick", 75, of Princeton Junction died Friday, May 11, 2018. Born in Westerly, RI, he has been a resident of Princeton Junction for over 45 years. Dick was a graduate of United States Military Academy at West Point, Class of 1964 and a decorated major in the U.S. Army, serving in the 173rd Airborne Brigade during the Vietnam War. He retired in 2010 as Associate Dean of Princeton University with over 30 years of service. Dick was also a member of St. David the King Church, West Windsor.
Son of the late Palmer and Agnes Williams, father of the late Dennis Williams (wife Lisa), he is survived by his wife of 20 years Victoria J. Ridge, 2 daughters Karen Williams Newman (husband Jim), Elizabeth Williams Munns (husband Jeff), step daughter Laura Ridge, 2 brothers Robert Williams, Thomas Williams, and 5 grandchildren Morgan, Dylan, Caroline, Michael and Tommy.
A Mass of Christian Burial will be celebrated at 11:00 am on Thursday, May 17, 2018, St. David the King Church 1 New Village Road, West Windsor. Burial will be private. Friends may call on Wednesday, May 16, 2018 from 6:30- 8:30 pm at St. David the King Church.
In lieu of flowers memorial contributions may be made to The Nature Conservancy Attn: Treasury, 4245 N. Fairfax Drive, Suite 100, Arlington, VA,22203; Nursing for All 110 Reade Street #5 NY, NY 10013 or St. Joseph's Indian School PO Box 326, Chamberlain, SD 57325.
Arrangements are under the direction of the Mather-Hodge Funeral Home, Princeton.