PARA - DICE

My Wild Blue Yonder Days in B-26's
Our first station after West Point was for Basic Flying Training at Greenville, Mississippi. We were really poor. How we made it I'll never know. Isabel went to the Catholic School to apply for a job and she got the second grade on the spot. When I would come home I found Isabel fighting ants, great big red ants. Then late in the summer we got invaded by black crickets. Mississippi was quite an experience. We learned about Jim Crow the hard way. As dark as I am the natives were not sure whether they had a miscegenation case on their hands. Housing was really scarce and we had to take a room in a low income area. Isabel can better tell some of our experiences in that environment.
But we did meet Mary Lee and Cecil Taylor. He was originally from Pennsylvania and almost as dark as I; she a poor white. They helped. When we got Isabel's first pay check we were able to stop at a very small breakfast hole-in-the-wall owned by a black woman who made the best pancakes we had ever had. Isabel came home and told our landlady that we had stopped at the black lady's place; whence we were told, "That is no lady." We soon learned that we were not expected to speak to black people except under certain circumstances some of which we did not quite understand at the time.
Our next station was for Intermediate Flying Training at Ellington AFB in Houston, Texas. Our financial health had improved somewhat and we were able to get a small apartment in the Garden Villas area near the Houston Airport. However, the deposit on the apartment must have been more than our budget allowed. We were broke! Howeveer, I came home on our third day in Houston to discover that Isabel had steak for dinner! She simply went to the neighborhood store and opened a credit account. We ate well from then on.

For some reason I got ahead of all my classmates in the class and when they arrived in Houston; some a week, some two weeks behind, we had learned how to survive on our meager Air Force pay. The Johnstons, the Phipps, the Andersons and others sought us out and either stayed with us or we helped them get settled in Houston including getting credit at the local grocery store.

We also got our second Jim Crow lesson in Houston. We had classmates Fred Reichard (Puerto Rican) and Jim Young (black) for dinner, (arroz con pollo) and our landlord came in to tell Isabel that, "...you will not have your Nigger friends here again."

I got my Air Force wings at Ellington as well as my private pilot's license and then shipped out to our next post; advanced flying at Mather AFB, California. By now we could afford to get a fairly decent apartment in downtown Sacramento. We also learned about the traps set up by landlords regarding leases, etc. En route to each of these assignments we managed to visit our parents in Peñasco. Since we never had much time we would drive straight on through i.e. day and night. On one of those trips we almost got wiped out by a train. Do not drive straight on through!!! Our last assignment was to Langley AFB, Virginia for night flying and crew assignment. Isabel and I were now managing fairly well but not some or my classmates. Some were flat broke when they got to our place. Verle and Joan Johnston, literally got as far as our place and could get no further. They were broke and hadn't had a night's rest in two days or much to eat. We let them use our bed and when they woke up we had some green chile stew to serve them. Verle and Joan remembered the stew at our 45th reunion in 1996 at West Point. Life was rough for this group of West Pointers. But we got our night wings and then we shipped out. There was a war to fight.
On completion of our night flying training at Langley AFB in Virginia in early December of 1952, Isabel and I went home to Peñasco to spend the Christmas Holidays with our parents.
After the New Year's holidays, I reported to Stead AFB in Nevada for Arctic Survival Training. We actually lived in the Sierra Nevadas in a survival situation for the last week which simulated having been shot down over enemy territory. The training was easy for me having been brought up in Los Rincones of Northern New Mexico. We lived on porcupine and on the last day we snared a doe. I was one of the few who crossed the "enemy" line without being detected and had to relate it to the others in the class during debriefing.
After Stead, my crew and three others were selected to ferry B-26's from McClellan AFB in California to Saigon, Indo-China; now known as Vietnam or Nam for short. Saigon was under the French then and the B-26's we flew already had the French markings. The first leg of the flight, McClellan to Hickam was ten and a half hours. The planes had been equipped with extra fuel tanks in the bomb bays. The cockpit of a B-26 is very cramped. You must plan on going to the bath room before embarking on a flight of that duration without being able to move around. The flight was uneventful except for having to pee into a tube while sitting in the cockpit.

The second leg, Hickman to Anderson AFB in Guam was shorter and also uneventful. But then came the last leg, Anderson to Saigon. We lost our left engine on take-off and had to circle back. Anyone who has ever flown off Anderson AFB knows of the abrupt cliffs on the end of the runway, if you run into trouble on take-off and are not able to circle back, you wind up in the Pacific. Well we made it back, the other three planes proceeded on to Saigon. We had to have a new engine installed. We hung around the Officer's Club at Anderson AFB until they flew in an engine from Hickam and installed it. We took off after having tested the engine and made it to Saigon without further problems. The French appreciated the delivery of their B-26.

We then proceeded to Tachikawa, Japan for processing. We were assigned to the 90th Bomb Squadron, Third Bomb Wing at Kunsan Air Base in South Korea. The Squadron was known as the Paradice Squadron; the insignia on our caps was a pair of dice. Then begin our orientation and training to begin meeting our obligation, i.e. 50 missions and you come home. I chose low level night intruder missions, our targets being trains on the black routes of eastern North Korea. The longest went all the way to where we could see the lights of Vladivastok in Siberia. On that route you only had enough fuel to make one run on a train if you ran into one. Low level means right off the ground.


All Black for Night Intruder Work!
Named my plane Isabel and had her picture painted on it. It was a great plane!
Several of our planes came home with branches of trees in their bomb bays, that is how low we had to fly at night. My most eventful mission was my 42nd. for which I was awarded the Distinguished Flying Cross.
Scenes From Korea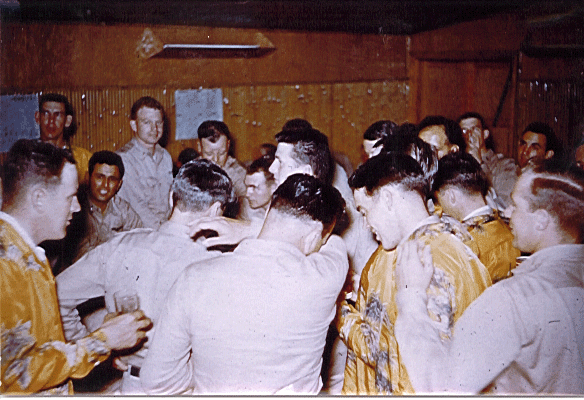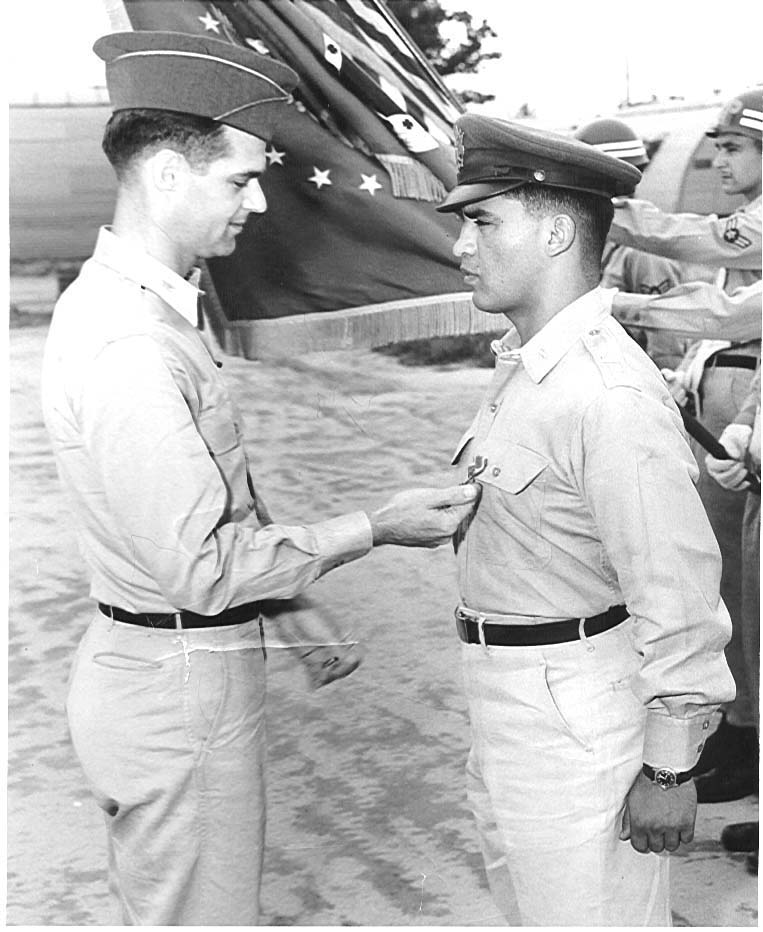 Debriefing After my 42nd Mission - 3rd from right Colonel Napier pins on my DFC
The C I T A T I O N reads as follows:
"By direction of the President, First Lieutenant JOSE ANDRES CHACON, 22130A, United States Air Force, has been awarded the Distinguished Flying Cross. First Lieutenant Jose Andres Chacon distinguished himself by extraordinary achievement while participating in aerial flight on a B-26 attack bomber with the 3d Bombardment Wing, Light, Fifth Air Force, on the night of 25 June 1953. Lieutenant Chacon displayed outstanding airmanship, crew coordination and bombing ability while flying armed reconnaissance in North Korea. Soon after arriving in the target area, an enemy airfield was sighted south of Kangdong. Accurate bomb runs were made which resulted in damage to the runway. Thirteen secondary explosions were observed, several of which were believed to be enemy aircraft exploding. Continuing their reconnaissance, knowing of enemy aircraft in the area, a locomotive was stopped and one vehicle sighted and destroyed. Lieutenant Chacon's accurate bombing on this highly successful mission dealt a heavy blow to the enemy. By his outstanding courage and devotion to duty, Lieutenant Chacon has brought great credit upon himself, his organization and the United States Air Force."
(Certified true copy, Clifford H. Burnett, Captain, USAF, Commander, Records Section.)
Well, I knew we had been hit, however the aircraft handled perfectly and showed no sign of damage. The gunner reported that he could see a gaping hole on the left wing from his position. He could shine his flashlight on it and described the hole as a foot in diameter. It was unbelievable, as the airplane handled normally. Taking extra precaution and alerting the tower at Kunsan about possible problems we landed without incident.
The damage control crew met us at the runway. It was still pitch black but once on the ground we wondered how we had survived. Someone up there was looking out for us. The official engineering report later indicated that the aircraft had taken a direct hit by an explosive anti-aircraft shell which had malfunctioned and exploded after going through our wing rather than on contact. The gaping hole was less than a inch from the main spar on our left wing.
Our lives were spared by the malfunction of a communist anti-aircraft shell.

I was also awarded two Air Medals for my duty in Korea but that service was pretty much routine. Thus ended my sixth life.
I had rolled the dice again, and won!


The Korean War ended on July 27, 1953. I came home from Korea in September to meet Dolores, our first child who was born on May 10, 1953! Really enjoyed my 30 days leave.




God Bless America




By José Andrés "Andy" Chacón, DBA


Free Lance Writer & Ex-Adjunct Professor, UNM
Chicano Motivational Speaker.