AREQUIPA


President John F. Kennedy affected all Americans. At the time some loved him, some hated him. Isabel and I were in the former category. We were at the peak of our political activism in the late 50's and early 60's. As active members of the Bernalillo County Grass Roots Democrats, we ate, drank, and lived politics. Politics was our existence.
We were investigated by the FBI for cavorting with communist sympathizers.
Craig Vincent, the Editor of the El Crepusculo of Taos, NM had actually been to our house for an organizational meeting of the New Mexico Democratic Council. Bingo! I was called in for interrogation to the offices of the FBI. After hours of questioning as to what influence Crag Vincent had on my life I was told that my "Q" clearance was at stake. "If we decide to initiate proceedings to revoke your clearance you will hear from us. If not, you won't hear anything," I was told. I heard nothing.
I did hear something else. I had obtained an MA in Political Science from UNM in 1959 and felt the need to put it to good use. Our political activism placed me leading the floor fight at our Democratic State Convention for JFK in July 1960. We did not have the votes; what with Dennis Chavez, Clinton Anderson, Joe Montoya, and John Burroughs all in the LBJ camp! We resorted to Roberts Rules of Order; I tied up the convention in parliamentary procedure to where I attracted the attention of Sam Rayburn who advised the Convention Chairman, Lt. Governor Max Easley how to unravel it. We lost, of course. Kennedy got one New Mexico vote at the national convention, cast by NM delegates Jack Beatty and Tom Robles, half vote each. LBJ got the rest. However, at San Francisco, JFK won the nomination and he chose LBJ as his running mate. Politically we won, but we lost personally. Those who had been against us at Santa Fe, the LBJ supporters, were now calling the shots in the JFK administration. That is just the way the cookie crumbles in politics. At least to this naive political activist that is the way it has always been. There is a saying in Spanish that applies perfectly. "Unos corren la liebre, y otros se comen el conejo." It figures!
Well I never heard from the FBI on my investigation. Soon after taking office JFK signed the first of a series of Nuclear Treaties with the Soviet Union. It began to look to me like perhaps I was in the wrong business. My whole life up to now had consisted of fighting wars or preparing for war. I participated in four naval engagements, Moratai-Anguar-Peleliu, September 1944, Leyte, Oct 1944, Mindoro, Dec 1944, and Luzon, Jan 1945 during WW II off the USS Ommaney Bay, then I graduated from West Point in 1951 and went to flying school and flew 46 night intruder combat missions during the Korean War. I had earned the Distinguished Flying Cross, two Air Medals and eight other awards and decorations.
With an MA degree now I sought to change careers. Perhaps I should try something peaceful.
On February 21, 1962, I got a call at Sandia from Sarge Shriver's office in Washington, DC. "Mr. Shriver wants to see you tomorrow at 11:00 AM", I was told.
The following day as John Glenn was circling the earth I was flying to Washington for an interview with Sarge Shriver for a staff member position with the Peace Corps in Brazil. Dick Pino, administrative assistant to Senator Clinton P. Anderson, eager to find a way to get me out of the local political scene, had submitted my name as being fluent in Portuguese and knowledgeable in Cooperatives! The Peace Corps had a contract with the Cooperative League of the United States, which was headed by Jerry Vorhees, former Congressman from California who had been tinted with being a "pinko" during the McCarthy years and had lost his bid for reelection. His friendship with Clinton Anderson though, and my local political activism got me the interview with Shriver. I barely made it on time and I waited in Shriver's office at Peace Corps all day long. Frank Mankowitz kept coming out to encourage me and to say that it wouldn't be long. At around 11:00 PM Shriver came out with Mankowitz, they told me to join them and Shriver "interviewed" me as we came down the elevator. When we reached the first floor, he patted me on my back and said, "You are alright." The two disappeared into a long black limousine. I was staying at the Lafayette Hotel across from the White House. What to do now? Was I hired? The next morning I went back to Peace Corps and told Shriver's Executive Assistant what had happened. She said, "that means you will be joining us for assignment in Brazil. You go back to Albuquerque and we will be getting in touch with you. Don't call us, we will call you." This was February 22, 1962.
My next contact with Peace Corps was two years later. I got a call at the Labs from Shriver's office, "Be here at 11.00 AM tomorrow for an interview for a Staff job in Peru." I said to myself, "Here we go again." This time I got the job. The following evening I called Isabel in Albuquerque and Max Allen, my boss at Sandia to advise them that I would be in Peru for two weeks surveying and preparing for the training of 65 Peace Corps volunteers to be assigned to Peru under my "technical" supervision. They were all to be trained in Cooperative concepts and assigned throughout Peru and supervised by me. I did not even have a Passport, but I had one the next day. The government can move when they want to.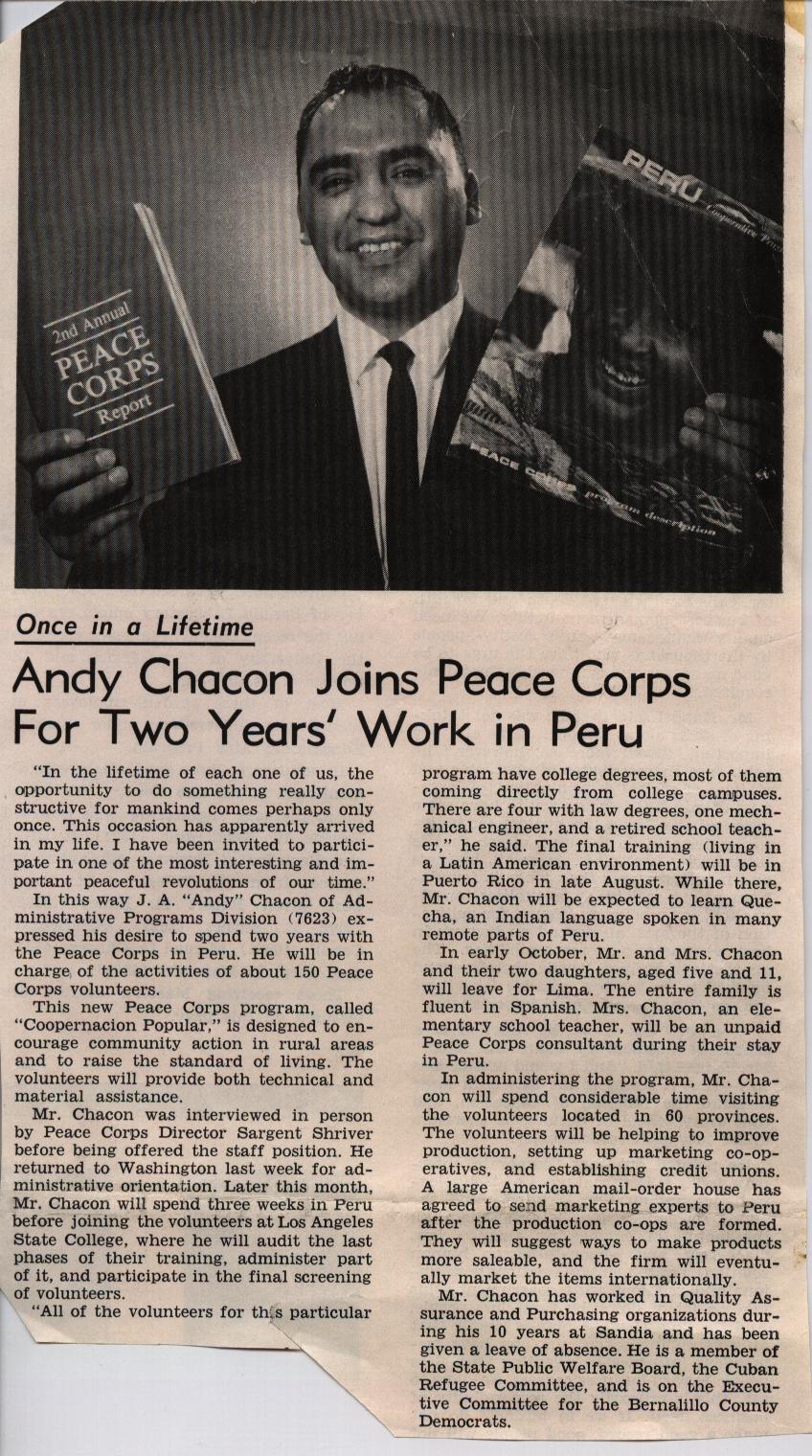 This is what Sandia News had to say.
After my two week trip to Peru, I returned to Albuquerque and to Sandia and wrote the following letter:
Request for Leave of Absence
"In the lifetime of each one of us the opportunity to do something really constructive for mankind comes perhaps only once. This occasion has apparently arrived in my life. I have been invited to participate in one of the most interesting and important peaceful revolutions of our time. Peru is launching a bold new program to aid the struggling rural population, and it has called on Mr. Sargent Shriver and the Peace Corps to help make it work.
"`Cooperacion Popular' is a new agency designed to tap rural Peru's enormous potential for community action and to raise the standard of living of its campesinos above an age old bare subsistence level marked by hunger, disease, and illiteracy. The agency will operate through local centers to be established in sixty provinces by the end of 1964. They will provide technical and material assistance for a wide spectrum of improvement projects in surrounding villages. Peace Corps volunteers will work directly with the people in programs of adult education, vocational training, home industry promotion, recreation, school and road construction, home improvement, youth work, child care, sanitation, nutrition, food preparation and preservation, agricultural extension, co op organization and various aspects of social work such as helping deserted mothers obtain child support and assisting families and communities secure adequate water supplies, electricity, sewage disposal system, schools, teacher and medical facilities.
"The Peace Corps has offered me a staff position in this program to help guide the activities of approximately 150 volunteers. For this purpose I respectfully request a leave of absence of two years beginning June 19, 1964. It has been a pleasure and a privilege to have been associated with Sandia Corporation for the last ten years."
Heady stuff? How did we do all that?
Scenes In Peru
Click 4 Panoramic View
Machu Pichu Urubamba Valley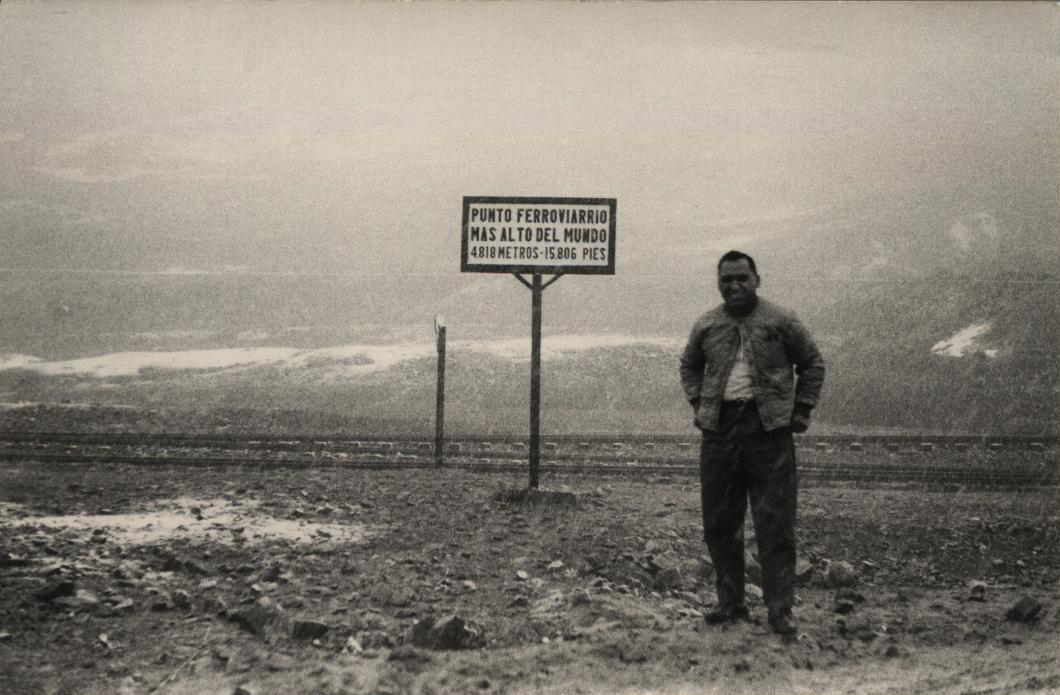 Me at 15,806 feet-Highest RR in the World! And Without Oxygen!
Karen Bridge was a quiet girl from Utah. Brought up in the Church of the Latter Day Saints tradition. While in Peace Corps training at Long Beach State College she made one request of me. She said, "I want to be assigned to the most isolated village in Peru." When she got to Peru she reminded me of her desire. Frank Forque was a volunteer who knew the country well and was about to return to stateside. I asked him where the most isolated village in Peru would be. He said, "Cotahuasi in Arequipa." After all the other volunteers had been assigned I, Karen, and Frank flew by Fawcett Airlines from Lima to Arequipa. We checked out a jeep wagon from the Peace Corps regional office and headed for Cotahuasi. The terrain seemed like the surface of the moon must be. Giant boulders abounded on both sides of the narrow road. After twelve hours we arrived at the rim of a canyon that can hold two Grand Canyons in its breach. Down at the river bottom was the village of Cotahuasi. A breath taking view. It took five more hours to reach the canyon bottom by way of a little winding trail. Cotahuasi was to be Karen's home for two years.
Since I can't find a picture, I bring you a thousand words that describes Cothuasi.
"A valley, a bunch of towns, several snowcapped mountains, tens of cultivation terraces. A waterfall, a couple of hanging bridges, a "puya" forest and also a cactus one. Pre-Hispanic and historical ruins and Aimaran mummies, waris and incas; but above all a gigantic, huge and fantastic canyon: Cotahuasi, the deepest canyon all over the world that has 3,535 meters depth (11,585 ft.) according to the researchers' opinion. This destination in Arequipa is such amazing! Here, geography is cut by powerful rivers, exciting ravines and deep abysses. Populations, unaware of time passing by, keep their old countenance, refusing to change, refusing to lose their old habits.
The impressive Cotahuasi canyon is located at La Unión province, one of the roughest provinces in Arequipa, thanks to its snowcapped mountains of perennial beauty like the Coropuna volcano (the highest of the country with 6,425 meters) and the Solimana (6,117 meters); in addition to its varied vegetation growing between 1,000 and 6,100 meters high.
Enjoying the canyon depth is an experience marked by particular events: a 14-hour trip (from Arequipa) through a road in bad conditions; a peaceful stay in Cotahuasi town and an exhausting long walk, crossing two hanging bridges and probably sighting condors until reaching Sipia, a magnificent waterfall of 150 meters high.
Cotahuasi's depth is the ideal home for species in danger of extinction like the Andean condor (Vultur gryphus), vicunas (Vicugna vicugna) and guemales (Hippocamelus antisensis). Just a brief description of the large fauna, which together with the archaeological and cultural attractions of the canyon justified its denomination of National Touristic Reserve Zone, granted in 1988.
It is not so visited not by any means by foreign tourists. Even, Cotahuasi's cartography has been just prepared in the 90s.
Undoubtedly, an incredible geographic area providing the necessary natural resources for the survival of Cotahuasi's settlers, whose origins date back to 10,000 years ago; when a group of Andean men and women set up in the area.
Afterwards, the region would be conquered by waris, chancas and incas; the latter baptized the towns with quechua names, that remain until today, as well as many of their habits.
But adventure is also present in Cotahuasi, as the area is ideal for practicing rafting, free flight, rock climbing, mountain biking; rides, rapelling and trekking. Cotahuasi is a canyon of adventures and a remote place of the ancient past that waits for being visited."
After leaving Karen in Cotahuasi, Frank and I fueled the jeep and got on the road back. Somehow we lost the trail at night and at one sharp corner Frank lost control of the jeep. We rolled over once and stopped; inches from a precipice that, had we dropped into it we would fallen over eleven thousand feet! Not a chance of either one of us having survived. We struggled getting out, took a look down the canyon, looked at each other and did not say a word.
I felt like throwing up. This one was inches close. The end of my eighth life!!!






God Bless America




By José Andrés "Andy" Chacón, DBA


Free Lance Writer & Ex-Adjunct Professor, UNM
Chicano Motivational Speaker.