Col. Wayne Dickson Miller USA (Retired)
Cullum: 18215
Class: '51
Cadet Company: K1
Date of Birth: October 22, 1928
Date of Death: May 13, 2018 - View or Post a Eulogy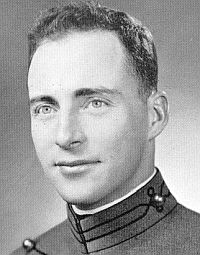 Colonel Wayne D. Miller, 89, a resident of Huntsville since 1973, died Sunday, May 13, 2018. He was born, a Yankee, in Newburgh, New York to Gustav and Mildred Seebeck Miller. He attended Cornwall High School, Cornwall, NY, and entered the United States Military Academy, West Point in 1947. While at West Point he played varsity soccer and ice hockey. He graduated in 1951 and was assigned to the Field Artillery Branch. After attending schools at Fort Sill and Fort Benning (Airborne Training) he was assigned to the Division Artillery in the 82nd Airborne Division.
In 1952, he received orders to the war zone in Korea, and was assigned to the Division Artillery of the 7th Infantry Division where, for a time, he was the Artillery Liaison Officer to the 31st Infantry Regiment Commander. During this time the regiment was involved in the Battle of Pork Chop Hill.
During his career he commanded a Field Artillery Battery (Korea), a SKYSWEEPER Air Defense Battery (Air Base in South Dakota), and a HAWK Air Defense Battalion (later in Korea). In between commands and staff assignments, he attended progressively higher level schools to include: three times at Artillery Schools; the Command and Staff College, the Armed Forces Staff College, the University of Southern California (MS in ME), and the non-resident course at the Army War College. In 1957, he thoroughly enjoyed a tour as an instructor at West Point in the Department of Military Topography and Graphics.
Prized staff assignments included: a tour in the Pentagon in the Office of the Chief of Research and Development, where he was the Military Assistant to the Chief Scientist of the Army and, at the same time, the Executive Secretary of the Army Scientific Panel. He also had a tour of the international staff at SHAPE, France, the Military Headquarters for the NATO Military Command. A third staff assignment was as the Director of the War Games Facility in the Combined Arms Combat Development Command at Ft. Leavenworth. His final assignment was as the Director of the SAFEGUARD Project Office, in the Ballistic Missile Systems Defense Command.
After retirement from the Army in 1976, he worked for Intergraph Corporation in various positions, and retired again in 1986.
Retirement for Wayne was not a "kick back" and relax situation. He traveled with Friendship Force International and visited New Zealand, Australia, Japan, Brazil, Costa Rica, Canada, Netherlands, England, Ireland, and France. Other trips were to Mexico, German, Belgium, Spain, Italy, Switzerland, Korea, and China.
When not traveling, he tutored in the Adult Education Program in Huntsville, and taught Woodcarving classes for over 20 years. He was a past President of the Huntsville Chapter AUSA, and the North Alabama Woodcarving Association (NAWA). He was a life member of AUSA, NAUS, and KWVA (Korean War Veterans). He was a deacon and Elder in Faith Presbyterian Church since 1975. When his children were younger, he enjoyed coaching youth soccer and basketball. He enjoyed woodcarving, designing and building, camping, and family activities. He always tried to do the right thing. He loved people and lived with a smile on his face and a kind word for everyone. This gentle, cheerful, patient, caring man is missed by all whose lives he touched. He was preceded in death by his first wife of 32 years, Alice Weir Miller, and his oldest daughter, Linda Miller Scott.
He is survived by his wife of 33 years, Charlotte Upton Miller; one sister, Janice Vizino; one brother, Warren Miller; two daughters, Lori Tweedel and Robin Powell; a son, Jeff; one stepson, Monte Shearer; and one stepdaughter, Elaina Shearer Marshall of Nashville; 13 grandchildren; and eight great-grandchildren.