Honorable Ross W. Campbell Jr.
Cullum: 14902
Class: '45
Cadet Company: C2
Date of Birth: February 14, 1923
Date of Death: April 6, 2017 - View or Post a Eulogy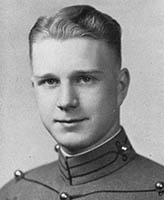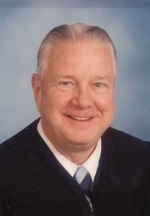 Judge Ross W. Campbell passed away at the age of 94 on Thursday, April 6, 2017, in Ann Arbor, Michigan. He expressly asked to have his appreciation given to the good people of Washtenaw County for placing your trust in him to serve as a probate and circuit judge for 25 years. He was dedicated to protecting the community and seeing that justice was served honorably. His campaign slogan "Ross Campbell Cares" epitomized his dedication in helping others in his professional and personal life. Of special concern to him were the distressed children and those with mental illness in our community. His devotion to helping and serving others, and doing what is right, are the themes seen in his actions through his entire life.

People who knew him well often said they admired his intellect, compassion, humor, and his big welcoming smile. His activities and interests spanned a wide range of personal interests, including writing songs and mystery short stories. He loved reading everything from the stories of Sir Arthur Conan Doyle to human evolution, archeology, his family's ancestry, medicine, and space-time (which he never could really grasp!). His extensive photo slide show collection of the history of the entire Washtenaw County area is placed with the Washtenaw County Historical Society.

After becoming an Eagle Scout in Detroit, he earned through competitive examination dual congressional appointments to the U.S. Military Academy and the U.S. Naval Academy. "For 24 hours, I was the happiest guy in the world to be offered such a choice at age 18. I quickly chose the U.S. Army because I preferred to have my feet on the ground!" From the class of '45 he served in the Army of Occupation in both Germany and Italy. He felt he made a difference in helping several 'displaced persons' to escape from the brutal Russian occupied areas in post-war Germany. West Point's motto "Duty, Honor, Country" resonated in his thoughts and principles. For him, our showing love and compassion in action are the noblest of our human qualities and make life worth living.

Upon graduating from the University of Michigan Law School in 1955, he practiced law in Ann Arbor and raised his family here with his beloved wife Jean and his sons Chris and Charles. In 1967, he was elected as a Judge of Probate for Washtenaw County, and then was appointed to the Washtenaw Circuit Court Bench by Governor Bill Milliken in 1969. He was then re-elected to successive judicial terms until his retirement in 1992.

In his judicial capacity, he helped reform the way people with mental illness are treated in the criminal justice system, both locally and in several commissions for Michigan Department of Mental Health. Up until his tenure began in the late '60's, it was standard practice in Washtenaw County for mentally ill people to be shackled together with hardcore criminals when they were brought to court. He began the now general practice of traveling with his court staff to mental health facilities for their legal hearings. "It was the humane approach and the right thing to do. It gave them more dignity, privacy, and safety." Judge Campbell authored eight published articles on juvenile law, children's rights, and medical malpractice.

Ross' spiritual interests led him to study and be ordained to the Episcopal Diaconate in 1981, and then the Episcopal Priesthood in 1987. He served as an assistant minister at St. Clare's of Assisi Episcopal Church in Ann Arbor, and established the Episcopal Hospital Chaplaincy Program for St. Joes Mercy Hospital, the VA Hospital, and the U of M Hospital. His personal service to the community extended further through his activities in Ann Arbor's Kiwanis, Breakfast Optimist, Masonry, the A2 PTO, and as a Scouting Commissioner.

His first wife Jean passed away in 1980 after 24 years of marriage, and in 1983 he married Beverly Taylor, who passed away this past September 2016. He felt completely blessed to be married to the two wonderful women he loved and adored. He is survived by his two sons Chris and Charles and their wives, and his grandchildren Lauren and Jared. He also wholly embraced Beverly's family as a step-father and grandfather, whom he dearly loved: Dawn Boland, Brad and Craig Burton, and the many grandchildren and great grandchildren in their family.

A memorial gathering will be held on Saturday, April 22nd from 3:00 to 5:30 PM in the Hanson Room at the Glacier Hills Manor senior residence, located at 1200 Earhart Rd. Ann Arbor, MI. 48105. If you can, bring a card with an amusing anecdote we can all share and enjoy together. He would love it.

Our family expresses our special appreciation to his friends and colleagues; you meant so very much to him and he treasured your friendships. In lieu of flowers, may we suggest contributing to local charities that directly help those in need, and the Ann Arbor Thrift Shop where Beverly volunteered for many years.