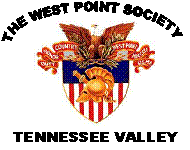 The West Point Society of the Tennessee Valley communicates primarily via email. We use the West Point Association of Graduates' database that generates our regional members roster. We take that roster to generate our mailing list periodically and make sure to do it before society events so we have the latest.  If you want to join our mailing list, 
log into the WPAOG website
 and update your contact information with them. Click the Login link on the top right of their page and after you login, click the My Profile link in the same place. That lets them know you are in our area and appear on our roster. You should become part of the mailing shortly. If you do not want to wait you can also contact our society information systems officer, This e-mail address is being protected from spambots. You need JavaScript enabled to view it and let him have your contact info.
The mailing list is very low volume most of the time. For most of the year there are only a handful of message each month. During football season and before Founders Day, the traffic increases somewhat as we coordinate those events.
Messages to the mailing list will have a subject line that starts with "wps-tenn-valley:" If you receive an email like that it's from us! We occasionally use the WPAOG mailing list so anything with a subject like that starts with "[arealist-al2]" also comes from us.