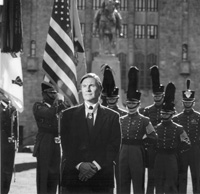 It's that time again. Founders Day is almost upon is. Founders Day will be Friday, March 16th at Redstone Arsenal Officers and Civilian Club. Benny Havens Hour is at 6:30PM and dinner at 7:30PM. The cost is $35 per person and the two options for the meals are Prime Rib and Salmon. Registration can be done online by credit card.
Our guest speaker will be Medal of Honor recipient Paul W. Bucha, USMA 65.
Paul W. Bucha
EXPERIENCE:
Terra Mark LLC, Stamford, Connecticut
Present - President and CEO
Established to pursue real estate projects in environmentally sensitive areas such as water front, mountain terrain and other areas. Currently two projects under development: a. in center of the Old Bahama Bay resort on Grand Bahama Island, b. in the intercostals waterway in Lake Worth, Florida. Other sites under negotiation in New York's Hudson Valley, Connecticut and New York City
Paul W. Bucha and Company, Inc., Somers, New York
1979 - Present - President
International Management and Marketing consulting firm with emphasis on trade with firms and organization interested in selling USA products and services overseas or exporting products and services to USA.
Ohio Coatings Company, Yorkville, Ohio
04/98 - 11/01 - Chairman
Established in 1995, the tin mill plant, the first greenfield tin mill built in North American in the past 30 years, has capability to produce 250,000 tons of tinplate per year.
Wheeling-Pittsburgh Steel Corporation, Wheeling, West Virginia
04/98 - 11/00 - Chairman
Major United States integrated steel company. Chairman of variety of international joint venture companies affiliated with Wheeling-Pittsburgh Steel Corporation
Delta Group, Stafford, Virginia
1997 - 1998 - Chairman
Delta Group of Companies including, Delta Defense, Inc. and Delta Frangible munition, LLC; Delta Group is a defense contractor specializing in non-lethal defense weapons systems design; development and production of "environment friendly" small caliber ammunition for commercial, law enforcement and military use; and research and development of unique weapons systems designed for "other than war" military missions. Offices of Delta Group are in Stafford, Virginia.
Clients and Services of Paul W. Bucha and Company, Inc.:
1995-1997
WHX Corporation: Special projects as Board member including negotiation with Dong Yang Tinplate Company (Korea) and Nittetsu Shoji, Inc. (Japan) to establish $100 million tin mill in Ohio River Valley and negotiation with Bethlehem Steel Corporation to acquire Bethship Yard.
M Group Resorts: Identified long-term joint venture partner for privately owned luxury resort in St. Lucia culminating in three party transactions for ownership of Jalousie Plantation Resort and Spa among Hilton International, M Group Resorts and Government of St. Lucia, including arranging of long term financing and international approval of environmental plan for further resort development.
Hyundai Refining Company: Identified international crude oil providers and negotiated new long term crude oil purchase contracts from Mid East and Latin America.
B.L.H.J., Inc.: Established and staffed Mexico City marketing office to represent firms interested in selling USA products and services into Mexican market.
Paul W. Bucha and Company: Managed Company owned real estate business in both commercial property and development of residential and leisure properties.
1993-1995
M Group Resorts: Developed long-term real estate development plan and sales program in order to permit development of land surrounding Jalousie Plantation Resort and Spa which takes into account tax treaties for British commonwealth nations and local real estate transfer taxes. Managed environmental review of Jalousie Plantation to insure conformity with World Bank environmental conditions for Developing Nation financing.
Hanmi Corporation: Established negotiations with Revlon to resolve the outstanding licensing issues between Hanmi and Revlon, with regard to the Korean market.
Jones Lang Wooten and Company: consultant for transition from Resolution Trust Control of real estate to private developers including review of environmental, financial, architectural and marketing aspects.
Asian-American Development Company: Managed research of properties being sold by Resolution Trust Corporation, development plans and arranging financing from European and Asian investors.
Paul W. Bucha and Company: Managed company real estate business in both commercial property and development of residential and leisure properties.
1991-1993
The Spoerry Group, Inc.: Managed Chapter 11 proceedings of major real estate development partnership after collapse of financing group of Savings and Loans, from filing of Chapter 11 through the successful reorganization of partnership without cost to homeowners.
Hill International, Inc.: Responsible for marketing Hill International products and services in Kuwait, Saudi, Morocco and Lebanon.
Paul W. Bucha and Company: Managed Company owned real estate in both commercial property and development of residential and leisure properties.
1984-1991
River Club, Inc. LLC: Development of the River Club real estate development in Croton On Hudson, New York. Responsibilities included identifying the site; acquiring site; completion of all development and environmental approvals and permits; arranging of financing; selection of general contractor; development and execution of marketing and sales programs and overall development supervision of architect and builder.
Hardill International: Marketing management for various industrial products including construction equipment, heating devices, building supplies for Europe, Mid East, Asian and USA markets.
Taylor Machinery: Marketing management for international market for heavy construction and earth moving equipment for Mid East and West African markets.
Job Tree Spikes: Development of Mid East market for Job products.
M.I.L. Fund, Inc.: Established and marketed Mutual Fund for aggressive trading in US securities for non-resident, non-USA citizens.
1979-1984
Compagnie General d'Informatique: Marketing responsibility for "facilities management contracts" for largest European data processing firm.
M Group, USA: Marketing and Management responsibility for M Group industrial investments in USA and Europe.
Arabian Data Systems: Marketing consulting responsibility for largest Saudi -Arabian owned data processing firm.
E.D.S. World Corporation.
1973 -1979 - Senior Vice President
Founded and developed international data processing business for Electronic Data systems Corporation from start-up to on-going operating companies in Iran, Saudi Arabia, Kuwait, Pakistan, Netherlands, Germany, France, and United Kingdom. All aspects of the international company were developed and implemented as work force expanded from ten expatriates to a combined expatriate and local work force of over one thousand employees. Responsibilities included marketing; partnership identification and negotiation; accounting and legal on country-by-country basis; overall financial; personnel management and training; and total international profit performance.
duPont Glore Forgan
1972-1973 - Director, Branch System Administration.
Managed the branch system for large retail brokerage corporation including negotiation of merger of duPont with Walston and Company, and consolidation of the two branch systems into second largest retail brokerage firm in USA.
United States Military Academy at West Point, New York
1969 - 1972 - U.S. Army - Instructor/Assistant Professor, Department of Social Sciences. Instructor of U.S. History and International Relations
Authored and taught course in Managerial Economics and Cost Accounting. Responsible for development community outreach program for troubled teenagers in need of work and anti-drug education. Faculty sponsor for swimming team.
U.S. Army - Republic of Vietnam
1967 - 1969 - Company Commander
Formed, trained and commanded infantry company in 101st Airborne Division from start-up at Fort Campbell, Kentucky, through operations as Special Combat Unit in all sectors of Republic of Vietnam.
U.S. Army-Stanford University Graduate School of Business, Stanford, California 1965 -1967 - Student
DIRECTORSHIPS:
WHX Corporation - New York, New York
1993-Present
New York Stock Exchange Corporation which controls the nation's eighth largest integrated steel manufacturer, Wheeling-Pittsburgh Steel Corporation. Member Audit Committee and Co-Chairman of Nominating Committee.
M Group, USA
1994-Present
Family owned real estate and Investment Company with projects in Switzerland, United Kingdom, Caribbean basin and USA. Oversight of all aspects of company activities.
North Atlantic Aviation Company, Inc.
1997 - Present
Closely held air charter, air tour, air maintenance company serving USA and Europe newly formed with intent of public offering in early 1998.
Delta Group
1997 - Present
A defense contractor in Stafford, Virginia
Wheeling Downs
1998 - Present - Director and Vice President
Entertainment subsidiary of WHX, Inc. involved in gaming establishment including race track, video gaming arcade and restaurants.
North Atlantic Aviation Company, Inc. 3/2000 - Present.
EDUCATION:
1967 Masters of Business Administration - Stanford University Graduate School of Business
1965 Bachelor of Science - United States Military Academy at West Point
1961 High School Diploma - Horton Watkins High School of Ladue, Missouri
HONORS:
Civilian:
U.S. Army Ranger Hall of Fame - 1999; International Swimming Hall of Fame Gold Medallion Inductee - 1997; Ellis Island Medal of Honor - 1994; Charles McCaffery Award College Swimming Coaches Association - 1992; NCAA Silver Anniversary Honoree - 1990; NCAA Distinguished Service Award - 1972; U.S. Jaycees Ten Outstanding Young Men - 1970; All American Swimming, NCAA Division I - 1963 and 1964.
Academic:
Stanford GSB Student Government Executive Council 1966-67; USMA top 3% Graduation Order of Merit and Distinguished Cadet; Association Graduates Award for Excellence in all areas of Cadet Endeavor.
Military:
Medal of Honor, Bronze Star w/V, Bronze Star, Air Medal (2), Purple Heart, Vietnam Cross of Gallantry w/Palm, Army Commendation Medal, Civic Action Medal, National Defense Service Medal, Vietnam Service Medal, Airborne Parachutist and Jump Master, Combat Infantryman's Badge, Ranger.
CIVIC ACTIVITIES:
Director, USA Swimming Hall of Fame; President, Congressional Medal of Honor Society of United States (1995-1999); Founding Fellow, The Cleveland Clinic Foundation; Director, Asian Institute Jersey City State College; Member, Gibraltar-American Council; Chairman, Ends of the Earth; Member, Town of Highlands, New York, Special School Advisory Board; Director, West Point Society New York; Member, various national veterans and civic organization. Public speaking at Universities and Corporations on topics such as Ethics; Leadership; Integrity; Athletics; Environment; and International Trade.
PERSONAL:
Born - August 1, 1943
Married - Cynthia C. Bell, Cornwall, New York
Children - Four
Parents - COL (USA-Ret) Paul A. Bucha and Mary Sikora Bucha, Sun City Center, FL
Languages - English, German
Other - Twelve years residence overseas in Japan, France, Germany,