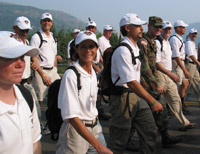 Grads completing March Back

The West Point Society of Greater Houston is one of the largest and most active West Point Alumni Societies in the United States. The Society hosts many functions during the year to help support West Point in many of its activities.

If you are a graduate or former cadet living in the Greater Houston area, we would like to invite you to join us. You can join by sending in your your annual dues of $30.
DUES INFORMATION
Dues are due every January for the calendar year. Membership dues are $30 per year for regular membership and $15/year for active duty military (not in Houston area). Checks should be made payable to: "West Point Society of Greater Houston" or "WPSGH" and may be mailed to:
WPSGH
P.O. Box 19486
Houston, Texas 77224-9486
E-MAIL LIST MEMBERSHIP
USMA Alumni, Former Cadets, MALOs, and USMA Parents in the Greater Houston Area are invited to join the West Point Society of Greater Houston's e-mail list by clicking here to "Subscribe Now".
UPCOMING EVENTS
Founders' Day Celebration
Founder's Day in Houston is always celebrated on the first Saturday in March.
Activities
Monthly Luncheon:
Usually the 2nd Thursday of each month – depending upon the respective speaker's schedule

Announcements are made by e-mail. (Click here to join our e-mail listserv)

No Lunch meetings July and August

McCormick & Schmick's Restaurant
Monthly Benny Havens:
3rd Thursday of each month

Firkin & Phoenix Pub @ 1915 Westheimer
Army-Navy Ticket Deadline
In years past, the deadline to reserve Army-Navy tickets has been about mid-June. For more information, contact:

Army Athletics Ticket Office
Holleder Center
West Point, New York 10996

Telephone Numbers
1-877-TIX-ARMY (1-877-849-2769)
1-845-938-2526
FAX: 845-938-8146
Group Sales Hotline: 845-446-2795
RELATED SITES
United States Military Academy
West Point Parents' Ticket Exchange
CONTACT INFORMATION
West Point Society of Greater Houston
Attn: Steve McHale
P.O. Box 19486
Houston, Texas 77224-9486
Tel: 832-681-4615

SMcHale@swst.com