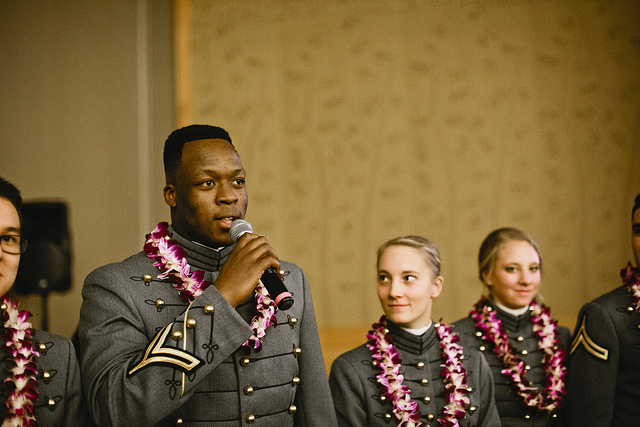 View photos from the 2016 ASAB here.
---
History of the All Service Academies Ball
Mission Statement
"To honor the commitment of our Cadets and Midshipmen
who are currently in training to become the military officers of tomorrow."
Over twenty years ago, a group of service academy parents came together to plan and host Washington's first All Service Academies Ball. By doing so, they joined several other states across the country already sponsoring this annual event. We continue to honor the stellar young men and women from the Evergreen State who commit themselves to the highest standards of academic, athletic, and military achievement by attending one of our country's five service academies. Upon graduation, each of these students has committed to a minimum of five years of military service to our nation.
The privilege of hosting the ball alternates between the Army, Navy, and Air Force parent clubs. The Coast Guard and Merchant Marine cadets are invited as well. When it is their year, each club takes full responsibility to plan and host the ball, which has now grown to over 400 participants and a $50,000+ budget. This formal event is steeped in pride and tradition and includes a reception, plated dinner, military ceremony, inspiring speeches, entertainment, and dancing. Of course, there is always the good-natured bantering between branches. We also provide door prizes for the cadets and midshipmen when our sponsors' generosity allows. It is a night to be remembered, and a perfect way for the Washington community to say thank you to these outstanding citizens who volunteer their service.