WPPC St Louis Home >> Newsletter >> November 2003
November 2003 Newsletter
West Point Parents' Club of Greater St. Louis
November 25, 2003
In this issue:
                Army-Navy Game information – Philadelphia
                Army-Navy Game information – St Louis
                43rd Annual All Academies Ball
                February 22 meeting at Scott Air Force Base
                April 18 meeting location
                Treasurer's report
                2004-2005 Club Nominations
                We did not get our 501c3 status and where to write your congressman
                Terrorist Links from the IRS
                Donation to www.west-point.org
                Plebe Parent weekend notes
                2004 Branch night, 2004 Class Pistol, & 2004 Afghan
                Brag news
Army-Navy Game at Lincoln Center
This year's game is at the new Lincoln Financial Center Field. Game time is late starting at .
Cadets (without honors/other violations) will be able to get a spirit pass to leave for the weekend.
Members suggested the following
<![if !supportLists]>· <![endif]>Philadelphia is usually warmer than last year's Northern New Jersey game.
<![if !supportLists]>· <![endif]>Bring a sleeping bag, if you want to stay totally warm – from head to toe (and the back of your legs).
<![if !supportLists]>· <![endif]>Once you get into the stadium, you will not be allowed back out.
<![if !supportLists]>· <![endif]>Security will be high, so watch what you bring in.
West-Point.org suggests the following:
<![if !supportLists]>· <![endif]>Bags larger than 12"x12"x12", umbrellas and coolers are not permitted.
<![if !supportLists]>· <![endif]>Stadium policy will allow video cameras and regular cameras.
<![if !supportLists]>1. <![endif]>All stadium parking lots to open      
<![if !supportLists]>2. <![endif]>Stadium gates open                           
<![if !supportLists]>3. <![endif]>Navy March on                                  
<![if !supportLists]>4. <![endif]>Army March on                                  
<![if !supportLists]>5. <![endif]>Game time                                           
<![if !supportLists]>· <![endif]>A map of the stadium and parking lot with directions is located at http://www.lincolnfinancialfield.com/stadiuminfo/maps.jsp
<![if !supportLists]>· <![endif]>You are invited for post game fun at Penn's Landing for a concert and fireworks! (Not Dale & Rhonda Penn)
Army-Navy Game at Syberg's Westport
                Saturday December 6, 2003
                Highway 270 and Dorsett Road at Best Western Westport
                $5 Non-AOG members
                RSVP  636-519-7747 or westpointsociety@aol.com
West Point Society of St Louis
                C/O Craig Borchelt
                15477 Long Castle Forest Ct
                Chesterfield MO 630177-7447
43rd Annual All Academies Ball 2003
                When:                    Saturday December 27, 2003
Where:                   St Louis downtown Millennium Hotel.
                Cost                        $38.50   per person (Cadets of paid WPPC members are free)
                Parking                  $5.00      (and has been reduced for this event)
                Rooms                   $89.00   (also reduced)
                Host:                      United States Naval Academy
                Reception:            6:00
                Dinner:                   7:00
                Invitations:           Mailed by November 24, 2003
                Reservations:       December 17, 2003
                For reservations, please call or write to
                Call Sarah Collins, 314-993-8755; Susan Mueller, 314-863-4495; or Pam Sanfilippo, 314-385-2714.
February 22 Meeting
Our next meeting will be at Scott Air Force Base in Illinois. Our meeting will start at , with Lunch at 11:30.
You may pay at the meeting.
Reservations are due by February 1, 2004, please call or write to
(You will need to have reservations so your name can be placed on the security list)
(Also, all passengers must bring a photo ID)
Entrance cards will be mailed after you a reservation.
Class of 2005 will be responsible for door prizes.
                We will elect new officers for 2004-2005, see the nominations below.
April 18 Meeting
Our April meeting will be at Concordia Lutheran Church. Like last year it will be bring a plate to pass luncheon.
Treasurer's Report
Mike Collins reported that as of 11/01/2003, we have an ending balance of $2,023.27.
2004-2005 Club Officers Nominations
Co-Presidents                       Gay Eskew and John Liesen
Vice-President                      Mike & Sarah Collins
Secretary                               Pam Sanfilippo
Treasurer                               Bob & Kathy Hotz
501C3-Exempt Status
The IRS informed us by letter that they could not permit us to be classified as a 501C3 Tax Exempt Organization, but classified us as a 501C4 Non-Tax Exempt organization. Susan Harryman (past president) and Kent Howald (current president) have worked very hard in paper filing and double checking the procedure for obtaining 501C3 status. We have followed the guidelines of WPPC of Oklahoma and WPPC of Georgia perfectly who have 501C3 Tax Exempt status.
Kent after recommendation from the club will continue to work with the IRS in order to have us classified correctly. He will write Congressman Shimkus (Class of 85) about the irregularities in this decision.
                Kent has also recommended that we write our congressman(s) about this situation.
                Visit http://www.house.gov/writerep/
Illinois 12th District

Jerry F Costello

No phone number on site

Illinois 15th District

Timothy V Johnson

Champaign Office

2004 Fox Drive

Champaign, Il  61820

Phone:217-403-4690

Fax:217-403-4691

Illinois 17th District

Lane Evans

1535 - 47th Avenue, Suite 5

Moline, IL 61265

Illinois 19th District

John Shimkus

508 West Main

Collinsville, IL 62234

618/344-3065

618/344-4215 fax

Missouri 2nd

W. Todd Akin

Web Site was down

Missouri 4th

Ike Skelton

1401 Southwest Blvd

Suite 101

Jefferson City, MO 65109-2429

573-635-3499

Missouri 8th

Jo Ann Emerson

612 Pine

Rolla, MO 65401

(573) 364-2455

(573) 364-1053 fax

Missouri 3rd

Richard A. Gephardt

St. Louis

11140 South Towne Square, Room 201

St. Louis, MO 63123

(314) 894-3400

Missouri 9th

Kenny C. Hulshof

33 East Broadway, Suite 280

Columbia, MO 65203

phone: (573) 449-5111

fax: (573) 449-5312
IRS Website about Charities with Terrorist links
During the investigation of 501C3, Kent discovered that the IRS post information about charitable organizations (and 501C3 ones) who are linked to terrorist activities. This list will help you determine where not to send your donations. Go to www.irs.gov.
Donation to the West-Point.org web site
Our website is currently hosted by www.west-point.org, thousands of dollars are required to keep this site operational. A motion carried to donate $100. The website also host plebe.net and grad.net for West Point and Annapolis Academies.
Plebe Parent weekend
                Several parents made the following comments about their experience at Plebe Parent Weekend:
<![if !supportLists]>· <![endif]>It was great to meet our Cadet's host family,
<![if !supportLists]>· <![endif]>Enjoyed spending a lot of time with our cadet,
<![if !supportLists]>· <![endif]>Was glad that our cadet could kick of their shoes and relax in the hotel room,
<![if !supportLists]>· <![endif]>The ball was great,
<![if !supportLists]>· <![endif]>The company clothing style show was something they did not expect,
<![if !supportLists]>· <![endif]>The superintendent's tour was great,
<![if !supportLists]>· <![endif]>Some were able to visit with General Brooks (Commandant).
Other places to visit while at West Point
Several members commented on how many places there are to visit around West Point. Some suggested obtaining tourist information from the various counties – Orange, Dutchess, … Others feel that our St Louis Directory should include this information which would be especially useful for new parents. Other WPPC clubs have information posted on their sites such as Northeast Ohio. Some suggestions were:
<![if !supportLists]>· <![endif]>Mohonk Mountain House 1000 Mountain Rest Road New Paltz, New York, 12561
<![if !supportLists]>· <![endif]>The Storm King Lodge - Mountainville, New York
<![if !supportLists]>· <![endif]>Hyde Park
<![if !supportLists]>1. <![endif]>Franklin D. Roosevelt Presidential Library and Museum:4079 Albany Post Road, (Route 9)
<![if !supportLists]>2. <![endif]>Culinary Institute of America, Route 9, Hyde Park, NY. 2 miles south of the FDR Library and Museum.
2004 Class Branch Night
                November is the month when the Firsties (seniors) are notified of their chosen branch of service (Infantry, Armor, FA, ADA, Aviation, etc). Good luck to our Firstie cadets:
                                Amos Bock, Will Eberle, David Howald, Robert McCullough, Chris Duncan, Sarah Penn, Jeffrey Weaver
2004 Class Pistol
<![if !vml]>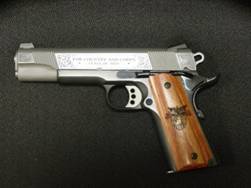 <![endif]>
For the last several years, each class has a class pistol developed for it. Colt has developed a special design for the cadets with the class crest. The price is reduced to the cadets from $2,350 to $790.
The 2004 class pistol a Colt, XSE model, with custom artwork and serial numbers. It has stainless steel slides on blued frames. The artwork is done by Baron Technologies, and the grips are tulipwood by Hogue.  The total cost is $790, the deadline for ordering and the first down payment of $400 is NLT November 14, 2003. You can see more pictures at http://www.dean/usma.edu/pistol/2003classpistol.html
Contact CDT Jennifer Smith (C-2, '04): email at x46840@usma.edu or by phone at (845)515-5070.
2004 Class Afghan<![if !vml]>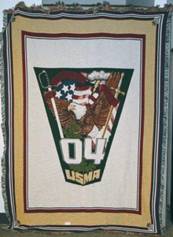 <![endif]>
Made in the USA and machine washable, this Afghan is sure to please anyone associated with the Class of 2004. We have done this the last five years as a service for each class. It is not a fundraiser for our club and any profit from sales go into the 2004 class fund.  Over the last two years, we have donated over $3,000.00 each year to the respective Class Fund with AOG.
The cost is $40.00 each, which includes shipping within the United States. 
They are on order now and will begin shipping mid to late November.  For Holiday delivery, please order by 1 November 2003. 
                Deadline for all orders is 1 March 2004.
MAIL FORM & PAYMENT TO:
JANET OLSEN
205 MARKWOOD DRIVE
STERLING, VA   20165
bearbaskets@aol.com
Brag News
Jay Broemmel '95                               Jay is the son of Bo & Judy Broemmel.
Jay is very proud to be in Iraq and to perform combat operation evaluations in order to improve our combat training back home.
Mike Collins '06                                  Mike is the son of Michael & Sarah Collins.
Mike has been awarded the Superintendent medal, this medal is for getting a 3.0 or greater in three areas – physical, academic and military.
Robert Hotz '07                                   Robert is the son of Bob & Kathy Hotz.
Robert has joined the Scuba club and has passed the certification requirements.