Kolbe's reception for the new appointees
Here is a picture of all the appointees to the service academies from his district.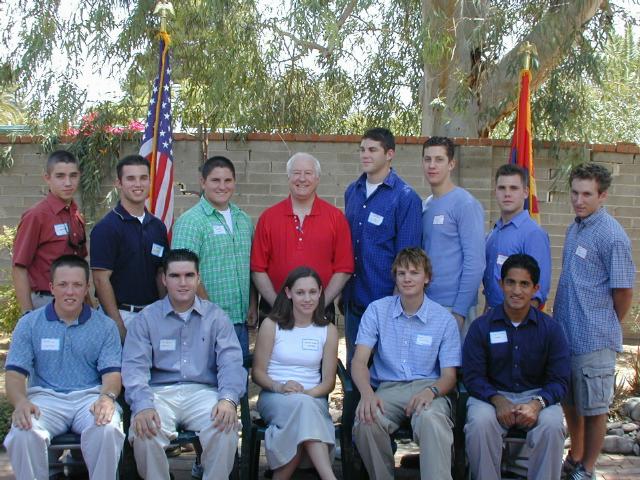 Graduation!!!
Tess Allaire, Keith Benedict, Justin Gorkowski, BJ Moore, Richard Paco and Rock Rhodes graduated on May 31, 2003 and became 2nd Lieutenants in the Army. Congratulations to our graduates!
Winter News - from early 2003
Rocky Rhodes was named Company Commander of his academic year company for the Spring 2003 semester.
Theresa Allaire was name 1st Regimental Adjutant for the Spring 2003 semester. She is responsible for coordinating and monitoring all accountability of personnel matters for the regiment.
Fall News - from 2002
Keith Benedict was named a Rhodes Scholar. He will be studying at Oxford next year.
Keith was named the Brigade Cadet Sergeant Major for the school year. This is one of the highest positions in the cadet chain of command.
Theresa Allaire was appointed XO of her company for the Fall of 2002.
Justin Gorkowski was named captain of the wrestling team for the school year.
Summer News - from 2002
Theresa Allaire spent 4 weeks at the Latin American Student Symposium on Negotiation and Conflict Resolution at Tec de Monterrey in Monterrey, Mexico. She returned to West Point to serve as a company commander for 2nd detail Beast.
Summer News - from 2001
While summer training is complete, this information will remain on the site as it contains links to various training information.
All Arizona Yearlings spent the summer at Buckner for Cadet Field Training. They all went to Ft. Knox on a rotating basis for training with tanks. The following link has the Buckner training schedule CFT 1 SCHEDULE [html] -2001 The Department of Military Instructions information on last years CFT can be found at this link http://www.dmi.usma.edu/Organization/Mtbranch/CFT/index00.html
Lindsey Wallace, Class of 2002, graduated from Airborne (Parachuting) School on June 22nd. For information about the school click on this link http://www-benning.army.mil/airborne/
Keith Benedict and Theresa Allaire, Class of 2003, graduated from Air Assault School on June 29th. This class consists of three phases, the last of which is rappelling. For information about this school follow this link http://www.campbell.army.mil/aas/air_assault_school.htm which has further links for each of the 3 phases.
Theresa Allaire spent 2 weeks at Ft. Belvoir in Virginia doing research and sitting in on some classes at the Army Force Management School. While there she also went to Washington, DC to attend a Senate Armed Services Committee hearing and attended the Army's 226th Birthday Ball.
Rocky Rhodes was a First Sergeant for the Buckner I (CFT) and attended Sapper school. Information on Sapper school can be found on 2 links http://www.wood.army.mil/sapper/ and http://www.dmi.usma.edu/MT/Branches/EN/SLC/SLC.html
Keith Benedict and Jeffery Wright from Casa Grande were part of the cadre at the IAW this summer. For information on the Invitational Academic Workshops see http://www.usma.edu/admissions/faqs_summer.asp
Theresa Allaire is did CTLT at Fort Wainwright in Alaska.
Keith Benedict served as First Sergeant of Company C for Beast II (CBT).