Farewell Poco
Todd J. Bryant, nicknamed Poco by his big sister, was a young man who loved life. Tragically that life was taken on 31 October 2003 in the early morning desert of Iraq. When Poco followed his sister, Tiffany, to West Point, his nickname was waiting for him. It was a light hearted nickname which reflected Todd's inner spirit, a spirit of boundless enthusiasm and love of life. In his Cow year at West Point, Todd met his future bride, Jenifer Reardon. At graduation, Todd and the rest of his classmates willingly accepted the President's charge to stand ready to defend our inalienable rights from the forces behind the tragedies of September 11th.
Todd was not sent to Iraq in the initial conflict as were his brother Tim, with the 5th Marines, or good friends and classmates, Will Tucker, of the 7th Cavalry and Eric Huss of the 2-70th Armor. Instead, Todd was stationed at Ft. Riley with the 1-34 Armor of the 1st Infantry Division. In late August, he and Jenifer wed in Pittston, PA following Jen's graduation from Boston College. It was nine days later that Poco's unit deployed to Iraq.
He exchanged his Abrams, aptly named "California Dude" for a Humvee and set off to secure the peace in a strife torn nation.

While
on patrol, Todd was hit
with the force of an exploding Improvised Explosive Device (IED), detonated by an assailant as his hummer passed by. Todd succumbed to his wounds before he could be air evacced to a medical facility.
Todd was born at the Long Beach Naval Hospital, grew up in Riverside, and graduated from LaCaņada High. He is survived by his wife, Jenifer, his parents, Larry and Linda, his sister, CPT Tiffany Bryant, his brother, Major Tim Bryant, and other relatives and friends too numerous to list in a very thick tome.
Poco, we mourn your tragic passing, we love you, and we will miss you forever.
love
Dad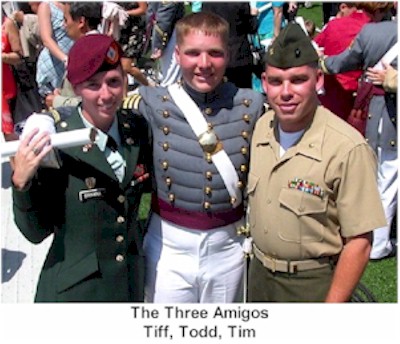 MAJ John Nagl, '88 provided this poem written by one of Todd's fellow soldiers in the 1-34 Armor: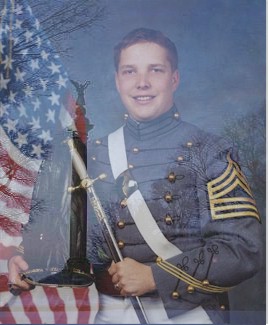 The Day Todd Bryant Died
by CPT Dave Mugg

For duty's call and foreign need,
Backing up their word with deed,
Stone-faced knights rode iron steeds
On the day Todd Bryant died.

Riding forth to lend a hand,
Bringing hope to a desert land,
When Death came roaring out of the sand
On the day Todd Bryant died.

News mongers ask why we should care,
But their words are naught but dust and air,
For truth to tell, they were not there
On the day Todd Bryant died.

His fight made the world a better place.
His love of country gives courage a face.
"For mission and men, whatever the place."
'Til the day Todd Bryant died.