to the
West Point Parents Club of the Inland Empire
The West Point Parents Club holds quarterly meetings. The spring, summer and fall meetings focus on upcoming events in the lives of our cadets: graduation, "R"-day, and Plebe Parents' Weekend. Our winter meeting is a social event in celebration of the Holiday season. Activities that club members have an opportunity to participate in include Founders Day celebrations, Congressional Academy Nights, See-A-Battle, Army-Navy, and the All Academy Military Ball.
The local Founders Day celebration is sponsored by the West Point Society and commemorates the founding of the United States Military Academy in March of 1802 at West Point, New York. Air Force Village West, next to March Air Reserve Base in Riverside is the traditional venue for this annual event. West Point, the National Training Center, and renowned grads are typical sources of excellent speakers for these occasions.
Congressional Academy Nights are sponsored by the members of Congress in our area as a means of disseminating information on the academy nomination process to prospective candidates. Our club participates to answer questions about being a cadet's parent and ensure parents are aware of the existence of our club as a resource they can draw upon.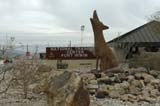 Encompassing over 640,000 acres of California's high desert, the U.S. Army National Training Center (NTC) at Fort Irwin is the Army's premier combat training center for large units. The mission of the National Training Center is to provide tough, realistic, joint and combined arms training in multi-national venues across the full spectrum of conflict set in a contemporary operating environment to assist Commanders in developing trained, competent leaders and Soldiers by presenting them with current problem sets to improve the force and prepare for success in the Global War on Terrorism and future joint battlefields. Through the efforts of the West Point Society of the Inland Empire/Palm Springs, NTC and the 11th ACR have hosted "See-A-Battle" opportunities in which the Parents Club have had an opportunity to participate.
If it's the first weekend of December, it must be time for the annual Army-Navy football game. While many parents take this opportunity to plan a vacation to the east coast, those that don't trek across the country often gather at Air Force Village West for a day of football. The West Point Society hosts this event which always includes Naval Academy grads and rooters which makes for a spirited day of inter-service rivalry.
The Christmas holiday is an opportunity to set aside inter-service rivalries and attend the All Academy Military Ball. The ball is sponsored by the Orange County Naval Academy Parents Club and provides a gala evening of dining and dancing at a fine regional hotel.
Last Updated: 06/22/09
Webmaster: Larry