Welcome West Point Parents!
WPP-NET stands for "West Point Parents Net". This is the net used by our WP-ORG Advisors to pass "hard news" information to all parents who have an e-mail address in the west-point.org system. WPP-NET is a closed net and the only person who can post messages to this net is the wpp-net moderator. This net operates on a "push" system. We push the information out to you unsolicited as we learn of news from West Point.
The WPP-NET website is intended to be the portal for all West Point parents (as your Internet browser home page if you wish), where you can find everything you need in one easy location. If you don't find something you need, be sure to let me know, and our Webmaster will include it if at all possible.
IF YOU ARE A MEMBER OF PLEBE-NET, PARENT-FORUM, or WPP-GRAD, YOU NEED NOT SUBSCRIBE TO WPP-NET
If you have chosen not to be a part of one of those lists, you may subscribe to WPP-NET by clicking HERE
Dian Welle
This e-mail address is being protected from spam bots, you need JavaScript enabled to view it
wpp-net List Moderator

Aug. 8, 2011

WEST POINT, N.Y. – Cadet Charles Phelps, son of Charles and Carrie Phelps of Woodinville, Wash., has been selected First Captain of the U.S. Military Academy's Corps of Cadets for the 2011-2012 academic year, which begins Aug. 14, achieving the highest position in the cadet chain of command.

As First Captain, Phelps, a Military History major, is responsible for the overall performance of the approximately 4,400 member Corps of Cadets. He follows in the footsteps of other notable First Captains such as John J. Pershing, Douglas MacArthur and William Westmoreland.
By YOCHI J. DREAZEN


West Point, N.Y.

........

The class of 1976—who left West Point at a low point for both the Army and its famed training ground—has produced a striking number of generals now influencing the shape of the U.S. military. All told, at least 33 active and retired generals, now all in their mid-50s, were among its 855 graduating members. Gen. McChrystal's deputy in Kabul, Lt. Gen. David Rodriguez, was a classmate, as was the officer leading U.S. efforts to train the Iraqi army, Lt. Gen. Frank Helmick. Retired Lt. Gen. Dave Barno, who spent 19 months as the top commander in Afghanistan, was also West Point '76.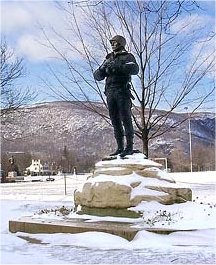 Polls
Random Quote:
"Duty," "Honor," "Country"—those three hallowed words reverently dictate what you want to be, what you can be, what you will be. They are your rallying point to build courage when courage seems to fail, to regain faith when there seems to be little cause for faith, to create hope when hope becomes forlorn. Unhappily, I possess neither that eloquence of diction, that poetry of imagination, nor that brilliance of metaphor to tell you all that they mean.