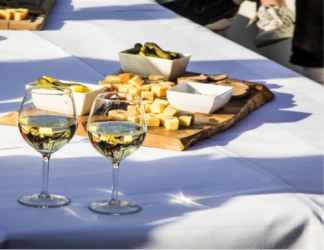 Date: Sunday, October 15th, 2017. DEPART 11:15am – 3 hour cruise – Rain or shine!
PCWP organized to capacity a Sunday Hudson River boating excursion on the Superintendent's Boat – Tour and Tasting of the Hudson Valley – for parents, cadets, friends and families.  The Fall foliage did not disappoint.  Nor did the catered brunch by several Hudson Valley chefs and venues and Manhattan specialty bakers and pastry chefs.  Drink and fare included fresh, locally roasted coffee from North River Roasters, Pied Piper Pies offered an array of savory and sweet seasonal pies;  buttery croissants were trekked in from Ceci Cela Patisserie, incredible French baguette sandwiches from Le District, freshly rolled bagels with whipped cream cheeses came from Pick-A-Bagel, and healthy and sweet bites from the Hudson Valley's own Temima's Bakery (don't forget the breads!).  On board was  a tasting of wines from Millbrook Winery, IPA beer from Grand Cru and ciders from Angry Orchard. Blue Ribbon Hoeffner Farms in Monroe, NY provided bushels of apples freshly picked and sugar pumpkins to make your holiday pie.  Joanna Yuan, Orange County historian regaled us all with pertinent historic facts about the Hudson River Valley and stories about West Point.
PCWP is a 501 (c)(3), not for profit organization.  Throughout the year, the Club creates a number of opportunities for parents to learn more about the Military and challenges in leadership cadets may face. We raise funds to support speakers' fees, activities, study abroad, sports team and event travel for Cadets.