WP-ORG is proud that our Ring Recovery list was central to the return of this ring.
----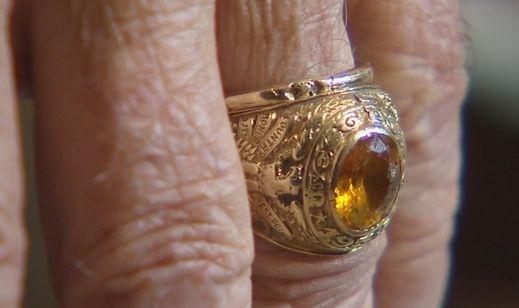 Veterans Day is taking on a whole new meaning for a New Tampa man. The Vietnam vet will be reunited with his original West Point class ring. It was lost during the war.
But 49 years and thousands of miles later, Rolfe Arnhym's original class of 1953 ring will finally be back on his finger.
"At the age of 9, I decided I wanted to go to West Point. Ten years later, I was there," said Arnhym
Arnhym's home office looks more like a museum.
"This is a picture when I took over in infantry battalion in Vietnam," he said pointing to a photo.
The retired U.S. Army Lieutenant Colonel has done a lot in 85 years. But for 49 of them, he's wondered where his West Point class ring went.
"I never saw it again," Arnhym said.
Arnhym graduated from the West Point military academy in 1953. He never took that ring off, wearing it as he got married, and even while serving in Vietnam.
"When I was on a combat operation, something made me look down at my class ring, and I noticed that the stone was gone from the ring," Arnhym said. "I said something to my radio operator, who was right next to me. Here we are in triple canopy jungle and stuff going on and we couldn't see that far in front of us. We looked down and that stone was at his feet."