Want This Page Wider?
Use the A+, A-, R, and <> or <-> buttons at the top right of this page to make the fonts bigger and smaller or switch between a fixed-width and fluid-width style to this web site.
Grads
WP-ORG is proud that our Ring Recovery list was central to the return of this ring.
----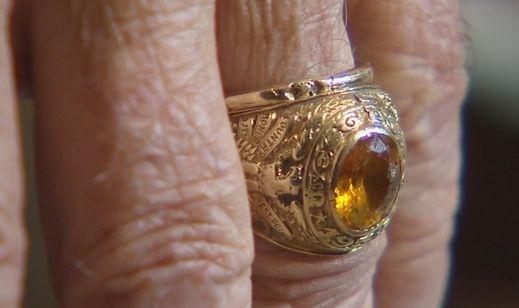 Veterans Day is taking on a whole new meaning for a New Tampa man. The Vietnam vet will be reunited with his original West Point class ring. It was lost during the war.
But 49 years and thousands of miles later, Rolfe Arnhym's original class of 1953 ring will finally be back on his finger.
"At the age of 9, I decided I wanted to go to West Point. Ten years later, I was there," said Arnhym
Arnhym's home office looks more like a museum.
"This is a picture when I took over in infantry battalion in Vietnam," he said pointing to a photo.
The retired U.S. Army Lieutenant Colonel has done a lot in 85 years. But for 49 of them, he's wondered where his West Point class ring went.
"I never saw it again," Arnhym said.
Arnhym graduated from the West Point military academy in 1953. He never took that ring off, wearing it as he got married, and even while serving in Vietnam.
"When I was on a combat operation, something made me look down at my class ring, and I noticed that the stone was gone from the ring," Arnhym said. "I said something to my radio operator, who was right next to me. Here we are in triple canopy jungle and stuff going on and we couldn't see that far in front of us. We looked down and that stone was at his feet."
Folks, this is another in the series of messages sent by the West-Point.Org moderators in our semi-annual fund drives. My fellow
moderators (and some guest authors) have made a clear case for donating to the organization. In short, we cannot operate without
donated funds, as we made a decision early on to run on requests for donations rather than establish an endowment. We get no support from
the Academy or the government, as we are a private organization of graduates, family members, and other interested people to provide
service to our members at no charge; no annual subscription, no pay-by-use, and no lifetime membership fees. Instead, we ask that
you determine whether our services are of value to you (and, let's face it, you would not be on here if they were not, as we all have
enough spam emails in our lives) and, from time to time, make a donation to support our continued operation.
Thanksgiving is around the corner, and as a long-time member and Advisor, I am thankful for our services to connect me to my
classmates around the world and to others on the discussion boards (there are many of interest to our members), and provides me email
and web-page hosting services for life. This connection to members is private, unlike those on social media, and is done with devotion
by the many volunteer members who advise, moderate, and run the organization. I ask you each to think about the benefits you obtain
from your association with West-Point.Org in this time of giving thanks, and dip into your pockets to give a little thanks to the
organization via a donation of any amount you deem deserved.
After 29 days of FD38, we are at 62.5% of our $99,590 goal, with 1,090 donors. Help us end this fundraiser successfully this week.
Thank you for your support.
Donations can be mailed to:
WP-ORG at 3800 Buffalo Mountain Road, Willis, VA 24380.
BAGRAM AIRFIELD, Afghanistan - This weekend, the Department of Defense identified the six Airmen assigned to the 455th Air Expeditionary Wing who died on Oct. 2 when a C-130J Super Hercules aircraft crashed shortly after takeoff from Jalalabad Airfield, Afghanistan, said a Dyess Air Force Base press release.
According to the press release, the Airman killed in the crash included Capt. Jordan Pierson, Capt. Jonathan Golden, Staff Sgt. Ryan Hammond, Senior Airman Quinn Johnson-Harris, all deployed from 317th Airlift Group at Dyess AFB, along with Senior Airman Nathan Sartain and Airman 1st Class Kcey Ruiz who deployed from the 66th Security Forces Squadron at Hanson Air Force Base, Massachusetts. The wing held a morning fallen comrade ceremony on Oct. 3 to honor the Airmen who "made the ultimate sacrifice" doing their duty on the "combat frontier." Fellow wingmen paid their respect and mourned their loss, and after a brief prayer from the wing chaplain, the squadron commanders of the fallen were provided the opportunity to address the service members who gathered at the ceremony, stated the press release.
Remember to occasionally change your WP-ORG username and password. The tool you may use for this purpose is:
http://tools.west-point.org/users/change_password.mhtml
Be careful not to use any unusual characters in your password, such as the following:
!#$%&*()+
Respectfully,
Your friendly WP-ORG team!
testing the news item addition
<< Start
< Prev
1
2
3
4
5
6
7
8
9
10
Next >
End >>
Results 1 - 15 of 143