Want This Page Wider?
Use the A+, A-, R, and <> or <-> buttons at the top right of this page to make the fonts bigger and smaller or switch between a fixed-width and fluid-width style to this web site.
Grads
WEST POINT — "Black Knights" stays, but the Black Knight goes when it comes to Army athletics.
Make that "Army West Point" athletics.
Both moves are part of a rebranding effort announced here Monday night at Eisenhower Hall in a ceremony that was part press conference, part laser show (complete with fog machines) and part "Project Runway," with representatives from some of the school's athletic teams modeling new uniforms.
Before the uniforms came the big reveal: The "Athena Shield," which will take the place of the sword-wielding Black Knight-behind-the-"A" logo that still adorned Michie Stadium's midfield stripe as of Monday night.
It features a helmet, sword and star on a shield background in traditional gold and black colors, a design meant to be "evocative" of the history of West Point, said Col. Ty Seidule, head of West Point's history department, who worked closely with Nike marketing and design staffers during the 18-month rebranding process.
A team of West Point cadets will take part in an annual cyber-defense exercise with other service academies this month.
U.S. Military Academy team members will defend their title as they compete against four other service academies beginning April 13. The 15th annual Cyber Defense Exercise runs through April 17.
The academy teams must defend their computer networks against sophisticated attacks orchestrated by employees of the National Security Agency and the Department of Defense. The team that mounts the best defense wins the exercise.
Governor Mike Pence has chosen Brigadier General Courtney P. Carr to become the Adjutant General of Indiana. Carr will take over from Major General R. Martin Umbarger, who is retiring on May 31, 2015.
Gen. Carr began his career in 1983 upon commissioning as a Regular Army officer from the United States Military Academy at West Point.
From 1991 to 2011, Gen. Carr was active in a variety of roles around Indiana as a member of the Indiana National Guard. His service included serving as commander of the 1st Battalion of the 151st Infantry, where he led several hundred soldiers and deployed with them to Bosnia just after 9/11 in February 2002. He also served as Commander of the 138th Regiment Combat Arms in Edinburgh, a training organization for officers and sergeants. In 2007, Carr was chosen as Commander of the 76th Infantry Brigade Combat Team, comprised of approximately 4,500 Indiana Guardsmen, and he deployed with them to Iraq.
April - a season for renewal and new growth. And, this week, the WP-ORG semiannual fundraising effort. We know why spring occurs: the Earth's axis tilts away from perpendicular, and as we rotate the sun, we move from winter into summer (below the equator, the move is from summer into winter, as those stationed there well know). WP-ORG's fundraiser occurs because we have forsaken an attempt to build an endowment or other means of sustaining support and coast on that. Rather, we live (or die) by our relevance to the needs of our subscribers and the value we provide.
Why give? Myriad reasons exist; if you are reading this, you benefit from them. USMA graduates benefit from their class activities WP-ORG hosts or furthers, including class pages, reunion assistance, discussion forums, general publications, and memorial pages for fallen classmates. Parents benefit from discussion lists for plebe and cadet parents, parent clubs, and other services mentioned above; society members benefit from society pages and discussions, as do specific groups like as survivors of Japanese prisoners of war in WWII and USNA parents, among others. The Ring Recovery forum allows members to help return lost or stolen class rings to their rightful owners, and other forums such as the law forum, women's network, cadet club and activity forums, prayer forums, financial forums, firearms forums, and others allow members to discuss shared interests. Couple all of the above with a personal web page, a personal email, a job bank, and discounted shopping opportunities, and there's something for every subscriber. The organization is transparent, with financial statements, mission statement, and history open to all.
For me, it is the connection to my classmates, those others with whom I shared classes or cadet activities as a cadet, and the classes I taught when I was assigned on the faculty. And, as time goes by, it is the memorial pages of those who have left us far too early that inspire me to seek out new opportunities to make a difference in the world as they did in their often-brief time here with us. The living history on the various discussion forums is an irreplaceable asset, and many members are more than willing to mentor and share with us their lifetimes of learning. I cannot put a price tag on such services, but I can tell you that their value is incredible.
If you benefit from any of these, there is absolutely no obligation to send any money, and many members do not; there are no dues or subscription required. However, as a volunteer organization, we do need funds to continue, and out budget is available at
http://www.west-point.org/budget
/. Those who can, I ask to contribute what you think is fair to keep us running. Thus far, since 1994, enough members have that we continue to operate. As a member of the Board of Advisors, I contribute time and money, because I find the organization of great value. I hope this message reminds each of you why you continue to belong, what you gain from it, and how you can help keep that going.
Please send your donation NOW -- by credit card, check or PayPal -- and help
bring this Fund Drive to a successful conclusion quickly:
Thank you,
Doug Dribben, '83
Advisor, WP-ORG
In the first message sent in this fund drive, Jack Price made the following Challenge:
"Now, as an inducement to get this fund drive jump started, I will give a honey bear, of my World famous sourwood honey, to anyone who shows up with a minimum $50 donation, by April 10 at 34 46 34.19 N 80 29 06.76 W . This location is close to Mabry Mill, mile post 176, on the Blue Ridge Parkway in Virginia, just north of the NC/VA border. Just a test to see if any of those dusty Ranger Tabs are still valid!"
The challenge was accepted and the prize claimed: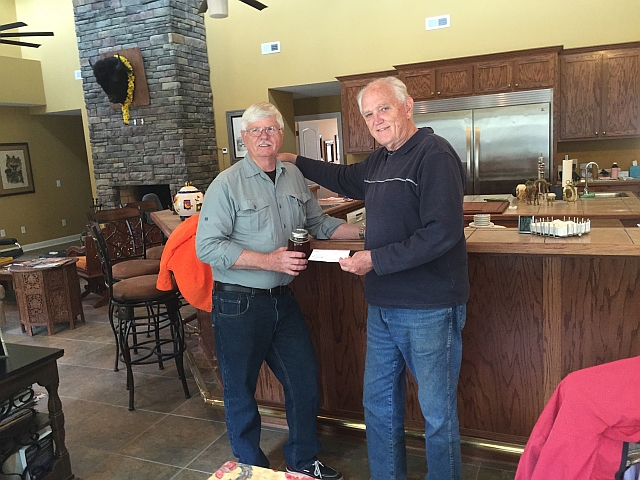 Ranger Larry Neal '65 succeeding in deciphering the coded grids to make his way to Buffalo Mountain and claim his fund drive prize! The actual location was 120 miles north of the posted grid, and Larry figured it all out!
Well done, Ranger Neal!
CFO Jack
<< Start
< Prev
1
2
3
4
5
6
7
8
Next >
End >>
Results 1 - 15 of 111