Want This Page Wider?
Use the A+, A-, R, and <> or <-> buttons at the top right of this page to make the fonts bigger and smaller or switch between a fixed-width and fluid-width style to this web site.
Grads
To all members of WP-ORG,
On behalf of all the WP-ORG advisors, moderators, and tireless
volunteers, I am delighted to announce that FD37 has been successfully
completed and WP-ORG's operations are fully funded through this coming
September. Thank you!
The final Donation Report may be seen at:
https://secure.west-point.org/donate/report/
I'd like to thank everyone who made the effort to contribute. In
addition, we are grateful to those who continue to donate countless
hours of their valuable ] time. These long hours are a donation equally
as important and valuable as money. Without either, WP-ORG would not
exist.
I especially want to recognize the Class of 1964 for their continuing support,
more than double the next closest class!
The fund drive is complete, the donation site has been shut down. Any
donations that continue to be received by mail will be credited toward
FD38.
In addition to donation reports, we archive for each fund drive daily
tallies, charts and tables comparing performance measures of current
and past drives, and additional data which you may find of interest:
FD37 has been a great success. Once again, thank you!
WEST POINT — "Black Knights" stays, but the Black Knight goes when it comes to Army athletics.
Make that "Army West Point" athletics.
Both moves are part of a rebranding effort announced here Monday night at Eisenhower Hall in a ceremony that was part press conference, part laser show (complete with fog machines) and part "Project Runway," with representatives from some of the school's athletic teams modeling new uniforms.
Before the uniforms came the big reveal: The "Athena Shield," which will take the place of the sword-wielding Black Knight-behind-the-"A" logo that still adorned Michie Stadium's midfield stripe as of Monday night.
It features a helmet, sword and star on a shield background in traditional gold and black colors, a design meant to be "evocative" of the history of West Point, said Col. Ty Seidule, head of West Point's history department, who worked closely with Nike marketing and design staffers during the 18-month rebranding process.
A team of West Point cadets will take part in an annual cyber-defense exercise with other service academies this month.
U.S. Military Academy team members will defend their title as they compete against four other service academies beginning April 13. The 15th annual Cyber Defense Exercise runs through April 17.
The academy teams must defend their computer networks against sophisticated attacks orchestrated by employees of the National Security Agency and the Department of Defense. The team that mounts the best defense wins the exercise.
Governor Mike Pence has chosen Brigadier General Courtney P. Carr to become the Adjutant General of Indiana. Carr will take over from Major General R. Martin Umbarger, who is retiring on May 31, 2015.
Gen. Carr began his career in 1983 upon commissioning as a Regular Army officer from the United States Military Academy at West Point.
From 1991 to 2011, Gen. Carr was active in a variety of roles around Indiana as a member of the Indiana National Guard. His service included serving as commander of the 1st Battalion of the 151st Infantry, where he led several hundred soldiers and deployed with them to Bosnia just after 9/11 in February 2002. He also served as Commander of the 138th Regiment Combat Arms in Edinburgh, a training organization for officers and sergeants. In 2007, Carr was chosen as Commander of the 76th Infantry Brigade Combat Team, comprised of approximately 4,500 Indiana Guardsmen, and he deployed with them to Iraq.
In the first message sent in this fund drive, Jack Price made the following Challenge:
"Now, as an inducement to get this fund drive jump started, I will give a honey bear, of my World famous sourwood honey, to anyone who shows up with a minimum $50 donation, by April 10 at 34 46 34.19 N 80 29 06.76 W . This location is close to Mabry Mill, mile post 176, on the Blue Ridge Parkway in Virginia, just north of the NC/VA border. Just a test to see if any of those dusty Ranger Tabs are still valid!"
The challenge was accepted and the prize claimed: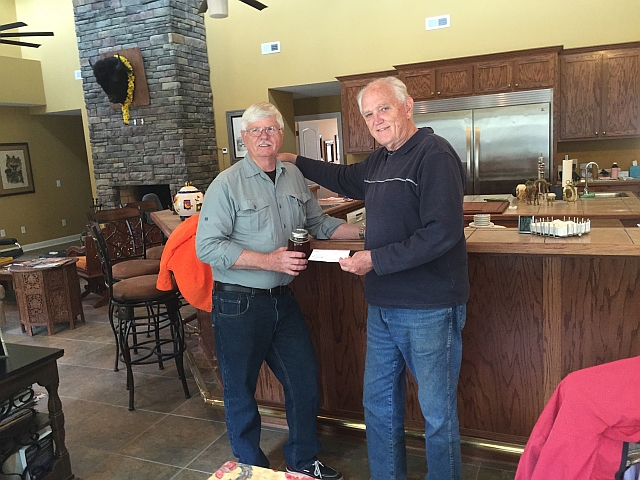 Ranger Larry Neal '65 succeeding in deciphering the coded grids to make his way to Buffalo Mountain and claim his fund drive prize! The actual location was 120 miles north of the posted grid, and Larry figured it all out!
Well done, Ranger Neal!
CFO Jack
<< Start
< Prev
1
2
3
4
5
6
7
8
Next >
End >>
Results 1 - 15 of 111