Want This Page Wider?
Use the A+, A-, R, and <> or <-> buttons at the top right of this page to make the fonts bigger and smaller or switch between a fixed-width and fluid-width style to this web site.
Grads
Over 1,200 students will report to the United States Military Academy on July 3 for Reception Day.
The class will include over 1,230 US citizens and 13 international students. Among them, 301 women, 450 minorities and seven combat veterans. The incoming class was selected from a pool of nearly 13,000 applicants.
"The quality and rich diversity of our students entering with the Class of 2021 is exceptional and representative of our nation's best," said Col. Deborah McDonald, director of admissions.
The class includes cadets from every state in the nation and international cadets entering under the sponsorship of their respective countries including Bangladesh, Bulgaria, Cameroon, Liberia, Malaysia, Moldova, Mongolia, Poland, Romania, South Korea, Taiwan, and Thailand.
The Chief of Staff, Army announced that Brigadier Gen. Steve W. Gilland will be the next Commandant of Cadets at the U.S. Military Academy. He is expected to assume his duties later this year.
"I am incredibly humbled to be selected as the 77th Commandant of Cadets. It is a true honor to hold the responsibility of developing and mentoring our Army's future leaders and defenders of our great Nation," said Gilland. "My family and I are extremely grateful for this opportunity to return to West Point. We look forward to joining the USMA team. Go Army!"
SAM MEYER '62, his wife Loretta, and Sam Price (center)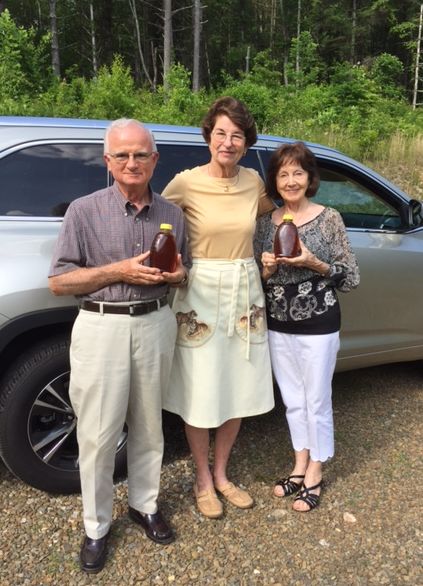 I have stood in the area between the barracks of West Point and in the sallyports. I have heard the rumblings of cadets going to and fro as the sun rises over the Hudson, just as they have for over 200 years. I am not a graduate of West Point, but I have seen into the heart of the Academy through their eyes and their words. I have touched the bricks in the attic of the 1st Division and read a thousand names and class years on those bricks. I have searched for crawlspaces in closet panels, used for spirit missions. I've held a map to the steam tunnels in my hand that has been used by cadets on a mission (called moles), and I have read the words and poems of old graduates, and graduates long dead. I have gone through boxes of photos, poems, and letters in the library archives. I thumbed through a textbook that Patton wrote notes in. I have slept in homes on Professor's row, and in other homes on post. I have had coffee in the kitchen of the Superintendent, and attended a meeting with every Professor who could attend, in the Commandant's office. I have had the honor of speaking with Generals and diplomats. I had the great honor of being a guest at the 50th reunion of the class of '51. I have known many of the people whose names are now etched in stone in the cemetery. I visit them sometimes. Yes, I have experienced the handshake that comes from the shadows as I explored secret places within West Point. All of this, because of WP-ORG.

WP-ORG is near the completion of its fund drive. The first person to donate to the WP-ORG fund drive following this message will receive a complimentary signed copy of the book "Memories and Traditions, The Real West Point Story", written and published by the late LTC Richard C. Breakiron, USMA 1951 and me.

http://www.west-point.org/donate/

Published in 2002, this book is no longer in print, and while there are a few for sale online, there are only 25 new books in existence. It is a hardbound book with an embossed image of the cadet chapel on the cover. The work we did on the book is a memory I will always have to cherish. The stories that appeared in the book came from graduates, and came about because of a website hosted by WP-ORG. They are the stories of cadet life through the years. Pranks, memories, tributes, and history.

WP-ORG (http://www.west-point.org) hosts lists and forums you are subscribed to. We host class lists, parent lists (USMA and USNA), lists for societies, reunions, ring recovery, military related job contacts, academy sports, politics, finances, special interests, health, class widows, and many more. While you may not realize it, WP-ORG is working in the background to provide you with information and services. We provide email addresses to graduates at no charge. We host websites for graduates, societies, and parent clubs at no charge. Quietly in the background, our servers are busy working for you. Twice each year we have a fund drive to pay for the servers and employees that keep WP-ORG working.

What Academy related organization answers your calls personally early in the day and late at night, week days and weekends, and doesn't hang a "closed" sign? What Academy related organization does everything possible to provide you with so many services at no charge? Only one that I know of: WP-ORG.

To cadet and midshipmen parents who are reading this: I am, and was, nothing more than a parent such as yourself. In the days before Facebook, WP-ORG gave parents a place to ask questions and share the experience of having a cadet at USMA. Those WP-ORG lists exist today, which is most likely how you are receiving this note. They are quieter now, but I was very glad when my child was serving in Iraq and Afghanistan, that our names and any association with West Point was safely on private servers, and not on an open social media page for anyone to see. Information on the WP-ORG parent lists are always timely, accurate and secure. I hope you find value in that. As the parent of a graduate, I was blessed more than I could ever express, because of WP-ORG. It was through WP-ORG that circumstances led to a book. A book that took years to compile, and changed my life in ways I can't express. Why I was given that gift, I will never know, but I will be forever grateful.

As I said in the beginning, to the first person to donate after this email is sent, I will send a copy of the book (I will contact you via your email address), and in memory of LTC Richard C. Breakiron, I will also send a second book to the person whose donation brings this fund drive to a close. We are at _____% as of this writing. We end the fund drive at 100% of our goal. Please donate today, so that we may get down to the business of just serving you.

Donation page for all payment methods (credit card, check or PayPal):
http://www.west-point.org/donate

If donating by check, please indicate class year and affiliation:
WP-ORG
3800 Buffalo Mountain Road SW
Willis, VA 24380-5082

FD41 Donation Report, sorted by WP-ORG member group, etc.:
https://secure.west-point.org/donate/report/
WP-ORG Budget April 1, 2017 - September 31, 2017:
http://www.west-point.org/budget
What is WP-ORG?:
http://www.west-point.org/index.php?option=com_content&task=view&id=66&Itemid=73

With affection,
Dian Welle
WP-ORG, Inc.

------------------ UPDATE ------------------
The recipient of the first book was J.D. Leamon, USMA '96
If you are receiving this message you are a beneficiary of one of the earliest networking groups on the Internet, going back 1995. Over 20 years ago. Long before Facebook, Skype, and other social networking gateways.

Reflecting on preparing this message, I was mulling over the unbelievable good fortune that opened life's opportunities when I qualified to walk through Thayer Gate back in 1960. I was an Army brat and had been baptized in Army green, had admired older grads, and wanted the toughest challenges life could bring. I went from being a big fish in a small pond to just the opposite. Now, pick whatever standard, and there was someone out there who could stomp me. And, we were told, a third of us would be gone by graduation. (True)
But, the biggest shock was the loss of family and friend networking. I had entered another World. The Army Navy game got us off post, but Christmas (before it became Winter Holiday) did not. Everyone went home except the plebes. Letters were cheap, but phone calls were horrendously expensive.
As much as West Point has changed, the connectivity has changed more. WP-ORG was a big part of this. When AOG deferred going onto the internet in '95, a group of graduates and cadet parents started what became WP-ORG. The protocol was to have a volunteer moderator for each list. We currently have 221 moderators who have accepted the challenge. Those groups have received immense benefits over the years. My own class has innumerable social events that have held the class together and continue to bind us to West Point. My only regret is for those groups who never stood up moderators.
Today, our domain includes cadet families, West Point classes, eulogy pages, parent clubs, discussion forums, and credit card sites in support of all those. Additionally, we also support Navy parents, war orphans from WWII, and families of Japanese POWs.
Our primary user groups are Army/Navy parents and USMA graduates. I hope you know how special you are. The parents for producing such marvelous kids, the cadets for having risen to the top, and the graduates for having served their Nation so well, in peace and war. Many people go through life, never being challenged nor realizing their potential. However you may have answered the question "What is the purpose of life?", those of us in this group have been blessed with ample tools to pursue that purpose.
To the extent that WP-ORG has helped to expand your horizons, bonding you with other members of our community, and helped you help others, please donate to support WP-ORG operations through September 30:
"Beeman Buffalo Jack" Price '64 CFO WP-ORG INC on Buffalo Mountain
_______________________________________________________________
FD41 Donation Report, sorted by WP-ORG member group:
WP-ORG Budget April 1, 2017 - September 30, 2017:
<< Start
< Prev
1
2
3
4
5
6
7
8
9
10
Next >
End >>
Results 1 - 15 of 277