BY THE ANTIQUARIAN BOOKSELLERS' ASSOCIATION OF AMERICA:
Letter from a cadet Louis Welch USMA 1845 in which he 'explains the injustice and arbitrary nature of the Military Academy's demerit system to his father who perhaps had received a report of his son's "spirit of insubordination." Welch points out that his "conduct [which] was so awfully subversive of military discipline" included a having a rusty musket, unbuttoned coat, improper forage cap, inattention at parade and drill, and smoking (which "is so common that no importance is attached to it".) In a further effort to trivialize his infractions, Louis reports that the father of one of the academy's most honorable cadets, was "nearly made sick" by an unfounded report that his son was "in the habit of visiting dirty grog shops."'
ARMY, NIKE TEAM UP FOR 2017 ARMY-NAVY GAME UNIFORM TO HONOR THE SOLDIERS OF THE 10TH MOUNTAIN DIVISION
The 2017 Army-Navy Uniform tells the story of the soldiers of the 10th Mountain Division and their birth in the winter warfare of World War II. The specialty of the 10th Mountain Division is to conquer the land. They fight on the harshest terrain, in any climate, anywhere in the world, to protect and defend the United States of America. We honor the past by re-telling the story of the "Climb to Glory." A story of valor, courage, and sacrifice. Inspired, humbled, and motivated by the soldiers that came before us, we don their patches, adopt their mottos, and hold their deeds close to our hearts.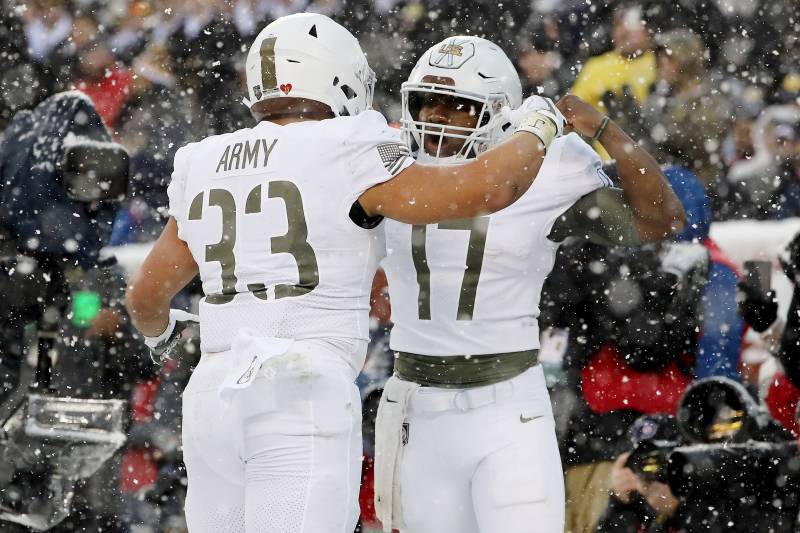 Bennett Moehring's last-second 48-yard field-goal attempt sailed wide to the left to give the Army Black Knights a 14-13 win over the Navy Midshipmen on Saturday at Lincoln Financial Field in Philadelphia.
With the victory, Army claims the Commander-in-Chief's Trophy for the first time since 1996.
In 2016, Ahmad Bradshaw delivered the decisive score to help Army break Navy's 14-game winning streak. The senior quarterback was the difference once again, as he scored on a one-yard touchdown run with 5:10 remaining to help put Army ahead by a point.
Bradshaw finished with 94 rushing yards and a touchdown on 21 carries. He also completed his only pass attempt for 20 yards
Remains believed to be of a Revolutionary War hero buried at West Point don't belong to a woman known as Captain Molly after all but to an unknown man.
The U.S. Military Academy said Tuesday the discovery stems from a study of skeletal remains conducted after Margaret Corbin's grave was accidentally disturbed last year by excavators building a retaining wall by her monument in the West Point Cemetery. Tests by a forensic anthropologist revealed the remains were likely those of a middle-aged man who lived between the Colonial period and 19th century.
Corbin was known for bravely stepping in to fire a cannon in 1776 during a battle in New York City after her husband was killed. She was severely wounded during the Battle of Fort Washington, but lived another 24 years. She became the nation's first woman to receive a pension for military service.
<< Start
< Prev
1
2
3
4
5
6
7
8
9
10
Next >
End >>
Results 91 - 105 of 388